India News
Polling booth was at an altitude of 12 thousand feet, officers walked in 15 KM snow with EVM, watch video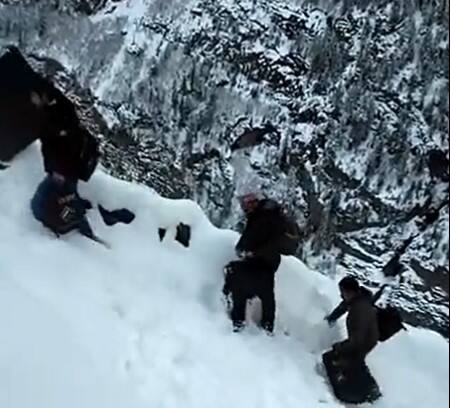 HP Election 2022: In Himachal Pradesh, about 66 percent of the votes were cast in the polling for 68 assembly seats held in a single phase on Saturday. From the capital Shimla to the snow-clad Spiti in the state's high altitudes, people voted to elect a new government despite the cold and snowfall. The drop in temperature and old age also could not dampen the spirits of the elderly people and they exercised their franchise. Naro Devi, 105, cast her vote at Churah in Chamba, while Sardar Pyar Singh, 103, exercised his franchise in Shimla.
Pictures of polling officers and polling officers, who were seen walking 15 kms in snow for 6 hours to reach the polling booth situated at an altitude of 12,000 feet, are going viral on social media platforms amid heavy snowfall. Tashigang, the world's highest polling station, witnessed 100 per cent polling.
Election Commission shared the video
Sharing a picture of people going to vote despite snowfall in the high mountains, the Election Commission said, "Bharamour is the most remote place in the state and the nearest road is 14 kilometers away." Amazing enthusiasm of voters even after heavy snowfall. The commission had also set up a polling station at the highest point in Tashigang, Kaza area of ​​Lahaul-Spiti at an altitude of 15,256 feet, where there are 52 voters.
News Reels
#WATCH , Polling parties returning back from Chasak Batori polling station in Bharmaur Assembly Constituency in Pangi area of ​​Chamba district. They walked around 15km in snow for 6 hours#HimachalPradeshElections pic.twitter.com/BvZNvoWAfu

— ANI (@ANI) November 12, 2022
People remember Shyam Saran Negi, the first voter of the country
The commission had made special arrangements for the elderly and differently-abled at polling stations across the state. The commission said Chasak Batpari (83) was among those who cast their vote in Chamba's remote Bharmaur constituency despite heavy snowfall. India's first voter, 106-year-old Shyam Saran Negi, had his home in Himachal, who died a few days ago after casting his vote by postal ballot for this election.
Read also:

VIDEO: 'Those who have guts will never join BJP'- Shashi Tharoor said in video message