India News
Protest against the massacre turned violent, protesters broke police barricades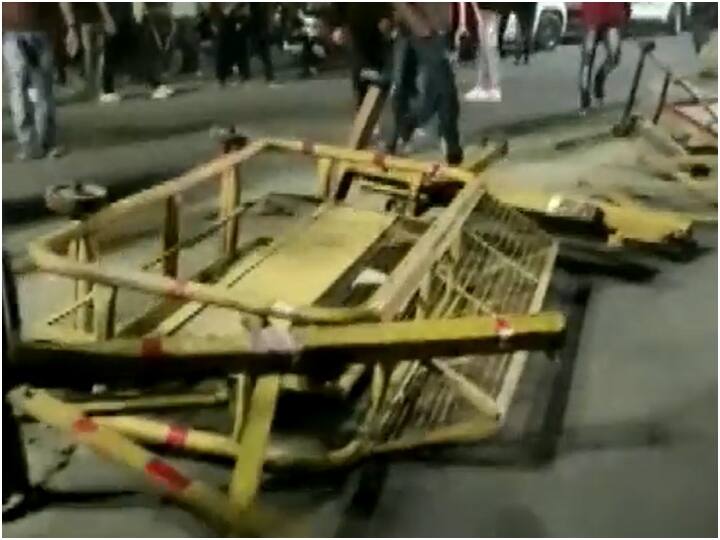 Rajasthan Raju Thehat Killed: The ongoing protest against the firing in Sikar, Rajasthan, turned violent on Sunday (December 4). The protesters also broke the police barricading in Sikar. MP Hanuman Beniwal was also seen during this protest. The protesters are demanding security for the family of gangster Raju Thehat and financial help and government job for the family of deceased Tarachand.
Notorious gangster Raju Thehat was killed in Sikar on Saturday (December 3). Raju Thehat was fired upon near his house on Piprali Road in Sikar, after which the gangster died. An innocent person was also killed in this gang war. The deceased was identified as Tarachand.
Demonstration against firing in Sikar
Tarachand's daughter studies in a coaching center on Piprali Road and he had reached there to meet her. Thehat has several criminal cases registered against him and was currently out on bail. Thehat was a rival of gangster Anandpal Singh, who was killed in a police encounter in June 2017. The responsibility of this attack was taken by Rohit Godara, a member of the Lawrence Bishnoi gang. The supporters of Thehat had called for a bandh in Sikar regarding this matter and demanded the arrest of the killers soon.
News Reels
#WATCH , Protest against the recent shootout turned violent as protesters slammed barriers in Sikar, Raj

MP Hanuman Beniwal seen during the protest.

Protestors are demanding security for family of Raju Thehat & govt job& financial help for deceased civilian Tarachand's family pic.twitter.com/cZjk0wS7kF

— ANI MP/CG/Rajasthan (@ANI_MP_CG_RJ) December 4, 2022
All five accused taken into custody
Director General of Police Umesh Mishra said on Sunday that the five accused in the gangster Raju Thehat murder case have been taken into custody. He told that the arrested accused include Manish Jat and Vikram Gurjar, residents of Sikar district and Satish Kumhar, Jatin Meghwal and Naveen Meghwal of Haryana.
Chief Minister Ashok Gehlot also tweeted
Chief Minister Ashok Gehlot has also tweeted regarding this incident. The CM wrote that five accused in the Sikar massacre have been arrested and their weapons and vehicles seized. It will be ensured that all these accused get severe punishment from the court as soon as possible.
read this also-
Rajasthan Crime: The person carrying the daughter was also killed along with the gangster, taking responsibility for the murder is active on social media