India News
Punjab: After Pathankot, now Pakistani balloons found in Ropar, wrote- 'I love Pakistan', police investigation started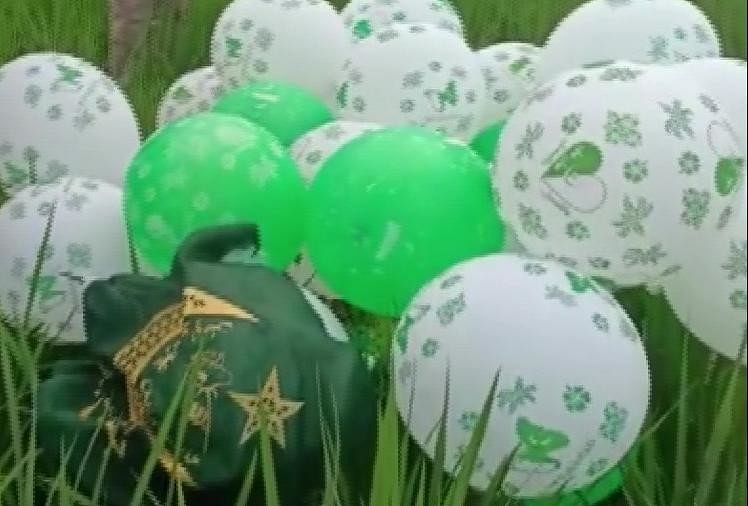 ANI, Chandigarh
Published by: ajay kumar
Updated Sun, 15 Aug 2021 03:56 PM IST
Summary
After getting Pakistani balloons in Pathankot's Durangkhad on Saturday, now balloons have been found in the field in Ropar district as well. In these balloons, 'I love Pakistan' is written and the flag of Pakistan has also been made. Ropar police has started investigating the matter.
Pakistani balloons found in Rupnagar.
– Photo : ANI
Expansion
Pakistani balloons have been found in the field of Sandoya village of Rupnagar (Ropar) in Punjab on the day of Independence Day. 'I love Pakistan' is written in these balloons. Rupnagar SSP Akhil Choudhary said that the balloons seem to have come from a nearby place but we cannot rule out another angle. The investigation has been started.
Balloon also found in Pathankot

A Pakistani balloon has also been found in Pathankot's Durangkhad, on which 'I love Pakistan' is written. Balloon is 2 km from Durangkhad. Found on a distant hill. This was noticed by the forest department workers and informed the police. All the security agencies including police station Shahpurkandi are engaged in the investigation. Police station Shahpurkandi in-charge Navdeep Sharma told that he was informed by the forest department workers that a balloon was found on the hill near Durangkhad. On which Pakistan is written. When he reached there, he saw a common helium gas balloon.
He said that higher officials have been informed in this regard. There doesn't seem to be anything suspicious at the moment. He told that the said hill is near the border of Jammu and Kashmir. It is likely that due to the celebration celebrated somewhere in Pakistan, this balloon flew through the border to Jammu and Kashmir and then to Pathankot.
Punjab: Balloons with Pakistani flag & 'I love Pakistan' imprinted on it found from agricultural field of Sandoya village in Rupnagar

It looks like balloons came from the nearby place but we can't rule out other angles. A probe has been initiated: SSP Rupnagar, Akhil Choudhary pic.twitter.com/UQYDXnsmx4

— ANI (@ANI) August 15, 2021
.