India News
Railway Big News: These 2 big long distance trains got extension, passengers will get relief, read update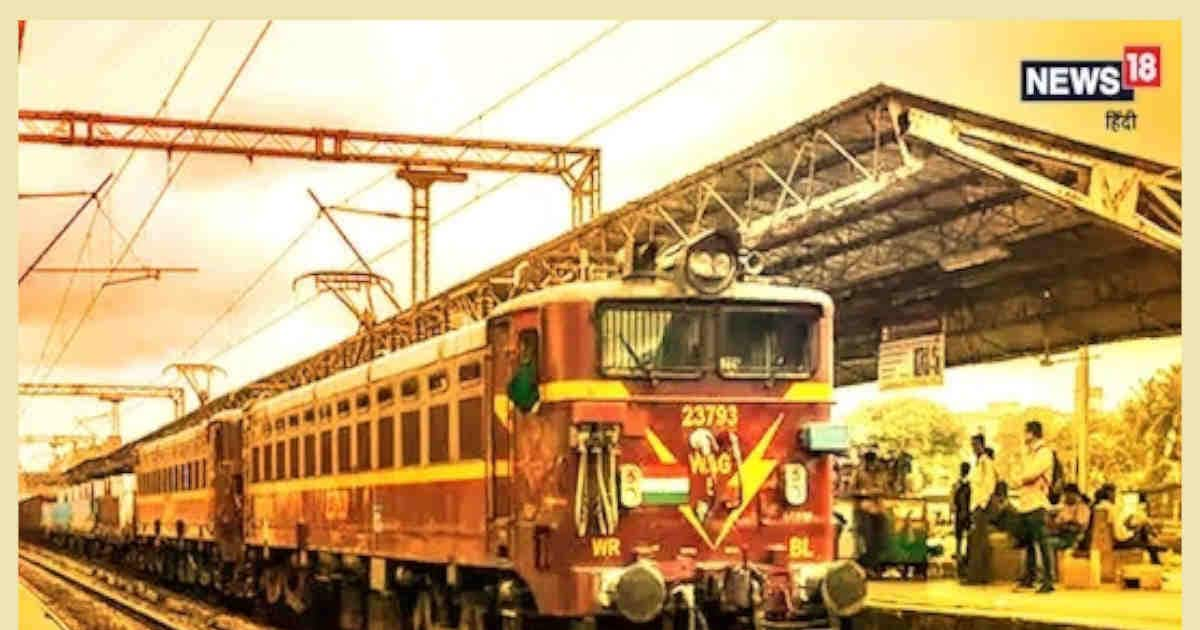 highlights
north western railway update news
NWR took a big step for the passengers
Jaipur Junction will get relief from passenger load
Jaipur. Now the number of trains is being increased at Dhehar Ka Balaji railway station of Jaipur which comes under North Western Railway Zone. Till now, the date of opening of Khatipura, the fifth railway station of Jaipur has not been decided and the passenger load at Jaipur Junction is continuously increasing during the summer holidays. In such a situation, in order to divert passengers to other railway stations other than Jaipur Junction, 2 trains are being given extension at Balaji station of Dhehar in the initial phase.
Summer vacations are going on and there is tremendous pressure of passengers at Jaipur Junction these days. At the time of inauguration of Vande Bharat, Khatipura Junction was to be inaugurated as an alternative to Jaipur Junction. But due to unavoidable reasons, Khatipura railway station has not been inaugurated yet. Therefore, to divert passengers from Jaipur Junction to another station, Dhehar's Balaji Railway Station has been selected.



Bullying of mining mafia in Dausa! The tractor was taken away after fighting with the Forest Department team




Rajasthan: BJP will go to the shelter of farmers, will work with this new strategy, will take this step




Madarsa Talim: Gehlot government will make 500 smart classrooms, Rs 13 crore will be spent, work order issued




Stirred by the news of bomb in train, checking done without stoppage, informer arrested




Preparations for PM Narendra Modi's visit to Ajmer intensified, Arun Singh reviewed the preparations for the tour




In this city, even in 45 degree temperature, people eat hot Kachori, selling lakhs everyday




The intention of the elder 'brother' on the younger brother's wife deteriorated, said – I fell in love with you, the brother-in-law also got angry and…




Jaipur News: Posters of exodus of Hindus put up in this area, political mercury rises. breaking news




Rajasthan: Storm and rain created furore, tomorrow the situation may worsen, IMD forecast gave this warning




UPSC Recruitment 2023: Golden chance to become an officer without examination in Government of India, just have to do this work, will get good salary




Mass marriage: 2222 couples and 5 lakh family-guests, 4400 pandals, set a world record
Located just 7 to 8 kms from Jaipur Junction
According to Captain Shashi Kiran, CPRO of North Western Railway, two trains were running regularly from Balaji to Dhehar. They have been extended up to Bikaner and Hisar so that the crowd going from Jaipur Junction to Bikaner and Hisar can catch the train from both the junctions. Balaji Railway Station of Dhehar is situated at a distance of just 7 to 8 kilometers from Jaipur Junction.
Railway: Khatipura station of Jaipur is ready, date of inauguration not yet received, it is claimed that…
Dhehar's extension of Balaji-Tirupati to Hisar
According to Captain Shashi Kiran, train number 09715 Hisar-Tirupati Superfast will leave every Saturday from June 3 at 2.10 pm and reach Jaipur station at 9.30 pm. Similarly, train number 09716 Tirupati-Hisar Superfast will leave from Tirupati every Tuesday at 4 pm from June 6 and reach Jaipur station on Thursday at 5.45 am. After that it will leave at 5.55 pm and reach Hisar at 1 pm.
Extension of Dhehar's Balaji-Sainagar Shirdi to Bikaner
Train number 09739 Bikaner-Sainagar Shirdi Superfast train will leave Bikaner every Friday at 1.40 pm from June 2 and arrive at Dhehar ka Balaji station at 9.17 pm. It will depart from there at 9.20 am and reach Sainagar Shirdi at 8.30 pm on Saturday. Similarly, train number 09740 Sainagar Shirdi-Bikaner Superfast will leave Sainagar Shirdi every Sunday at 7.25 am on June 4 to reach Balaji station in Dhehar at 7.57 am on Monday. It will leave there at 8 am and reach Bikaner at 3.15 pm.
Passenger load will be reduced at Jaipur Junction
From the first week of June, train passengers going to Bikaner and Hisar will now have the option of Dhehar ka Balaji instead of Jaipur. This will reduce the passenger load at Jaipur Junction. Although this measure will not be able to reduce the crowd too much, but it will definitely give immediate relief.
,
Tags: Indian railway news, jaipur news, Rajasthan news, train
FIRST PUBLISHED : May 27, 2023, 16:42 IST