India News
Ruckus on 90 and 10 in Grand Alliance! JDU-RJD came face to face again, Suheli Mehta's answer to Alok Mehta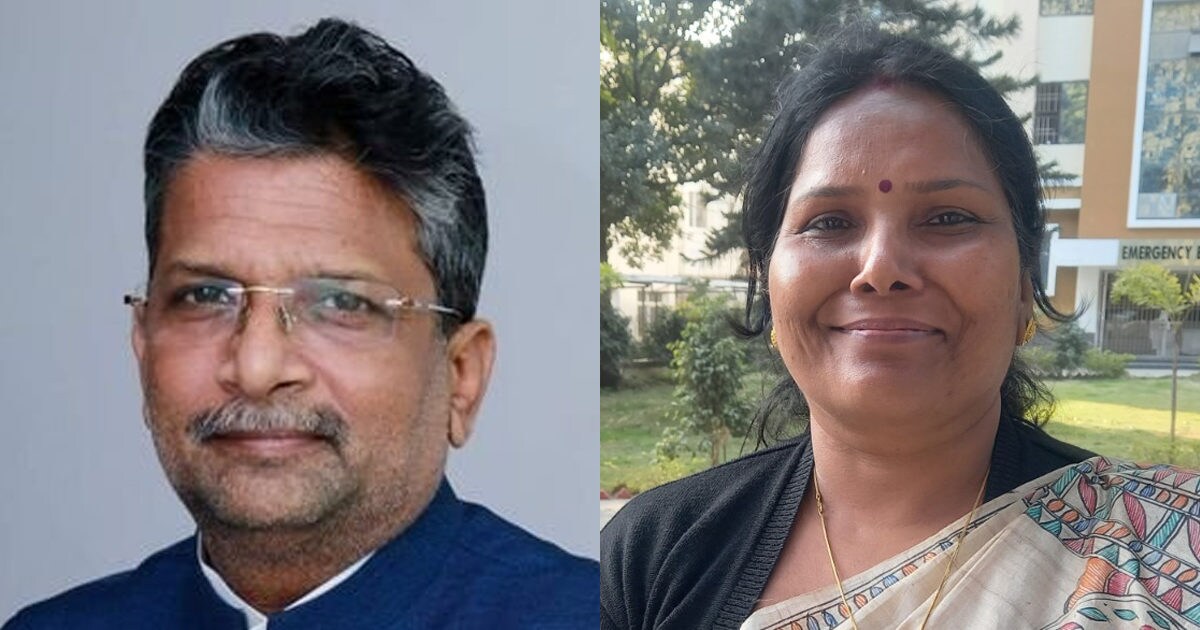 highlights
Minister Alok Mehta's sister Suheli Mehta replied.
In JDU, there is talk of inclusive development, not forward-backward.
Alok Mehta had said about 90 and 10 percent in Bihar.
Patna. In the midst of the caste census in Bihar, it is being said that casteist politics will once again come to the surface. After RJD Education Minister Chandrashekhar, this thing is also becoming clear from the statement of Minister Alok Mehta. But, JDU's politics is different and the party is giving a befitting reply to its alliance partner RJD. Actually, Bihar government minister Alok Mehta is constantly talking about not letting 10 percent rule on 90 percent. But, in this matter Alok Mehta is being answered by his sister and JDU leader Suheli Mehta.
Responding to Minister Alok Mehta's statement regarding forward-backward, JDU leader and his sister Suheli Mehta said that Nitish Kumar and our party do not agree with Alok Mehta's statement. JDU does not do forward-backward politics. Nitish Kumar talks about inclusive development.
Suheli Mehta said, we do not do politics by saying anything. People only want development. Forward-backward people all live together. He must know what is in Alok Mehta's mind. But, this is not the ideology of our party. That's why we are in JDU with Nitish Kumar. People also know what is the ideology of which party.



Upendra Kushwaha said a big attack on CM Nitish and Tejasjwi Yadav, gave this big talk. Bihar News




Darbhanga News: Legal awareness camp will be held in many blocks of Darbhanga, know the date




Power Cut In Samastipur: Power supply will remain interrupted for 8 hours for 12 days, know here what will be the timing




Board Exams 2023: Board exams of these 10 states including CBSE will be held in February, note the schedule




Bihar & Jharkhand News: All the news in a quick manner. Top Headlines | Gaon Sheher 100 Khabar




Gaya News: This world famous saree is available in Gaya, Bangladesh's PM Sheikh Hasina also likes it




Hindi News | Bihar News | News 1 Minute | Aaj Ki Taaja Khabarein | Top Headlines | 02 February 2023




Siwan News: Akash of Siwan will show his mettle in the national competition, selected in Bihar Taekwondo team




Darbhanga: There was a demand to give Bharat Ratna to Lalit Babu, Vidyapati Seva Sansthan said this




Thursday of accidents: In this district of Bihar, 7 people died in 12 hours, 30 were injured




Patna News: Enjoy the cuisine while taking a walk amidst the waves of the Ganges, MV Ganga Vihar cruise starting, know the rate
Suheli Mehta said that caste, religion forward and backward is the eternal truth, but we have to take everyone along. Nitish Kumar has taken everyone along. Women have played the biggest role in this because Chief Minister Nitish Kumar has done maximum work for the upliftment of women in the whole country. Women of all societies of the state have moved forward
Let us inform that in the program organized by RJD on the birth anniversary of late Jagdev Prasad, Alok Mehta said that earlier the British used to exploit the country. After the departure of the British, 10 percent people (the reference was towards the upper castes) continue to exploit. He said that I firmly say that 10 percent rule will not work. What I said in Bhagalpur did not say anything wrong, 10 percent people have more brains. Everyone has to unite to fight this.
First read breaking news in Hindi News18 Hindi| Read today's latest news, live news updates, most reliable Hindi news website News18 Hindi.
Tags: Bihar News, Bihar politics, Mahagathbandhan
FIRST PUBLISHED : February 02, 2023, 13:17 IST