India News
Selected ghazals of Indian theater legend Habib Tanveer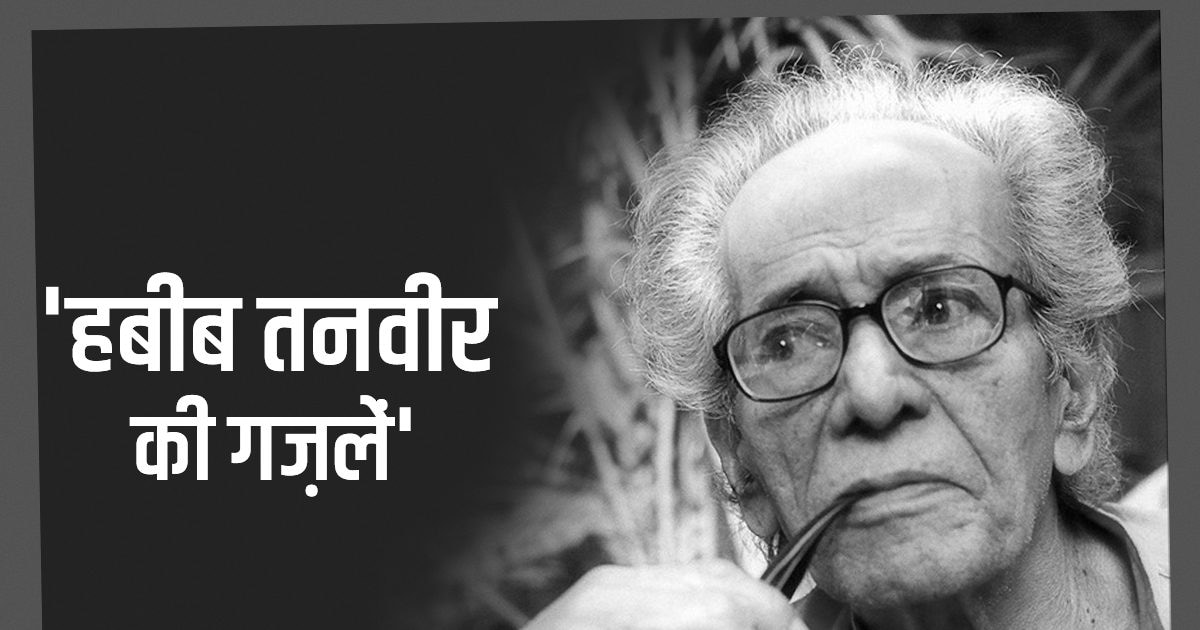 Habib Tanveer performed his first written street play 'Shantidoot Kamgar' in Mumbai and edited many newspapers and magazines while living there. He didn't like much in Mumbai, so he came to Delhi and started teaching drama in a school. It was here that he wrote his famous play 'Agra Bazar', which was first staged in Delhi's Jamia Millia Islamia and then he also directed 'Shatranj Ke Mohre'. In the year 1954, Tanveer went to London to learn the nuances of acting, where he also learned direction and after returning to India started working closely with Hindustan Theatre. After saying goodbye to Hindustan Theatre, he formed his own theater group in Chhattisgarh, with which folk artists started joining. The interesting thing is that these folk artists were also given a month's salary.
Tanveer did theaters all over the world with his drama troupe and dedicated his whole life to theatres. Through his staging, Habib Tanveer spread the name of Chhattisgarh all over the world. Beautiful use of folk songs, folk tunes, folk music and dance was seen in his theatrical productions. For many years, he roamed in the rural areas across the country, made a deep study of folk culture and folk theater styles and also compiled folk songs.
Habib Tanveer was awarded the Sangeet Natak Akademi Award in the year 1969. He was also awarded the Padma Shri in 1983. His play 'Charandas Chor' was the first Indian play to be awarded in Edinburgh. Along with the Kalidas Samman, Tanveer was also given the Padma Bhushan. These prestigious awards recognized his unwavering dedication towards the arts. There was depth of life in his words, plays and poems, which hurt deeply on social issues. On June 8, 2009, he said goodbye to the world in Bhopal.
Habib Tanveer's art and literary legacy will live on forever, and will continue to inspire generations to come. He staged more than 100 plays. His artistic life was multifaceted. He also wrote reviews of films and plays. He was as good an actor, director and play writer as he was, equally the best lyricist, singer, musician and poet. Let us read some selected ghazals of this great hero of Indian theatre…
1)
There are no palaces, there are no talkers, no effect, now
There are no palaces, there are no talkers, no effect, now
life is boring
Still keep asking strangers about my condition
May not reach you yet
Life has just passed in the girdle of this fire
Why did the heart start leaving Hirs-e-Lab-o-Rukhsar now?
Yes, it is true that head-to-head have lost their mind and senses.
Heart is still beating
Why don't I do Sair-e-Bahar-Lala-Zar now
I don't feel nahf-o-zar right now
2)
Khalish-o-soz dil-figar hi di
Khalish-o-soz dil-figar hi di
Shamsheer aab-dar only in the heart
to deal with the unfaithful
Ek tabiyat wafa-shiyar hi di
to tell the condition of the heart
Heart-figure only gave a voice
Give the tongue-e-gul to Khar
But gave only tongue-in-cheek to Gul
Dil Shab-e-zinda-dar given to us
Hasn was given Chashm-e-Pur-Khumar only
for the sake of my rivals
The twirl gave the lover's grooming
Was 'Tanveer' Nasheb-o-Faraz?
you've lived your life
3)
i will not be able to go yaaro soo-e-gulzar
i will not be able to go yaaro soo-e-gulzar
Have to see the speed of Ab-Ju-e-Zeest now
Don't know how many times I have crossed this river
I will cross this river and how many times now
After roaming around Dasht-o-Sahara, the feet brought back there
My heart is probably not tired of this sight right now
Kavish-e-Pahim, this series should not stop now
Life is still in the eyes and speed is still in the feet
O my heart's desire, just a little more patience
The night is yet to be spent, friend is yet to meet
Seeing the passion of the heart, don't let it go astray
Meera too will wait for me, my heart-dar
There will be thousands of shortcomings even in this life
Still, why should this journey be troubling me now
read this also –
Habib Tanvir: Despite being special, the playwright Habib Tanvir was very common
Habib Tanveer death anniversary special: Will always be remembered as a testimony of Indian color style
Popular poems of well-known Hindi street playwright and litterateur 'Shivram'
,
Tags: Hindi Literature, hindi poetry, hindi writer, Literature
FIRST PUBLISHED : June 08, 2023, 17:35 IST