India News
Selected poems of Jaun Elia, in which his expression is very influential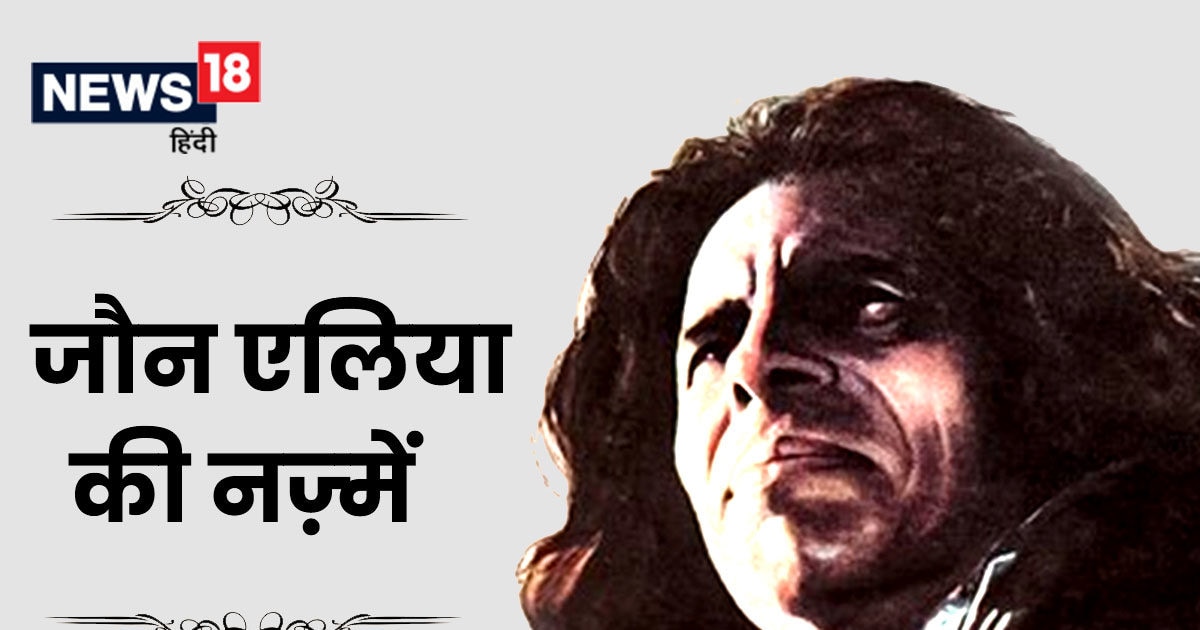 Jaun Elia is one of the leading modern poets of Pakistan, who is especially famous for his unconventional style. Born on December 14, 1931, there was something in John's creations that still attracts people towards him. He wrote his first Urdu Sher at the age of 8, but his first poetry collection 'Ho Sakta Hai' was published at the age of 60. Other volumes of his poetry were published after his death. Jaun is one of those Pakistani poets who are read the most on Google. He had a good hold on English, Persian, Sanskrit, Arabic and Urdu. He is known as the poet of pain and sorrow. Pain, love, sadness and selfishness are clearly reflected in his creations. Jaun said goodbye to the world in the year 2002 after fighting the disease for a long time, but after leaving, he is still the most popular poet among the youth. In this era of social media, his poems often circulate among the youth. Whether it is about his ghazals, lions or nazms, while reading them one always feels as if Jaun is trying to lighten the burden of the heart through his words, which is also true. But may never be able to lighten the burden of the heart.
Jaun was about 16 years old at the time of partition. Jaun Elia, associated with leftist ideology, was always opposed to the partition, but in the end, he took the partition as a compromise and almost 10 years after the partition, he left his birthplace located in Amroha district of Uttar Pradesh and became part of Pakistan forever. Settled in the city of Karachi. John went to Pakistan, but the number of his fans in India continued to increase. Many great poets have believed that Jaun may have settled in Pakistan, but his heart always beat for India. Jaun used to come to his city Amroha every year and used to stay at Adil Amrohavi's house. Jaun married Urdu writer Zahida Hina while he was editor in an Urdu magazine, had three children, but this relationship could not last long and they got divorced in the year 1984. Just after this Jaun became sad and this sorrow was wrapped in his creations till the last time, which is always visible in his lions.
Jaun Elia's works unravel the multi-hued layers of life, love and spirituality, delving deeply into the complexities of human existence. Jaun's poems are characterized by their ambiguity and intensity of feelings. There is a deep sadness in his works, which harshly reflect the struggle of his personal battles. John had an amazing ability to express feelings with simplicity and clarity. He used a rich vocabulary and complex imagery.
Jaun Elia weaves a web of emotions by mixing words in his poems, which establishes a deep connection with the readers. At some places, his poems also reflect social and political conflicts, which he recited with bravery on the literary stage. He always questioned such idealistic ideas existing in the society, which propagate and disseminate wrong rules and regulations. His poems touch both the heart and the mind and leave one to think. Those who were beyond the boundaries of time and language.
To understand the real importance of Jaun Elia's poems, it is necessary to first share them with our inner experiences, only then their questions and struggles can be felt. Let us read the selected poems of Jaun Elia, in which his expression is very impressive…
1)
Darica-Ha-e-Khayal
want to forget you
And all this door-ha-e-khayal
the ones that open up to you
close something like this here
Not even a ray of remembrance could come
want to forget you
And I don't even remember you
like you were just a story
like i was just a fasana
2)
stranger evening
mist has covered the lakes
birds are flying over the dunes
Everyone's attitude towards drug addicts
towards the settlements towards the forests
shepherds carrying their flocks
went to the border settlements
Dil-e-Naakam where do I go
stranger evening where do i go
3)
punishment
every time you come in front of me
I keep getting separated every time I meet you
you don't even know who you are
I don't even know who I am
You are in pain knowing me
And thus I have become my own punishment
I'm not the god of the land you're on
pas sar-ba-sar aziyat o azar hi raho
you have become bored with a lot of life
When there's nothing on the bus, be impatient
what do you care about the shadow here
You be the middle wall in your right
I remained unkind from the beginning of love
you remain the measure of intiha-e-ishq
glad to hear you spit blood
Be a reward even in this color and style
When did I say that there is salvation in love
when did i say stay loyal
Died after looting your pride
stay invisible in the market of compliments
When I couldn't give you the intoxicant of love
could never give solace in sorrow
When all my dreams are of the wind
when all my dreams belong to a cheater
then you have no right to love me
you have no right to moan alone
4)
worthless
Who has come
no one has come mad
the wind blows the door open
it's good
In unemployment, the wounds of the caste will be further increased
by the way of bright sun
toil and work day
the dust has come the sun has come
don't know what i was thinking
Who would have come if he had come
who had to come who would have come
5)
Perhaps
i'm probably going to forget you
maybe jaan-e-jaan maybe
that i miss you more than ever
My heart is sad, very sad
that now you know how to reminisce
Shamim-e-Dur-Manda Ho
be very upset with me
but still
Do you come to my Ashti-Mandana in Masham-e-Jaan
Bala's Iltifat-e-Mehramana is in separation
doomsday news
very proud
your colors grow deeper in me
i'm afraid
What will be the result of this dream of mine
This is the star of my inner being
Enemy of emotions should not be a conspiracy of time
remembering every moment of you like this
heart is scared
then miss you less
Mata-e-dil, Mata-e-jaan, then you will be remembered less
So much has flown in the sail-a-month-o-year so far
don't let it all go away
what's left of me
leave something
6)
ramz
when you come you will find me lost
nothing but dreams in my loneliness
you want to decorate my room
nothing but books in my room
These books have wronged me a lot
There is a mystery in these, the mystery of which killed the mind
Muzda-e-ishrat-e-anjam cannot be achieved
can never rest in life
,
Tags: Books, Literature, Literature and Art, Pakistan
FIRST PUBLISHED : June 06, 2023, 21:52 IST