India News
Shock to Uddhav Thackeray, Shiv Sena MP Gajanan Kirtikar Shinde joins faction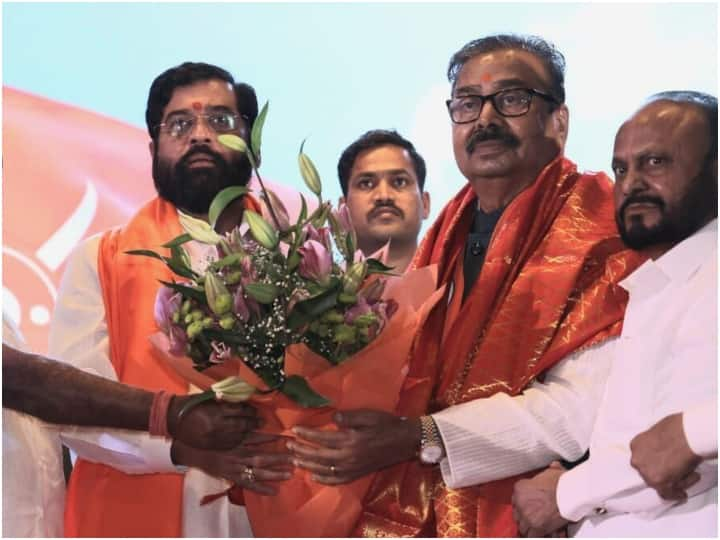 Maharashtra Politics: Shiv Sena's Uddhav Thackeray faction has suffered another major setback in Maharashtra. His faction leader and MP Gajanan Kirtikar has joined Eknath Shinde's army on Friday (11 November). A picture of him has surfaced in which he is seen with Eknath Shinde. In this, Shinde is presenting a bouquet to Gajanan. Gajanan had gone to Varsha Bungalow to meet Eknath Shinde. In view of the Mumbai Municipal Corporation elections, this is being considered a big setback for Uddhav Thackeray.
MP Gajanan is the 13th Shiv Sena MP to go along with Kirtikar Eknath Shinde after the split in Shiv Sena in changing developments in 2022, who already has the support of 40 of the party's 56 MLAs. Eknath Shinde had joined hands with the BJP amid changed developments in the month of June and Uddhav Thackeray had to be ousted from power in Maharashtra. After which Eknath Shinde is the CM of Maharashtra.
Gajanan Kirtikar reached CM residence
On 11 November 2022, senior leader Gajanan Kirtikar suddenly reached Varsha, his official residence, to meet Chief Minister Eknath Shinde. There Gajanan Kirtikar reportedly agreed to join the Shinde group, now known as Shiv Sena (Balasaheb Thackeray). After that, he officially joined the party in an event organized at Rabindra Natya Mandir in the presence of CM Eknath Shinde and other party leaders.
News Reels
CM Eknath Shinde welcomed
CM Eknath Shinde welcomed Gajanan Kirtikar to join his group. He tweeted that, "Gajanan Kirtikar, a popular MP from Mumbai North West Lok Sabha constituency, has officially joined Balasahebunchi Shiv Sena. He was accorded a warm welcome on the occasion and wished him all the best for his future social and political progress.
Shock to Uddhav faction before municipal elections
This decision of the Mumbai MP is being seen as a major setback for Uddhav Thackeray's Shiv Sena ahead of the Greater Mumbai Municipal Corporation elections. Kirtikar was considered a loyal MP of the Uddhav Thackeray group, but with his joining the Shinde group, the number of MPs in the Eknath Shinde group has now increased to 13. It was already discussed that Gajanan Kirtikar Shinde would join the group.
There were already speculations
There were reports of a secret meeting between Gajanan Kirtikar and Chief Minister Eknath Shinde on 6 September. At that time it was said that MP Kirtikar had gone to the Chief Minister's official residence to have darshan of Lord Ganapati. Moreover, there were reports that Kirtikar was not happy with the Thackeray camp for various reasons in the recent past.
Earlier, Eknath Shinde had met Kirtikar in July after coming to power. At that time Shinde had said that this was not a political meeting. He said that he had met Kirtikar as he was ill. Gajanan Kirtikar, 79, is a Lok Sabha MP from the North West Mumbai constituency.
Read also:
Gujarat Election: BJP released the list of 40 star campaigners, know which leaders got the place?