India News
Slogans of 'Modi-Modi' raised in Bharat Jodo Yatra, Rahul Gandhi gave flying kiss to people, video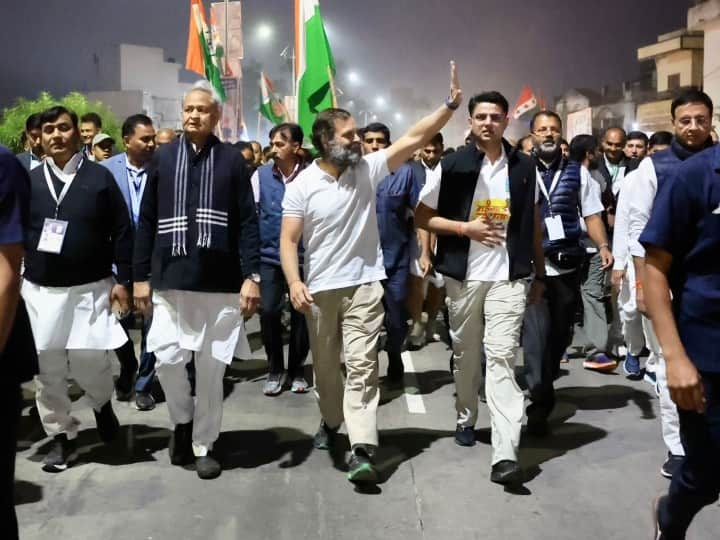 Congress Bharat Jodo Yatra: Bharat Jodo Yatra of Congress under the leadership of Rahul Gandhi is in Rajasthan these days. The Congress wants to strengthen itself through this yatra, but from an incident in Agar Malwa district of Madhya Pradesh, it seems that the Congress needs a lot of effort to be strong in front of the BJP. Meanwhile, slogans of Modi-Modi started being raised during the Bharat Jodo Yatra. However, Rahul Gandhi responded to this in a unique way.
As soon as the slogans of 'Modi-Modi' came, Rahul Gandhi and Congress leaders first asked these people to join the yatra, but when they did not join, Rahul gave them a Flying Kiss. Now this video is becoming increasingly viral on social media. However, people are looking at it in two ways. Some people have paid more attention to the slogans of Modi-Modi, while some people have paid more attention to Rahul's style.
@RahulGandhi giving flying kiss to people shouting "Modi! Modi!" to him ☺️

Will Modi react the same way if shouted "Rahul Gandhi! Rahul Gandhi!" to him??pic.twitter.com/o5kfAVECHI

News Reels

— Rohini Anand💕 (@miss_roh08) December 5, 2022
Many people liked Rahul's style
It is seen in the video how people were raising slogans of Modi-Modi from their homes and Rahul was asking them to join the yatra. When he did not come, Rahul kissed him 3 to 4 times. During this journey, a huge crowd of people was seen. People have also retweeted this video of Rahul many times by making hearts. A user asked whether PM Modi would have reacted in the same manner if people had raised Rahul-Rahul slogans at his rally.
15 Days Tour in Rajasthan
Congress's Bharat Jodo Yatra will remain in Rajasthan for the next two weeks. Here the yatra will cover a total of 7 districts and will cover a total distance of 520 km. The yatra will continue in Dausa from 13 December to 16 December. The journey will get rest on the 12th day. Sawai will reach Madhopur district from December 11 to December 12 touching Tonk. Kota-Bundi will travel for 4 days from December 7 to December 10. Traveling 520 kilometers in total 7 districts of Rajasthan, it will enter Haryana via Alwar.
read this also:
Maharashtra: MVA to protest against Shinde government, protest march on December 17 against Shivaji's insult