India News
So will jam the National Highway', Mehbooba Mufti said in the protest of apple farmers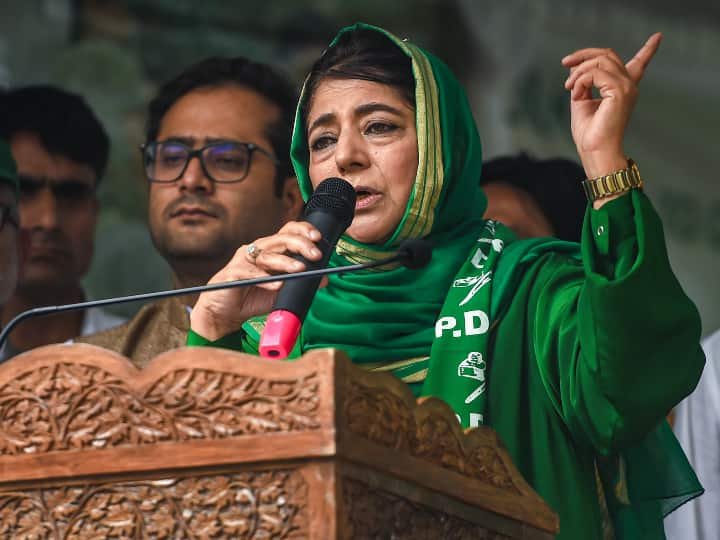 Jammu Kashmir: Peoples Democratic Party chief and former Jammu and Kashmir CM Mehbooba Mufti has threatened to block the Jammu-Srinagar National Highway. She participated for the third consecutive day in the protests by apple farmers in Shopian. Apples and other fruits got spoiled due to non-letting of trucks, causing great loss to farmers and traders.
Addressing the protesting people, former Chief Minister Mehbooba Mufti said, 'You have turned Kashmir into an open jail. Our economy has been ruined. I warn the administration that if they do not immediately open the road for trucks, then I will hold a dharna with my workers. He alleged that the administration was doing this intentionally. Also questioned whether the administration would compensate for the loss caused to the farmers?
made this allegation
PDP chief Mehbooba Mufti said that the administration should stop testing the patience of Kashmiris. Also told that on one side the convoy is being allowed to go but on the other side the vehicles carrying fruits are being stopped. He said that if this strategy of punishing Kashmiris is not stopped then I will be forced to sit on the highway in protest.
"You have turned Kashmir into an open jail,pulverized our economy. I warn the administration if they don't immediately open the roads for trucks, I alongwith our workers will sit on a protest," PDP Prez, @MehboobaMufti in solidarity with protesting fruit growers at Aglar Shopian pic.twitter.com/HCMfu4DK92

— J&K PDP (@jkpdp) September 27, 2022
'Economy getting affected'
The Kashmir Chamber of Commerce and Industries (KCCI) has appealed to the Jammu and Kashmir government to ensure that trucks laden with fruits are allowed to ply on the Srinagar-Jammu national route. KCCI President Sheikh Ashiq Ahmed and other office bearers said they were deeply concerned about the matter that hundreds of trucks carrying apples were stranded on the National Highway, especially from Qazigund to Banihal (20 km). The government should find a way out effectively. A delay in resolving the problem could badly affect the economy of Kashmir, which is largely dependent on the apple trade.
Apple growers and traders allege that trucks are stopped together for several days. The KCCI spokesperson also said that if the fruits do not reach the markets outside Jammu and Kashmir on time, its quality suffers badly.
Also read-
Jammu Kashmir: PDP Chief Mehbooba Mufti's big attack, 'Central government wants to bring the people of Jammu and Kashmir to their knees'
Jammu Kashmir: The target of terrorists becoming migrants in Jammu and Kashmir, now firing on two laborers of Bihar in Pulwama