India News
Special on Munavwar Rana's poetry – You find it easy to be 'Munavwar'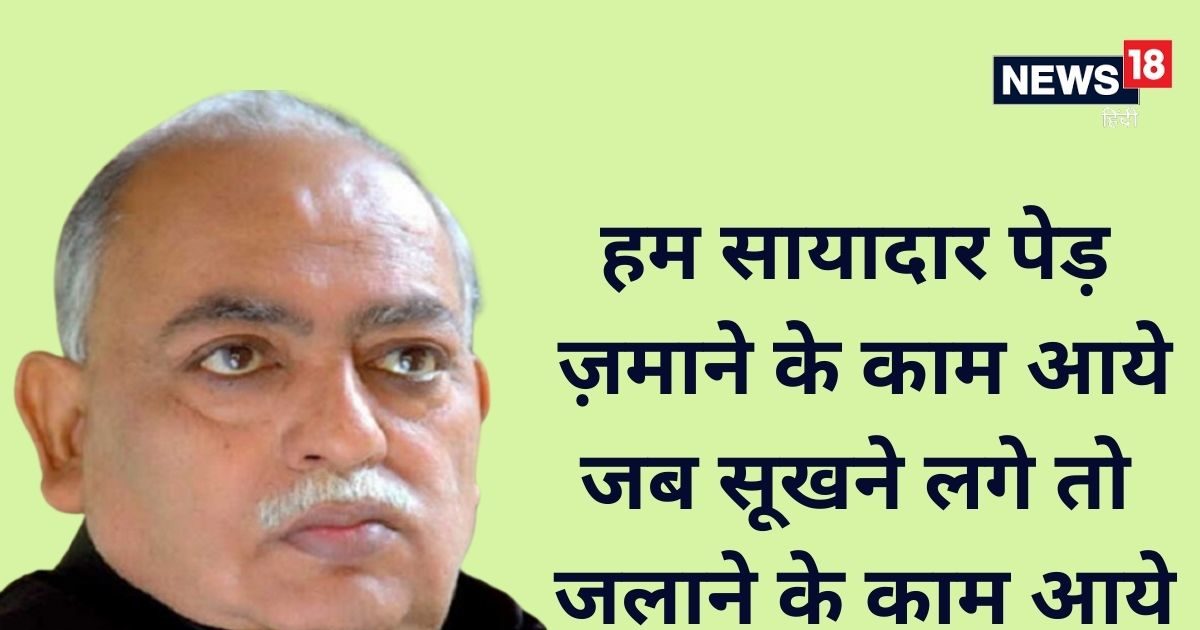 The world created by poet Munawar Rana is such that it always comes to mind at every turn of life on some pretext or the other. Two reasons are understandable. Firstly, he wrote poetry of relationships, secondly, his vocabulary is incomprehensible. Is colloquial. For poetry, there is depth of relationships in his thinking, so there are also those things, which keeps on bringing up a man. See –
Distance doesn't matter anymore
The world has come in a small sim.
Even though he writes while speaking, this poet, born in the fifties, has created such a thing that a smile blossoms on his lips when narrated to someone –
call him instead of sms
The world does not listen to the story of a dumb person.
Definitely these two Sher are not samples or representatives of Munavwar's poetry. His world of poetry rests on deep philosophy and thinking. Its foundation is especially on the foundation of relationships. This village is enriched by their connection with the soil and the country, their loyalty to the traditions. They also say-



UPSC Results 2022: Was determined to become an IPS, left a job worth 36 lakhs, failed three times, succeeded in the fourth time




Munawar Rana Health Update: Munawar Rana did not regain consciousness after the operation, on ventilator support, condition critical




Transfers of BSA and BEO in UP are now on merit, know when the transfers will start




AKTU Lucknow: 10 students of AKTU got jobs in renowned companies of the country, package of lakhs and much more…




UPSC Result 2022: Youth of UP's Lal, Prayagraj, Meerut, Gorakhpur shine in UPSC result




UPSC toppers gave such tips, 90% people will not know, if followed then selection is confirmed




UPSC Result 2022: Bus driver's son passed UPSC exam, raised money by running cyber cafe for coaching




VIDEO: Singer Kailash Kher raging at Khelo India event, lashed out at the organizers, said- learn manners…




ISRO Recruitment 2023: A great opportunity to become a scientist in ISRO, should have this qualification, will get 56000 salary




At the age of just 22, this student got a package of lakhs, 3 big companies of the country gave offers




Lucknow University: Lucknow University became the first choice of foreign students, students of these countries are showing interest
This pattern of happiness has not come by myself
The feet of the elders are pressed, so this fun has come.
Read this also: Interesting stories of Firaq Gorakhpuri: Know why he said – cycle can collide with motor, not with aeroplane.
Mother in Munawwar's poetry
In Munawwar's Nasr i.e. book of prose – "White Wild Pigeon", one can understand the immense love for mixed traditions till a few decades ago and their association with the soil of the village. Munawwar has similar attachment with his mother. The way Munawwar's love for his mother has come to the fore in poetry, it is difficult to find its match –
Have seen Azaan with moving eyes
I haven't seen heaven, I have seen mother.
When Munavvar Rana Sher was reading about his mother, his eyes kept getting moist on the stage itself. I myself have seen that in Mushairas, listening to lions on his mother and relationships, the eyelids of many listeners have also been moist along with him.-
Thus she washes away my sins,
When mother is very angry, she cries.
At the same time, he also cautions that humility should not be shown in front of the mother because her son is the biggest hope and strength of the mother.
Never cry openly in front of Munawar Maa
Where there is foundation, so much moisture is not good.

As long as the forehead kisser was alive
There was Lukma in the mouth even outside the door.
Sanyasi praised Munavvar's love for his mother
Once upon the behest of storyteller Saint Angad Sharan Ji Maharaj, a program was organized on the occasion of re-publication of Adam Gondvi's book at Magh Mela. The program was organized by former MD of Electricity Department AP Mishra in the camp of Angad Sharan ji. On the request of Angad ji, Munavvar Rana was also called in that program. I was also in the program. Munavvar reached Allahabad via Hyderabad or any city in the south via Banaras. It's too late at night. His knee problems had started. Unable to sit down, Munavvar Angad Sharan ji sat on the throne-like seat of Arpana Bharti, wife and narrator of Bhagwat Katha. In the atmosphere of the fair, there was an uproar among the devotees. No one sits on the throne of Guru or Gurumata anyway. Now how did Munawwar Rana, who is a non-Hindu, sit down. Knowing the sentiments of his followers, Angadsharan ji said – "Munavwar Rana is that poet who has made mother the heroine of the ghazal, which is limited to the dialogue between lover and girlfriend. A lot has been written about mother's love. They have the right to sit on the mother's lap. He can sit on Mataji's throne. On this the devotees who came to Magh Mela became calm. It would also be relevant to mention here that Angad ji himself was a great lover of literature. Literature may be of any language. Along with Sanskrit, Hindi, Awadhi, he knew how many lions of Urdu were memorized. He used to mention them time and again.
Read this also: Even today everyone knows actor Ajit by the name of Lion, read me the whole city…
Wrote a lot on daughter too
In the poetry of Munawar Rana, the daughter is also mentioned in the same way as the mother. He has been lovingly mentioning his daughter even in his mushairas. Referring to the daughter's departure, he writes –
It seems like the fair is over,
The bird flew away from the courtyard, the house became lonely.
The way Munawwar has mentioned about the growing up of his niece in 'Muhajirnama' is wonderful. There are only a few authors all over the world, who have written poems on the beauty of daughters. Like Nirala in Hindi and William Wordsworth in English. The simplicity with which Munawwar has mentioned the growing up of his niece here is worth seeing-
Niece must be wearing a scarf properly now
The same swing in which we have left humkta.
The poetry of Munavvar Rana, who rose from poverty and strengthened his family and home through his business, has been in favor of the poor laborers.
fall asleep by spreading newspapers on the pavement
laborers never take sleeping pills
Or
Lust wanders day and night in gold shops
poverty pierces the ears
love urdu with hindi
As I have mentioned earlier that the most special thing about Munavwar Rana's poetry is his colloquial language. He is completely different from those poets who avoid Hindi. Even his lion, who calls Urdu-Hindi as real sisters, remains only on his tongue-
I hug my mother and my aunt smiles
i say ghazal in urdu hindi smiles
Actually, looking at the entire literature of Munawwar, it is known that he is not just a lion. He has lived it and behaves as well. That's why they write –
Long time no see you
This is not good for the eyes.
Munawwar Rana is a very good poet for me too. For almost two decades, we have been able to meet him, sit together, talk and listen to his compositions from the forums. Have read his books. In recent years, there have been various discussions about him. Ignoring all those discussions, as a reader I always feel that Munawwar's standard will always be very high through his creations, be it poetry or prose.
,
Tags: Hindi writer, Literature, Literature and Art, Munawwar Rana
FIRST PUBLISHED : May 26, 2023, 15:58 IST