India News
Sukesh Chandrashekhar's letter to LG of Delhi: 'Satyendra Jain took 10 crore protection money from me'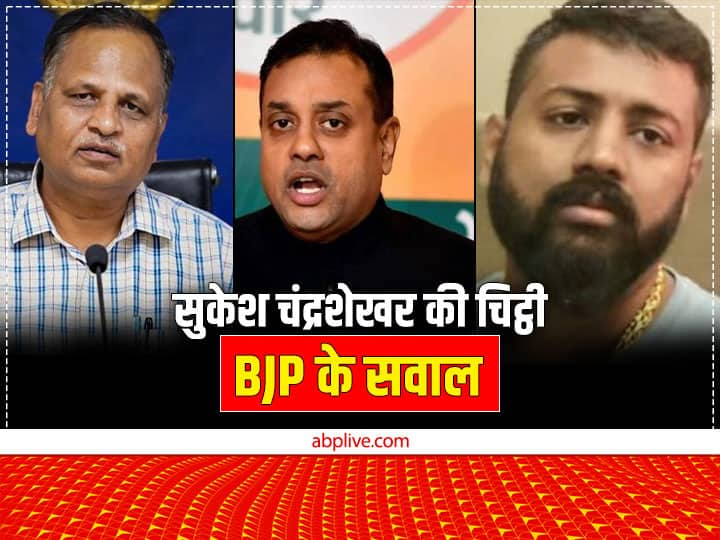 Sukesh Chandrashekhar Letter to Delhi LG: Sukesh Chandrashekhar, jailed in a money laundering case, wrote a letter to the Lieutenant Governor of Delhi (Vinai Kumar Saxena) and made serious allegations against Aam Aadmi Party (AAP) leader Satyendra Jain. have been installed. Sukesh Chandrashekhar has claimed in a letter to the LG that he gave Rs 10 crore as protection money to the AAP leader and had donated Rs 50 crore to the party for a key position in the AAP in South India. The BJP has become an attacker on the Aam Aadmi Party regarding the matter.
BJP leader Sambit Patra tweeted, "This is a big issue! Sukesh Chandrashekhar had given protection money to AAP minister Satyendar Jain, who is currently in jail. The party was also given about Rs 50 crore. There is no doubt why the Aam Aadmi Party is called a hardcore corruption party.
This is huge!
Sukesh Chandrasekhar paid protection money to now Jailed AAP Minister Satyendra Jain.
About 50 crore was paid to the party as well
No doubt there's a reason why AAP is called as #KattarCorruptParty pic.twitter.com/p4v2m0NlHA

— Sambit Patra (@sambitswaraj) November 1, 2022
Amit Malviya also targeted 'AAP'
latest video
Amit Malviya, in-charge of BJP's National Information and Technology Department, has also surrounded the Aam Aadmi Party regarding the matter. Amit Malviya wrote in the tweet, "Aam Aadmi Party and its jail minister Satyendra Jain, who is behind bars, duped Sukesh Chandrashekhar. Took 10 crores for security in Tihar and 50 crores for giving an influential party post in South India. 'AAP' leaders are extortionists. Satyendra is still a minister in Kejriwal government…"
What did Sukesh say in the letter?
The hand-written letter to LG also bears the signature of Sukesh and a speed post sticker on the front page. In the letter, Sukesh has told that he knew AAP leader Satyendar Jain since 2015. Jain had promised a key position in the party in South India, for which Rs 50 crore was paid. Sukesh said in the letter, "After my arrest in 2017, I was kept in Tihar Jail and Satyendar Jain, who was serving as Jail Minister, came to me several times. In 2019 also again contact was made towards Satyendra Jain, his secretary told me that basic facilities will be available in jail on payment of Rs 2 crore every month as protection money.
That's why Sukesh Chandrashekhar is in jail
Sukesh Chandrashekhar is currently lodged in Delhi's Mandoli Jail. He was arrested for alleged extortion from high profile people. The people from whom Sukesh is accused of extortion include Aditi, wife of Fortis Healthcare promoter Shivinder Mohan Singh. He was brought from Tihar Jail to Mandoli Jail in August this year. Sukesh had requested several times to shift him to another jail. He had claimed that he had received death threats inside Tihar Jail. This month, he also appealed to the Supreme Court to be shifted from Mandoli jail. The Supreme Court refused to hear his petition.
The CBI team was also told about giving Rs.
According to reports, on October 19, days after receiving the letter, the LG had allowed the Economic Offenses Wing of the Delhi Police to conduct an inquiry against 82 officials of the prison department who allegedly entered the jail premises on behalf of Sukesh Chandrashekhar. He was involved in the crime syndicate being run from
In the letter, Chandrashekhar has claimed that he had told the CBI investigation team last month about the money given to Jain, the Aam Aadmi Party and the DG of the jail. At present, the response from the LG office regarding the matter is yet to come.
Also read- New tile, paint and overnight cleaning before PM Modi's hospital visit in Morbi! Opposition raised questions