India News
Teacher came forward to help 3 siblings studying under street lights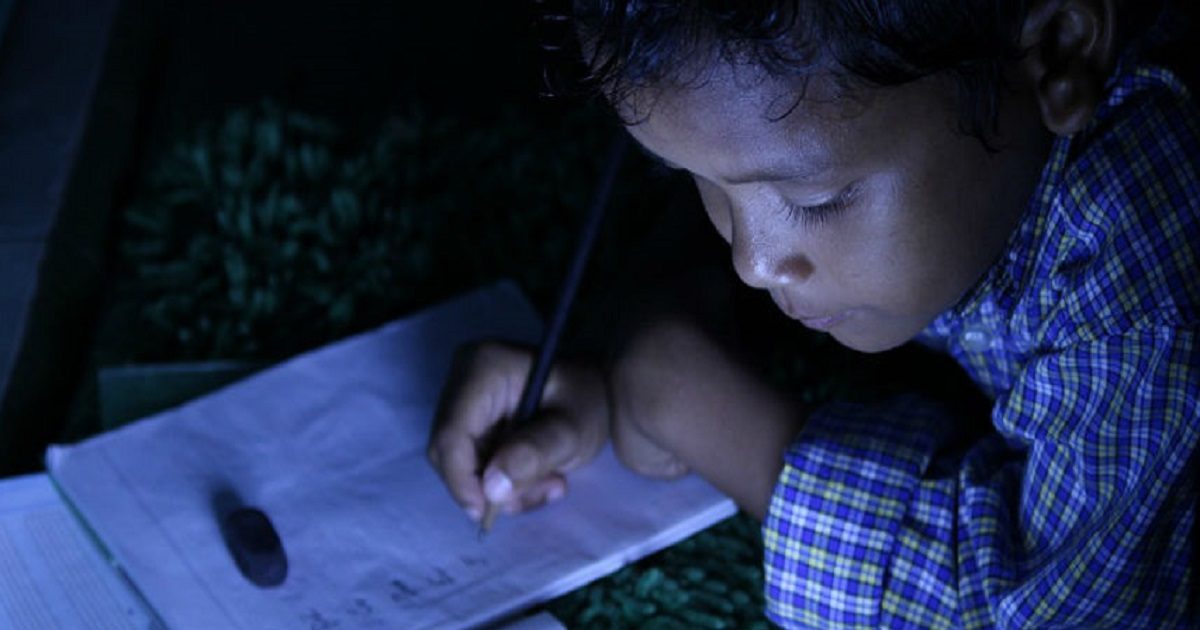 highlights
Agricultural laborer family came to Surat from Surendranagar district about 7 years ago
110 watt solar panel has been installed in the kutcha house for children's education
15 thousand spent on wiring of two bulbs and a mobile charging point
face. There is a saying 'Honahar Birwan ke hot chikne paat'. The meaning of this saying is 'the talent of those who are promising starts appearing in childhood itself'. One such case has come to the fore in Surat city of Gujarat where 3 children of an agricultural laborer study in the light of street light. And now when he got the help of some teachers, today he has topped his primary school exams.
Actually, the matter pertains to three siblings of Dr. Abdul Kalam School of Surat Municipal Corporation. Living with their parents in a mud house without electricity, the three children used to do their studies by the light of the nearby street lights. After coming to know about this, the school principal and teachers together made arrangements for lighting in their house by installing solar panels. The big effect of this effort was seen that all the three promising students have come at the top level in the school examination.
According to the report published in The Indian Express, the school teacher Hasmukh Patel says that all three students are very good and promising in studies. In March, I thought of going to his house. When I went home, I came to know that due to lack of electricity, brothers and sisters were upset and used to study under a street light near the house.
read this also- More than 50 children study here under the light of street light
Seeing the abilities of the children, I wanted to meet their parents, who are agricultural laborers. During the meeting with their parents, there was a discussion about the education of the children, then their whole struggle came to know. Students' father Vijay Deviputra told teacher Patel that he had moved to Surat from Surendranagar district with his 3 children and wife Jasuben about 7 years ago. After this he and his wife started working as agricultural laborers in an agricultural field in Parvat village.
He also disclosed that he and his wife used to accompany the three children at night when the children used to go to study under the street lights. When Patel visited the students' home, Vijay's son and daughter, Vikram and Poonam, were about to appear for their Class 7 final exams. Seema, the sister of these students, was also preparing for class 6 exams in the same school. After seeing all this, the Mathematics teacher resolved to help the family. The next day he shared his views on this matter with the school principal Deepak Trivedi and 18 other colleagues during the vacation.
On this, Hasmukh Patel reminded that all my colleagues were ready to contribute. Decided to install solar panels in the mud house, so that the children don't have to study under street lights. The idea of ​​installing solar panels came from a teacher. Another teacher mentioned his friend Ashish Dhanani who is into solar panel business. Took Ashish home. Meanwhile, Ashish Dhanani estimated a cost of Rs 15,000 for the installation of a 110-watt solar panel and wiring for two bulbs and a mobile charging point.
But the good thing is that when Dhanani came to know that all this was being done for a noble cause, he too decided to contribute Rs 7,000 and reduced the expenditure to Rs 8,000. Solar panels were installed in the house in the last week of May.
During this, the brothers and sisters kept working hard. The final examination results were declared by the Municipal School Board in the middle of April. Vikram and Poonam were among the top 5 students in their classes, while Seema also passed her class 6 exams with good marks and was one of the toppers.
School Principal Deepak Trivedi says that now Vijaybhai's two children will study in class 8, and they will have to work harder. In such a situation, all of us have decided to help them even further. It was also learned that Vijay had to spend Rs 5 to charge his mobile phone at a nearby grocery shop. He says that in the primary school established in the year 2017, more than 750 students are studying in Gujarati medium from class 1 and class 8. These 3 children are also our students in this school for years.
Patel said that at present he has contributed Rs 8,000 in this work along with other teachers. Summer vacations are going on now. Once the schools open, more other teachers will contribute. Doing such work gives spiritual satisfaction. We did not want the children to face any kind of trouble regarding their studies.
,
Tags: Municipal corporation, primary school, surat news
FIRST PUBLISHED : June 05, 2023, 09:45 IST