India News
Tejashwi Yadav Became Father: Lalu family immersed in celebration after the birth of a daughter in the house, Tej Pratap became uncle, distributed a lot of sweets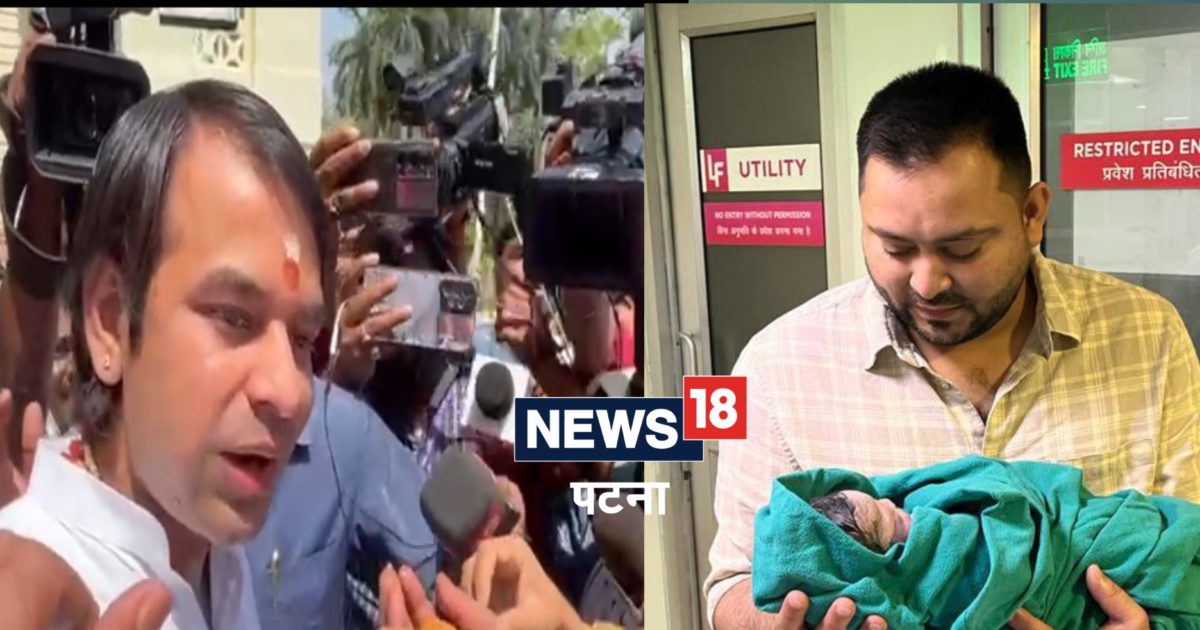 Satchidananda
Patna. A new member has arrived in the family of Rashtriya Janata Dal (RJD) supremo Lalu Prasad Yadav in the form of a baby girl. Deputy Chief Minister of Bihar and Lalu's younger son Tejashwi Yadav tweeted a picture on Monday morning at 9.53 am and informed about becoming the father of a baby girl. After this, there was a wave of happiness among RJD workers and supporters including Lalu family. Where Tejashwi Yadav became a father. At the same time, his elder brother Tej Pratap Yadav has become an uncle.
After the arrival of the daughter in the family, all the people including the Lalu family are celebrating by feeding each other sweets. Cabinet Minister Tej Pratap Yadav was seen celebrating among fellow MLAs by feeding them sweets in the Bihar Legislative Assembly. He said that the goddess has arrived in the house, now all the problems will go away.



Nalanda News: Preparations in full swing for Kundalpur Festival in Nalanda, responsibility given to various departments




Patna News: Small children will not worry while on duty, the government is building a crèche in the office campus




Chaiti Chhath 2023: Preparation for Chhath at the administrative level as well, Arghya will be offered to the setting sun today




What should be the qualification to become a teacher, know how much salary you will get




Siwan News: Monkeys bite and injure 10 people, rescue team caught one after 4 hours of effort




East champaran: Champaran's Vivek did not give up on failures, got success in IIT by doing self-study




Begusarai News: Auditorium cum art gallery is ready in Begusarai, know what is the specialty




Supply from mercury van, bottles filled in the coffin containing the corpse, you will be surprised to see the trick of the liquor smugglers of Bihar




Begusarai: Learned how to make incense sticks from YouTube, did not get help from the government, then started the industry by taking a loan from the moneylender




East champaran: Madhurendra engraved GI tag Bihari cuisine on 10 feet high sand, artwork brother to people's mind




Good News: Health workers honored in Purnia, honored for spreading awareness about family planning
Bihar's deputy CM Tejashwi Yadav became the father of a daughter
Tejashwi Yadav tweeted on Monday morning with the photo of the baby girl and wrote, God has sent a gift in the form of a daughter with pleasure. After this, her sister Rohini Acharya also tweeted one after the other with photos of Tejashwi and the baby girl. He wrote in tweeting, May there be a smile on the faces of brother and sister-in-law, May happiness always reside in my house like this only.
Tej Pratap Yadav distributed laddus in the assembly in the happiness of becoming an uncle. Also, he said that on this auspicious occasion of Navratri, the arrival of a new member in our family is an auspicious sign that Shakti Swaroop Maa Durga has given her blessings. Now all the problems will go away soon. Many congratulations to my Arjun on getting the wealth of a daughter.
Lots of sweets distributed in RJD office too
On becoming the father of Tejashwi Yadav, a lot of sweets were also distributed in the RJD office located in the capital Patna. While feeding each other sweets, all the people including the spokesperson of the party expressed happiness. On this occasion, someone was congratulating himself for becoming a grandfather, while someone was congratulating himself for being an aunt. RJD spokesperson Sarika Paswan congratulated Deputy Chief Minister Tejashwi Yadav and said that on the auspicious occasion of Ramzan, Navratri and Chhath Puja, Tejashwi became a father, while I also became an aunt. There is a lot of enthusiasm among all the RJD supporters of Bihar, and everyone is considering it as a good sign.
First read breaking news in Hindi News18 Hindi| Read today's latest news, live news updates, most reliable Hindi news website News18 Hindi.
Tags: Bihar news in hindi, Lalu Prasad Yadav, PATNA NEWS, RJD News, Tej Pratap Yadav, Tejashwi Yadav
FIRST PUBLISHED : March 27, 2023, 16:53 IST