India News
The businessman's heart will beat in the chest of an army soldier, he gave his life even after death; 3 green corridors built in a single day in Indore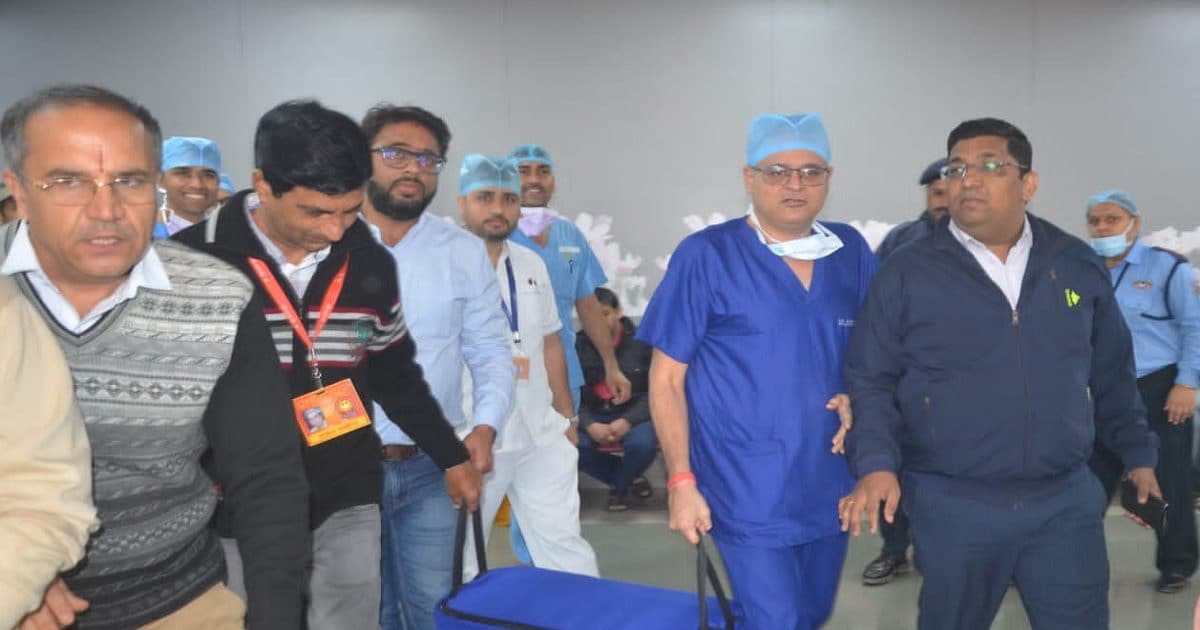 highlights
The heart sent from Indore will beat in the chest of an Indian Army soldier.
Brain dead man's heart sent to Pune by Air Force's special aircraft
3 green corridors built in a single day in Indore, kidney and eyes also donated
Indore. The news presenting an example of humanity has come out from the cleanest city of the country, Indore. Brain dead person gave new life to 6 people even after sacrificing his life. His heart will be transplanted to an army man. The Air Force's special aircraft had reached Indore from Pune to take the heart. At the same time, both kidneys and eyes were also donated. In order to reach all the organs to the destination on time, 3 green corridors were made in a single day in Indore. With this great donation of a brain dead person, where the heart can beat again in someone's chest, then someone will get a new light.
Ujjain's potato-onion businessman Pradeep Aswani, who was admitted to a hospital in Indore, had become brain dead. Pradeep's heart will now beat in the heart of a 54-year-old soldier serving the country. His heart will be transplanted in a hospital in Pune to an Indian Army soldier battling for life and death. On Monday, a green corridor was made from the special Jupiter Hospital to the airport at 8:50 am. The heart was flown to Pune by a specially prepared Air Force aircraft at Devi Ahilyabai Holkar International Airport. Colonel Dr. Saurabh Singh, cardiac surgeon of Indian Army's AICTC Hospital, reached Indore late night with a team of 8-member doctors to take the businessman's heart. After this, the 48th Green Corridor was built with the help of Indore's Society for Organ Donation.
Video: Great donation of Khazanchi family of Indore, daughter-in-law donates organs after father-in-law in 7 months, donates hands for the first time



Uma Bharti will open cowshed in MP's liquor shops, Shivraj government on target, said- be the ruler




The new Madhya Pradesh building in Delhi is ready, with 6 floors and 104 rooms, five star facilities, you will also say wow!




Bageshwar Dham Sarkar Dhirendra Shastri: Flood of supporters landed on the streets in Rajasthan, warned, said…




No city of Vindhya is included in Khelo India Youth Games, Congress asked – why so much discrimination!




Oops!! Wheat after paddy: This is how the game of adulteration is going on, sand and soil are being mixed openly, video viral




Success Story: Sowing once, then earning for 3 years, the farmer became a fan of the trick of the young farmer




Uncle saved Congress leader accused of murder, fled after hitting a police vehicle, know the matter




The husband called to persuade the angry wife who went to her maternal home, if she did not agree, she hanged herself by making a video call




Photos: 150 years old Mhow-Mortakka meter gauge track closed, the last journey of the train became emotional




OMG: Mother started drinking water at the station, 2-year-old child was stolen by beggars again…




VIDEO: In front of the eyes of the tourists, when the Kajri tigress took the victim in the mouth like mascara, see the rare sight
Green corridor created
At 9.50 am, the second green corridor from Special Jupiter Hospital was made for Choithram Hospital and the third green corridor was made for Bombay Hospital. This is the third time in January this year when the organ of a brain dead person was sent for transplant by making a green corridor. In a single day, 3 green corridors were created for waiting list patients, in which 1 interstate and 2 local corridors were created. In this, the local traffic police, CISF and airport authority employees played an important role. For this, 150 traffic police personnel were deployed.
The brain dead businessman's heart was taken to Pune in a special aircraft of the Air Force. (News 18 Hindi)
Pradeep Aswani was injured in a road accident
Potato-onion businessman Pradeep Aswani, a resident of Shubham Palace in Ujjain, was seriously injured in a road accident in the midnight of 20 January. He was admitted to Sanjivani Hospital (Ujjain), where in view of his critical condition, he was referred to the special Jupiter Hospital in Indore with the help of Muskaan Group volunteers. During treatment, neurosurgeon Dr. Basant Dakwale informed the family about the symptoms of possible brain dead. In such a situation, the servants of Muskaan Group convinced the family for organ donation.
was tested twice
After family approval, a panel of 4 doctors conducted the first brain stem death test on Pradeep Aswani on Saturday, January 28 at 11:55 pm, while the second brain stem death test was done on Sunday, January 29, at 6:15 pm. The allocation of organs was done on the basis of priority list as per the rules of the Central Government. In this liver special was given to Jupiter Hospital, one kidney to Bombay Hospital and the other kidney to patients undergoing treatment at Choithram Hospital. Whereas, the eyes were donated to Shankar Eye Bank.
First read breaking news in Hindi News18 Hindi| Read today's latest news, live news updates, most reliable Hindi news website News18 Hindi.
Tags: Indore News, Organ Donation, Ujjain News
FIRST PUBLISHED : January 31, 2023, 08:06 IST