India News
The name of the brands can be written next to the name of the metro station! will also be on the train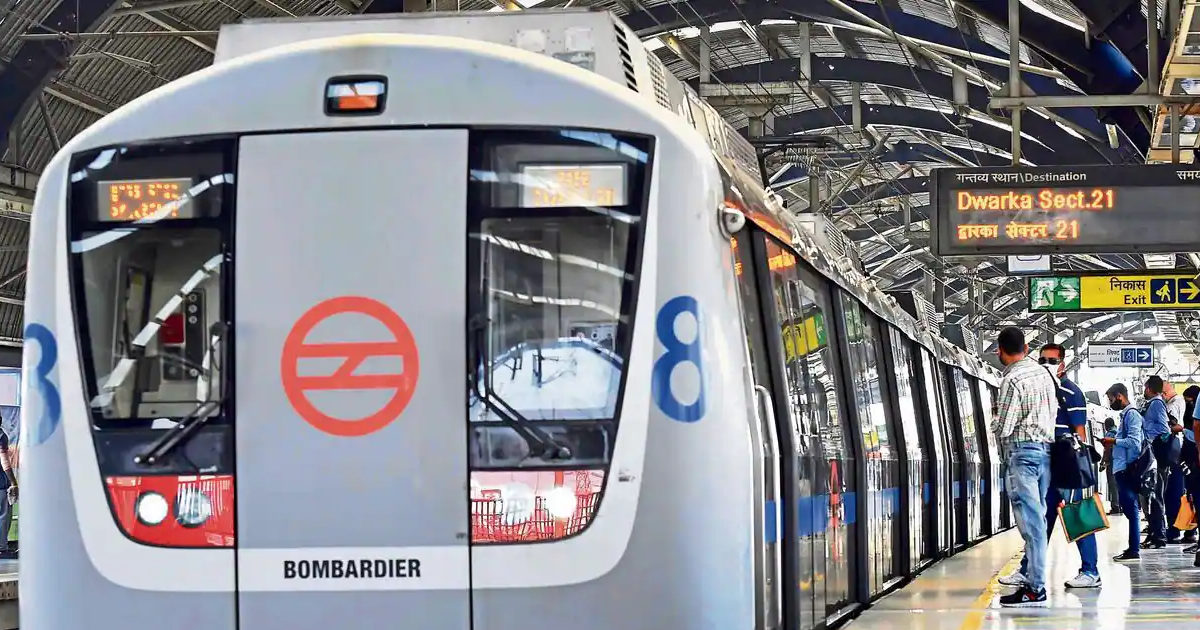 New Delhi. During the journey in the trains of Delhi Metro, you must have seen that not only around the metro stations but also inside the trains and also on the glasses of the train, the advertisement of any film, brand, government or company is printed, but now Delhi Metro is promoting various brands and companies. Metro is also considering allowing advertisements by placing brand names in front or behind the names of stations.
Delhi Metro Rail Corporation has successfully organized an interactive session with stakeholders for co-branding rights collaboration at Metro Bhavan. The session saw active participation from representatives of more than 30 organizations including public and private organizations along with OOH media firms, media agencies and establishments near metro stations.
This co-branding offer by the DMRC allows organizations to add their brand names either in front or behind the Metro station name, apart from getting a few hundred square meters of space inside and outside the stations. Brand color also includes collaterals like canopy, kiosk and station colouring.
from your city (Delhi-NCR)




UPPCB fined 76 crores on 38 builders of Noida, to be deposited in 15 days




If you are also fond of bangles then this market of Delhi will be best for you.




DDA Recruitment 2023: Vacancy for many posts including Naib Tehsildar, Patwari, application starts from today, salary is 34800




UPSC vs Judiciary: Is Judiciary Exam Tougher Than UPSC Civil Services Exam?




Delhi Famous Food: Have you eaten Chole Kulche of Karol Bagh Wale Bhaiya? If you eat once, you will come again and again




What is the necessary qualification for recruitment in BSF, till what age can apply




Pilot salary: How many types of pilots are there, who gets how much salary




UG admission 2023: Application date for UG admission released, in which case the admission will be cancelled, know the rules




Delhi Liquor Scandal: Manish Sisodia reaches home from jail, will be able to breathe in open air for 8 hours




Delhi Riots 2020: Father-son convicted in Delhi riots, sentenced to 3 and 7 years, court made strong remarks
To provide more value to interested organizations, DMRC is considering adding brand names either before or after the station name and including it in train announcements.
During this, many participants also gave their own suggestions. DMRC officials assured the participants that these suggestions would be duly considered in future course of action. After the presentation and discussion, the participants were taken on a tour of Shivaji Stadium Metro Station. Metro officials led the participants to the station and highlighted the branding space and brand names available there.
DMRC is finalizing tenders for co-branding opportunities at selected stations including New Delhi station, Kashmere Gate, Nehru Place, Ashram, Vasant Vihar, Khan Market, Hauz Khas etc. Various measures are being taken by DMRC to increase non-ticketing revenue. These initiatives include asset development measures at stations, consultancy assignments abroad.
DMRC Managing Director Dr. Vikas Kumar presided over the meeting held on Wednesday. During this, Director Operations and Services Dr. Amit Kumar Jain, Director Finance Jeet Sharma were also present here and they gave information regarding the questions and suggestions of the participants during the session.
It also saw participation from several media agencies including media firms and reputed government organizations and PSUs like Indraprastha Gas, SIDBI, Indian Railway Finance Corporation and Sports Authority of India. Private organizations like Shoppers Stop, IndusInd Bank, AVG Logistics, Unity Group, Rcube Projects and Skoda dealerships also participated in the meeting.
,
Tags: Delhi Metro, delhi metro news, delhi metro operations
FIRST PUBLISHED : June 03, 2023, 17:36 IST