India News
Then India will witness a big technology revolution, PM Narendra Modi will launch 5G service today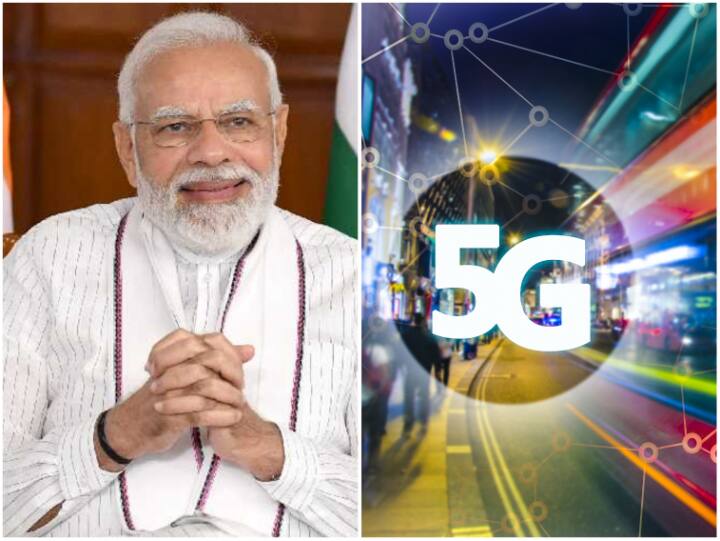 PM Narendra Modi WIll Launch 5G: Prime Minister Narendra Modi will launch 5G (5G) services at Pragati Maidan in New Delhi at 10 am today. This will be a special moment for India and the country will enter a new era of technology.
This launch will take place in the sixth edition of the Indian Mobile Conference (IMC), which will be inaugurated by Prime Minister Narendra Modi. This time IMC 2022 will be organized from today till October 4 and its theme will be "New Digital Universe".
What is IMC event
The conference will provide a common platform for various presentations and discussions on the rapid adoption of digital technology, the unique opportunities arising out of its proliferation, bringing together leading thinkers, entrepreneurs, innovators and government officials.
How India will change with 5G
The total economic impact of 5G on India is estimated to be up to US$ 450 billion by 2035. Compared to 4G, 5G network (5G network) gives many times faster speed and provides hassle-free connectivity. It also enables billions of connected devices to share data in real time.
A record Rs 1.5 lakh crore bids were received in the country's biggest ever telecom spectrum auction. In this, industrialist Mukesh Ambani's Jio has acquired almost half of all spectrum sold with a bid of Rs 87,946.93 crore.
India's richest man Gautam Adani's group had made a bid of Rs 211.86 crore for 400 MHz. It is, however, not used for public telephone services. At the same time, telecom giant Sunil Bharti Mittal's Bharti Airtel made a successful bid of Rs 43,039.63 crore, while Vodafone-Idea bought spectrum for Rs 18,786.25 crore.
people's lives will change
India is getting ready for better data speed and interruption-free video in the coming times as telcos get ready to start 5G service as soon as possible. After the arrival of these services, people will get everything from smart ambulances to cloud gaming. Even customers can have completely new experiences during their purchase.
The fifth generation i.e. 5G telecommunications services allow high-quality long-duration video or movie downloads on mobiles and other devices in a matter of seconds. It will support about one lakh communication devices in one square kilometer. The service enables superfast speeds (about 10 times faster than 4G), cutting down on connectivity delays, and real-time data sharing across billions of connected devices. It could redefine 3D hologram calling, the Metaverse experience and educational applications.
This will be the schedule of the entire event
PM Modi will reach Pragati Maidan at 10 am.

He will cut the ribbon of the exhibition of the Indian Mobile Convention and then visit it.

Modi will reach the stage at 10:30 am.

First of all, Union Communications Minister Ashwini Vaishnav will deliver the welcome address.

At 10:35 am, Reliance Industries Chairman Mukesh Ambani, Bharti Enterprises Chairman Sunil Bharti Mittal and Aditya Birla Group Chairman Kumar Mangalam Birla will address.

PM will inaugurate the Indian Mobile Conference-2022 at 10:44 am.

At 10:44 am PM will launch 5G services by pressing the remote button.

The 5G use case of 3 telecom service providers will be inaugurated at 10:47 am.

Jio Use Case: PM will talk to the children of Dnyanjyoti Savitribai Public School in Raigad, Maharashtra. The CM of Maharashtra will also be present in this.

Jio Use Case: PM will talk to the children of Ropda primary school in Gandhinagar, Gujarat. Gujarat CM will be present.

Jio Use Case: PM will talk to the children of Odisha's Mayurbhanj SLS memorial school. Odisha CM will join virtually.

Vodafone-Idea Use Case: PM will talk to Rinku, worker of Delhi Metro Tunnel Dwarka. LG of Delhi will be present.

Bharti Airtel Use Case: PM Modi will talk to student Khushi (Dankaur of UP) through hologram. CM Yogi will also be present at the Rudraksh Convention Center in Varanasi.

PM Narendra Modi's address will begin at 11:10 am
read this also
Russia Ukraine War: Vladimir Putin lashed out at western countries, said India was first looted, now Russia is on target