India News
They are not smiling flowers, those who know how to wither: Mahadevi Verma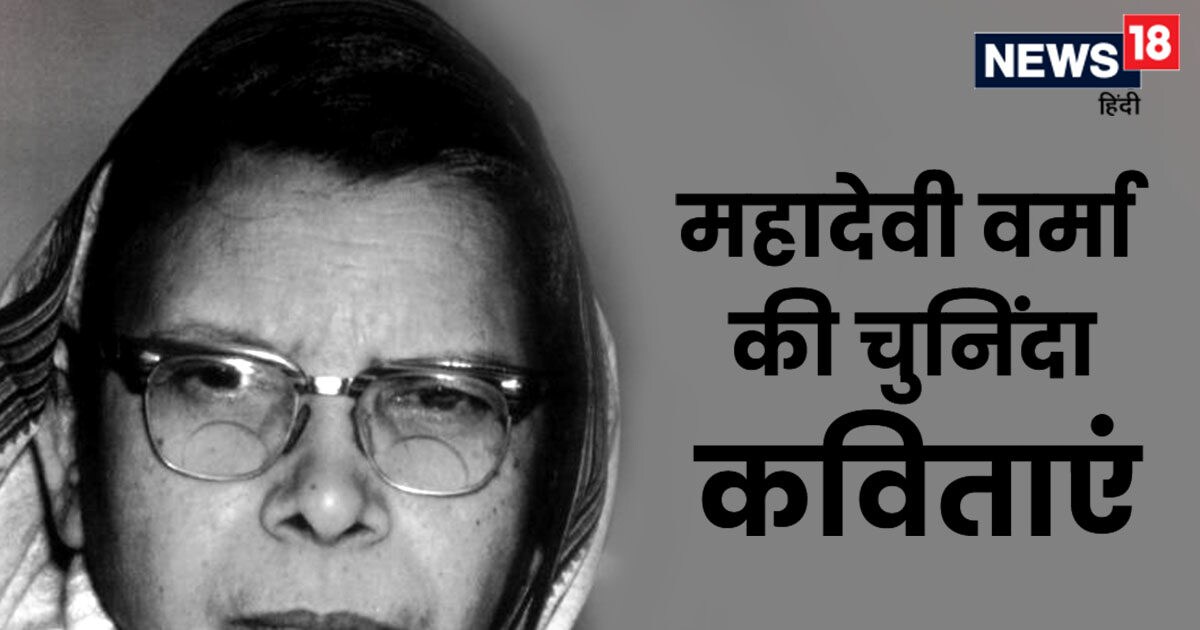 Mahadevi Verma was born in the year 1907 in Farrukhabad, Uttar Pradesh. His early education took place in Mission School, Indore. At the age of 22, Mahadevi Verma wanted to become a nun after taking Buddhist initiation, but changed her decision after meeting Mahatma Gandhi and started social service. At one place, Mahadevi Verma also writes, "Because of my rebellious nature, I could not become a nun, because my mind was not ready to take initiation from such a seeker who was limited to seeing a woman's face. The surprising thing is that since ages, our field of penance and meditation has been terrorized by the terror of women, be it human or Apsara. Bapu's sermon 'It is good if you do the work of teaching your poor sisters in your mother tongue.' This proved to be in favor of my mind and then rejecting the tempting invitation of the university in terms of meaning and prestige, I made the resourceless university my field of work with some weak students. And this was the reason, that Mahadevi Verma established Prayag Mahila Vidyapeeth for the promotion of women's education and took over the reins of the post of Principal, all the lack of which was filled by her affection and devotion.
The entire poetic journey of Mahadevi Verma is not only a witness to the history of modern Hindi poetry, but also a living symbol of Indian glory. His poems are a meaningful timeless achievement of Hindi literature. This poetess of shadowism has a unique identity of her own in Hindi literature. You can also read some selected poems from his poetry collection 'Aatmika'. In this book, those compositions of Mahadevi Verma are stored, which give an introduction to his life-vision, philosophy, aesthetic sense and poetic vision. Atmika has been published by 'Rajpal Prakashan', many editions of which were published.
1)
Madhubela is today
Madhubela is today
Hey you flower of life!
The night of sorrow has come, the gift of pearls
Give the rhythm of happiness to the hollow eyelids;
Do not be afraid, Sukumar!
Shool has come to caress you!
Hey you flower of life!
This world stands like a beggar seeking compassion and love;
Get up you fool, open the door of petals;
do the fund
No tomorrow gold will be dust!
Hey you flower of life!
2)
shimmering night
Shimmering night of mine!
last golden evening
Come quietly like laughter,
Division of silent Chitwan-
Suddenly I was touched by you;
Deepawali has become then my tears!
Smiles made of teardrops
on the bed of sleeping Vasudha
come true in Kanj
The dreams of the witches are beautiful,
My dusky rain smiled in Damini!
Why don't you own it?
Fill the empty heart today?
Why not this root of Pulak,
Communicate life?
Your breath's honey-heavy-slow air is mine!
3)
Why me dear!
Why don't I love bondage?
Tam-Sindhu's light has become like a rainbow;
Rajbhara Jag is from Baal; dirty bit of digital electricity;
doing on memory pad now
That self-design!
Chandni used to anoint my mother by gifting her;
The two threads of death and life unite today awake,
now the messenger of the beloved
Life's message, vibration!
Sajni, in the golden-cage, I raised the fire of doomsday;
Today, by making you capital, you have made it bright;
burying in the urn
Getting Jwal Chandan everyday!
Today his footprints were found in the forgotten cult
Pain is returning by counting failed lost dreams;
dissolved in these loopholes
Long awaited Poot Anjan!
Today my search and discovery goes on singing;
Saying with tears of happiness 'You are my eternal love',
became of bygone eras
Vikal my breathing!
The chime of the bean-bandi wire is the celestial;
Timirhari is tied to this dirty lamp of dust
I tie the knot
Bandini count your chains!
Darkness clings to the post of golden evening everyday!
My meeting is coming flying on the wings of separation;
who knows who is on the other side
You are a melodious day!
4)
my wet eyes
Dear my wet eyes will become Aarti!
dream wrapped in breath,
Bandanwar pain-discussed,
Life is full of sorrow
Bharti will fill sweet in silent moments!
My two lamps flicker
The affection of tears remained intact,
Remembrance of you is a constant water,
Varti will remain bright on the sound of the feet!
Here you go dear! treasured life,
The wealth of the world's renewable memories,
Happiness-gold, kindness-diamond-particles,
You won today, you lost!
5)
Right
Those smiling flowers, no-
Those who know how to wither,
Those starlights, no-
Those who like to be extinguished;
Those sapphire clouds, no-
Those who want to dissolve,
That infinite- Rituraj, no-
Who has seen the way
They are silent eyes, no-
In which tears and pearls are made,
He is the sage of the soul, no
In which senseless pain sleeps;
Such is your world, pain-
no no in which depression,
Do not go to burn, no-
Who knows the taste of extinction!
Will we get the world of immortals
Tori the gift of compassion?
Leave it O God! Hey
It's my right to be erased!
,
Tags: Books, Hindi Literature, hindi poetry, hindi writer, Literature
FIRST PUBLISHED : June 09, 2023