India News
'Things are not going to change by complaining by sitting at home', when the elderly eyes spoke with hope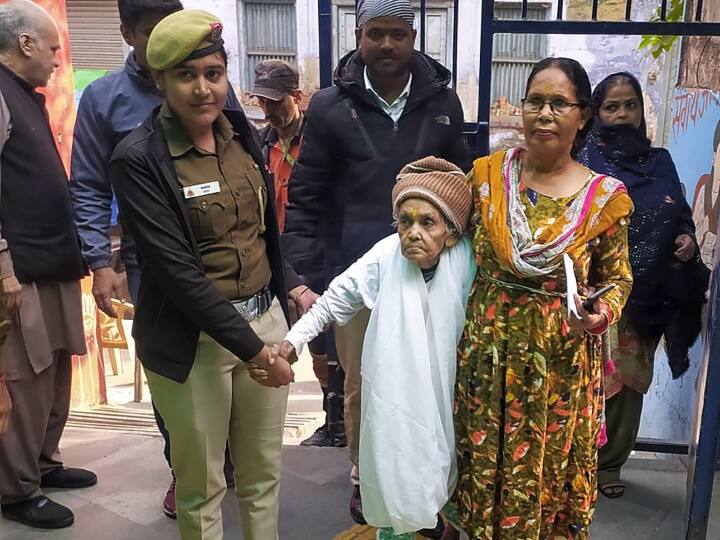 MCD Election 2022: 106-year-old Shanti Bala Vaidya along with her daughter arrived to vote for the Municipal Corporation of Delhi (MCD) elections in North Delhi's Bada Hindu Rao area on Sunday morning. His 55-year-old daughter Kamala said that she has not missed a poll even once since she started voting.
Due to old age, Vaidya's memory has started to weaken. She understands only Bengali, but cannot speak. She calls her daughter as mother. Kamla, who sells dry fruits, said that she speaks only one word – 'mother'. She calls me mother.
Policemen helped to cast their votes
Policemen deployed at Deputy Ganj polling station helped Vaidya to cast his vote. Deputy Commissioner of Police (North) Sagar Singh Kalsi said, "The police also have a responsibility towards voters, especially senior citizens." He said that our personnel at the polling stations have been asked to help those who need it. At the same time, 105-year-old Amina Bibi said that she votes in the morning in every election.
News Reels
This time the polling station was about 300 meters away from her house and she wanted to go alone, but several neighbors told her that they too wanted to go with her. She could not speak properly due to her old age, but was very keen on voting.
enthusiasm for voting
Gurdas Jeet Singh of East Delhi's Shanti Nagar area will celebrate his 100th birthday next month, but his enthusiasm for voting remains the same. His grandson Vimal said this. Gurdas Jit Singh said, "It is our right. Unless we come out of our homes, how will we find people of our choice in power? Sitting in the comfort of our homes and complaining is not going to change things."
He also expressed concern that the young generation is not showing interest in voting. He said, I always maintained that I should never give up my right to vote. There are over 1.45 crore voters for the MCD elections, of which 78.93 lakh are male and 66.10 lakh are female. According to Delhi State Election Commission data, there are 229 voters aged 100 and above, while 2,04,301 voters are above 80 years of age.
read this also: Delhi Pollution: Delhi's air quality again bad, ban on construction and demolition works