India News
This time not in the background; 'Red Fort' in the hands of Nitish Kumar! Smile slowly after seeing the portrait, watch video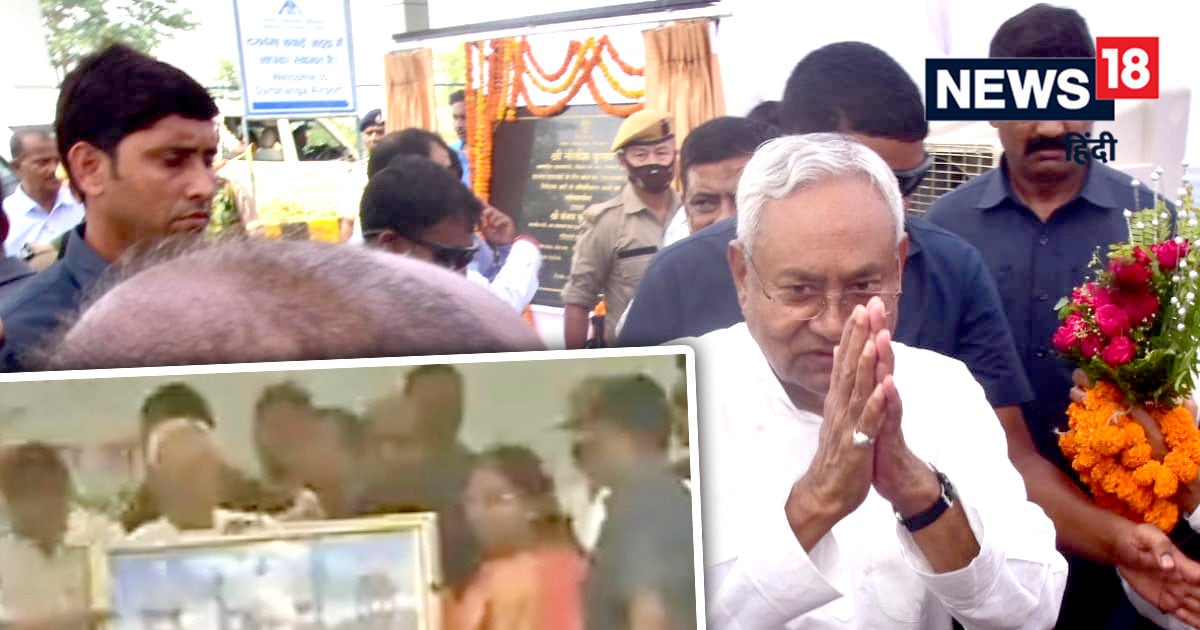 highlights
Nitish Kumar started smiling after seeing his picture in front of Lalikale.
The Chief Minister got a portrait of him standing in front of the Red Fort.
Slogans were raised in front of the CM – how should the PM of the country be, like Nitish Kumar.
Darbhanga. Bihar Chief Minister Nitish Kumar (CM Nitish Kumar) is preparing for a big front against BJP and is also uniting BJP opponents (Mission Opposition Unity) by visiting the country. Meanwhile, enthusiastic about the victory in Karnataka, the gathering of many political parties including the Congress is going to be held in Bangalore on Saturday. Nitish Kumar is going to participate in it. But, just a day before leaving, during a program of the Bihar Water Resources Department in Darbhanga, he was presented with such a picture that Nitish Kumar started smiling. Along with this, loud slogans were also raised in this program – 'How should be the PM of the country, how should Nitish Kumar be'.
Actually, Nitish Kumar was being honored in Darbhanga at the same time a JDU worker gave a picture to Chief Minister Nitish Kumar. A picture of Delhi's Red Fort was made in it and Nitish Kumar's picture was made just in front of that picture. As soon as this picture was given to Nitish Kumar, he looked at it for some time and then started smiling. Then he gave that picture to his security personal.
What does Nitish's smile say?
When this picture was given to Nitish Kumar, the people present in the gathering raised slogans on seeing it – how should the PM of the country be like Nitish Kumar. Nitish Kumar kept smiling after listening to this slogan. Let me tell you, even before this, during an Iftar party during Ramzan, a picture of the Red Fort was pasted just behind where Nitish Kumar was supposed to sit. Nitish Kumar was sitting in front of this picture put up by JDU MLC Khalid Anwar, about which a lot of politics took place then. The BJP had also taken a dig at this. Once again the picture of Red Fort by JDU worker and putting forward Nitish Kumar in that picture can heat up the politics.



What did Rajasthan CM Ashok Gehlot say about BJP and upcoming elections? , Hindi News




Don't take brucellosis lightly cattle breeders! This disease spreads from animal to human, this is how to protect




People of Bihar will now eat apples from their garden like Kashmir, will earn bumper, will get subsidy, know the complete plan of the government




PHOTOS: Amazing story of strange love! Love happened in Tamil Nadu, girl came to Sitamarhi from Odisha, got married in police station




CBI SI Salary: How does one get the job of Sub Inspector in CBI, how much is the salary? Know up to which post is promoted




G7 Hiroshima summit: This old man told the painful story of Atomic Attack on Hiroshima. Hindi News




Good News: Gaya's first panchayat illuminated with solar light, monitoring being done with GPS




OMG! After Jaimala, the bride refused to marry, said – the groom's complexion is black, people will make fun of him




CM Nitish's visit to Karnataka tomorrow. Karnataka News | Top News | JDU | RJD | congress news




Passengers please note .. 2 pairs of trains including Garib Rath canceled, 4 will run late, know full reason and details




Educational Multimedia Research Center ready in Mamgadh University, know when it will start
CM Nitish Kumar was presented a portrait of a picture standing in front of Red Fort in Darbhanga, CM started smiling after seeing this gift. pic.twitter.com/EQJmLi5rXG

— News18 Bihar (@News18Bihar) May 19, 2023
,
FIRST PUBLISHED : May 19, 2023, 17:14 IST