India News
Tribute: The City of Joy mourns for Dominic Da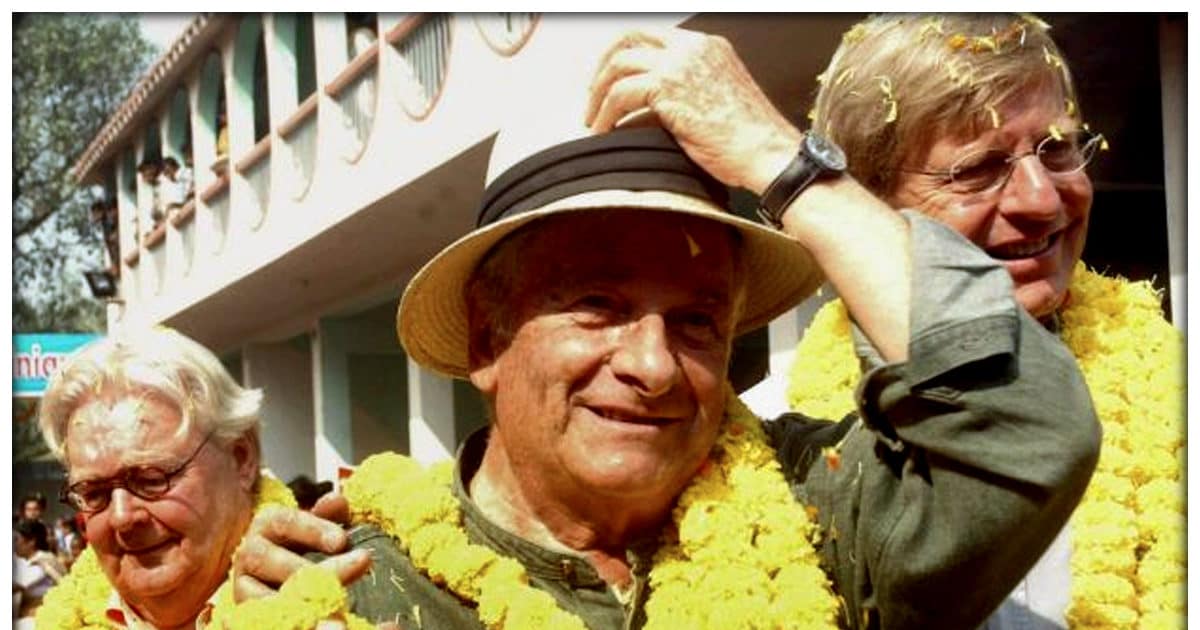 highlights
French writer Dominique Lapierre had a special attachment to Kolkata, did a lot for this city
Lapierre gave the world more than a dozen bestseller books from history to biography
Films were made on many of his books, his writings were appreciated all over the world.
Dominique Lapierre, who wrote the hit book "Freedom at Midnight", is no more. At the age of 91, he breathed his last in his country France. Lapierre wrote more than a dozen best seller books. When he came to India for the first time. When he saw this country, he settled it in his heart. He wrote 04 books related to India. He did not write so many books on any country. Everyone was very much discussed. Sold a lot He used to get a lot of royalty on his books. He was also the only foreign writer who spent a huge amount of his royalty in charity in India.
For the people of Kolkata, he was Dominic Da. His dear Dominic Da. This city is really sad for them. Kolkata's newspapers today are remembering Lapierre how he not only had an association with the city but also gave the city the name by which it is now known all over the world – "City of Joy".
Dominic was a person with a different attitude since childhood. Perhaps traveling was another part of his life. He believed that the real joy of life is traveling and seeing the world. From the age of 06, he became crazy about automobiles.
Writing by Dominique Lapierre (News18 Graphics)
He bought and drove many old cars. Kept it up When he came to Mumbai, he came with a Rolls Royce and from here Santa Cruz went on trips to Pakistan, Afghanistan, Iran and Turkey. He was the only writer in the world, whom the Soviet Union allowed to roam the whole country in his car.
His every journey took the form of a book
The most important thing was that after each of his travels, one of his books used to take the form of memoir, history or novel or non-fiction research book. Most Indians must have read his "Freedom at Midnight", which has been translated into Hindi and several other Indian languages, and has also become one of the best-selling books in India. While reading his books, one is surprised how deeply he used to research the smallest things for his books.
He used to meet so many people for the book and then got immersed in writing it. Every work of his is unique. Surely he was one of those writers in the world, who earned a lot of money from books as royalty. But always be simple. He spent a large part of the money that came from royalty on charity, especially in various programs in India.
Writing by Dominique Lapierre. He gave more than one hit books. (News18 Graphics)
fell in love with kolkata
He was born on 30 July 1931 in Châtelillon, France. He became a close associate of Mother Teresa when she came to Kolkata to write her book "City of Joy", Mother Teresa authorized him to write about her life and the work of her organization. Later, when the film was made on City of Joy, the script was written by Lapierre himself. He also got many awards on this.
Also worked on the ship at the age of 17
Lapierre left Paris at the age of 17. He started working on a sea ship. He used to get 30 dollars as wages. Then he reached America. He then traveled 30,000 miles to North America. This was his first step towards fame. On this adventure, he wrote the bestselling book, "A Dollar for a Thousand Miles". After this, he kept roaming around the world. Keep looking for stories. Kept writing best selling books on them. It can be said that he was such a writer who went to every corner of the world.
It is true that Dominique Lapierre went from France to America with only $30 in his pocket. A driver stole his suitcase. Later they found him even before the police. (News 18 Graphic)
how to pair up with larry collins
When Lapierre was completing his French military service in 1954, he met American soldier Larry Collins. After this, this friendship became a unique writer pair in the world, who wrote more than one book. Wrote "Paris Burning", "O Jerusalem", "Freedom at Midnight", which sold millions of copies, translated into more than 30 languages. Overall, both wrote 06 best seller books together.
India was especially in his heart
In 1991, Lapierre wrote a book titled "Beyond Love", which tells the story of the discovery of the AIDS virus. However, later when he came to India and wrote his memoir book "India Mon Amour" on his visit here, then he fell in love with India. On the background of here, he not only wrote 04 books but also got associated with many charity works. Always there to help. He fell in love with India. He used to speak Bengali fluently.
Foundation created to help in Kolkata
It can be said that he was a social worker along with the writer. He did this work many times through his books and many times he did this service by joining the land. There were many specialties in him. Those who write memoirs about him write that he used to make anyone his friend very quickly. There is a colony of leprosy patients in Howrah near Kolkata, Pikhana, he helped the people here a lot. To help them, a foundation was created in the name of City of Joy. By the way, he spent a lot of time in Kolkata.
Dominique Lapierre's best-hitting writing pairing with Collins. With Collins, he wrote several hit and best seller books. Collins died in 2005. (News 18 Graphic)
From "City of Joy" people came to know him in almost every house in Bengal. He collected financial help from France for this and sent it to India and used it in such a way that it does not fall prey to corruption. It was while writing this book that he came in contact with Mother Teresa. Lapierre was later awarded the Padma Bhushan in the year 2008.
"Freedom at Midnight" is his best book
When you read his "Freedom at Midnight" it seems that how the author has captured every aspect, whatever was happening, he did not miss anything, be it the tragedy of partition or the mental state of the country, the princely states. The conflict of politics or the upheaval of politics and the struggle of a newly formed country. He planned this book in the early 70s. Traveled across the country. It became a best seller as soon as it was published in 1975. Although there was a dispute regarding this.
Only after this, in 1985, he wrote "City of Joy", which imbibes the soul of Kolkata. A film was also made on this book. However, during the making of this film, there were allegations that the makers of the film were more interested in showing the poverty and disease of Kolkata. Although the film was made. It was also praised. During the making or completion of this film, he along with his wife formed the City of Joy Foundation, which helped in many ways in Kolkata.
For this foundation, he used his royalty money, collected money by giving lectures, took donations, sought help from readers. Then 9000 children were freed from leprosy and other diseases. Helped to overcome poverty. Worked to ensure their studies. Not only this, help was provided to TB patients in at least 1200 villages. Get handpumps installed in the villages. Made women literate. Here a school was opened with the money earned in his royalty, named Bodhotsav Vidya Mandir, it was opened purely with the money received from his sold books and donations from readers. This foundation is working continuously.
Along with the book on Bhopal gas tragedy, people also helped
Then when the gas tragedy happened in Bhopal, Lapierre wrote a book on it together with Javier Moro of Spain, he also used the royalty of this book to help the victims. He spent a lot of time in Bhopal as well, the way the people of Kolkata started loving him, in the same way he got a lot of love and affection from the gas victims in Bhopal. This tragedy happened in 1984. His book on this came out in 1997.
He also gave the royalty of this book to the NGO clinic in Bhopal, so that the victims could get free treatment. However, on this book, Swaraj Puri, the then police chief of Madhya Pradesh, filed a case against him that he was defamed by this book. Then this book was banned which was later lifted after the decision of the Madhya Pradesh High Court.
First read breaking news in Hindi News18 Hindi| Read today's latest news, live news updates, most reliable Hindi news website News18 Hindi.
FIRST PUBLISHED : December 06, 2022, 13:07 IST