India News
Vaccination of adolescents: Vaccination will be done from today, the government asked to set up a separate vaccination center to avoid entanglement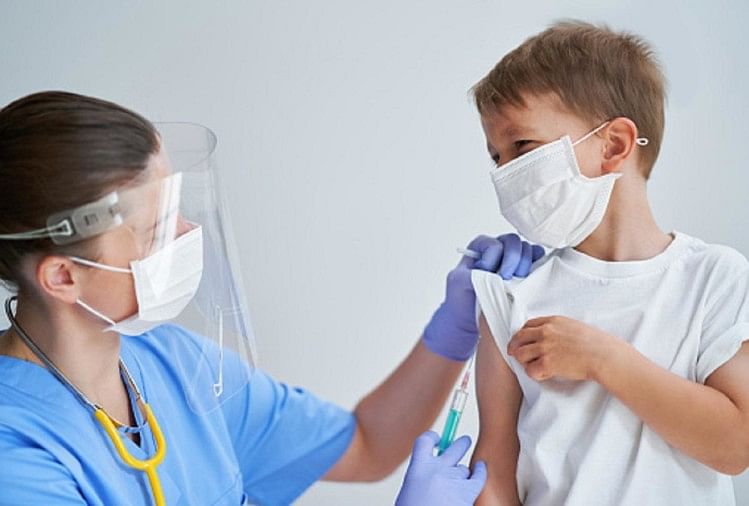 Vaccination campaign for adolescents is starting in the country from Monday. In view of the spurt in Korana infection, the government has instructed the states and union territories to set up separate vaccination centers for adolescents of 15 to 18 years to protect the youth from its danger, so that the Kovid vaccine can be integrated. Could not happen
Only Bharat Biotech's Covaxin is approved for this age group. The company claimed that its vaccine has been found to be more effective on children than on adults. Union Health Minister Mansukh Mandaviya has directed the health ministers and top officials of the states to follow the guidelines smoothly.
More than 6.35 lakh registrations have been done on Kovin since Saturday for the vaccination campaign. Meanwhile, till Sunday morning, 27,553 new cases of corona were found in the country in a day. The country's Drug Controller General on December 24 approved emergency use of Covaxin for adolescents over the age of 12.
According to the new guidelines of the Union Health Ministry, adolescents in the age group of 15-18 years will be vaccinated with Covaxin only. Adults in the country are also being vaccinated against Covishield and Sputnik V, including Covaccin.
85 children infected in Navodaya Vidyalaya in Nainital
In Jawahar Navodaya Vidyalaya of Nainital's Gangarkot, after 85 students including the principal got infected, the administration has declared the school as a micro-containment zone. At the same time, 13 students are also reported to be infected in Mata Vaishnodevi University, Jammu.
Supreme Court: Two weeks stay on courtroom hearing
In view of the increasing cases of Corona, the Supreme Court has banned all courtroom hearings for the next two weeks. According to the action plan of the Delhi Disaster Management Authority, a red alert will be issued if the active rate remains above five per cent for two consecutive days. That is, complete curfew will remain in force and most economic activities will be banned.
highest number of deaths in maharashtra
Maharashtra has the highest number of deaths at 1,41,533, Kerala 48,035, Karnataka 38,340, Tamil Nadu 36,784, Delhi 25,108, Uttar Pradesh 22,915 and West Bengal 19,773. So far, more than 145.44 crore doses of anti-Covid vaccine have been given in the country.
284 deaths in a day, highest in Kerala
By Sunday morning, the number of corono infected in the country increased to 3,48,89,132. The daily rate of infection is 2.55 percent and weekly is 1.35 percent. In Maharashtra, 11,877 cases have been reported in 24 hours, which is 2707 more than the day before. 8063 cases have been found in Mumbai alone, which is 27 percent more than a day earlier. At the same time, the cases of corona in West Bengal have increased 11 times in a week. 6153 cases have been reported in the state in 24 hours. At the same time, 284 patients have died in a day due to infection, out of which 241 people have lost their lives in Kerala.
Omicron has a total of 1,525 patients in the country
As of Sunday morning, Omicron, the new form of corona virus, had a total of 1,525 patients in 23 states of the country. Maharashtra has the maximum number of 510, Delhi 351, Gujarat 136, Tamil Nadu 117 and Kerala 109 infected. Of these, 560 people have either become healthy, or have left the country.
Bengal government bans flights to Delhi, Mumbai, schools-colleges closed
Haryana and West Bengal governments have closed all educational institutions after the cases of corona intensified. From Monday, the Bengal office will function only with 50 percent capacity. State Chief Secretary HK Dwivedi said that only essential services would be allowed between 10 pm and 5 am. Apart from this, flights to Delhi and Mumbai have been allowed to fly only on Mondays and Fridays. Shopping malls and markets will also remain open with 50 percent capacity. Also, tourist places have been closed and only 50 people will be allowed to attend weddings.
,