India News
Violence was already planned, accused were in touch with foreign masters: Gujarat Police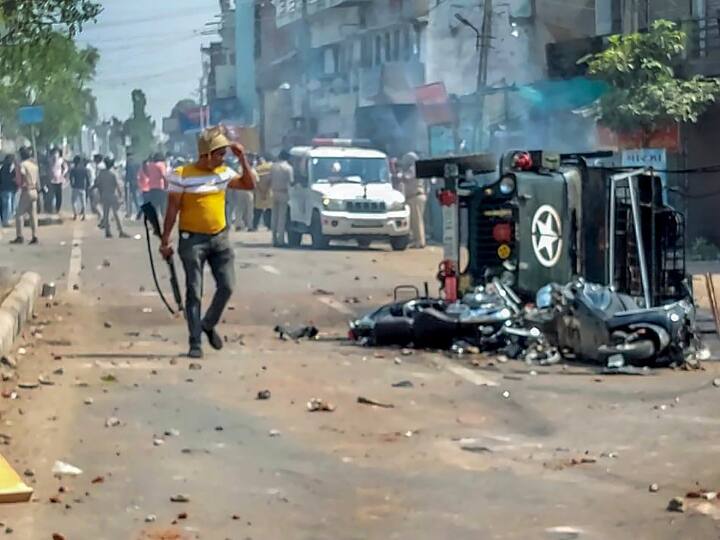 The Gujarat Police has made a big disclosure on Wednesday on the violence and arson that broke out on Ram Navami on Sunday. The police claim that the violence was pre-planned. In the violence in Khambhat, a conspiracy was hatched under the sleeper module. SP Ajit Rajian said that 11 are involved in the violence. The accused were in contact with people sitting abroad. The accused had hatched a conspiracy after meeting for 3 days. A cleric named Razak had planned this violence. 11 criminals are being interrogated.
An attempt was made to disturb the communal harmony in the country on the day of Ram Navami. Razak Hussain alias Maulvi Ayub, the main architect of this incident, along with many people, had hatched a complete conspiracy. There were 3 clerics and two people involved in this. According to the police, Mustakim Maulvi, Mateen, Mohsin are big characters in this conspiracy. Razak Ayub, Hussain Hashmsha Diwan were also part of the conspiracy. They are accused of instigating people for stone pelting and arson.
The purpose of these people was to incite riots by pelting stones during Ram Navami procession. Significantly, in the Khambhat riots, 1 person was killed and many people were injured.
Stones were pelted at a procession on the occasion of Ram Navami on Sunday (April 10) afternoon in Khambhat, a sensitive taluka of Anand district. Tension was brewing across the city as two groups pelted stones at each other and some rioters torched two shops and a house in different parts of the city.
After the incident, a convoy including the district SP reached the spot and fired five tear gas shells to control the crowd. In this whole incident, more than 15 people including the police convoy were injured, while one died. The Pakistan-Afghanistan connection to the violence is also being probed.
On the occasion of Ram Navami at 4 pm on Sunday evening, more than three thousand devotees participated in the procession at the beginning of the procession from Ramji temple located in Shakarpur area of ​​Khambhat city. The procession was then to pass through three gates Chitri Bazar, Peeth Bazar, Mandai Chowki area. However, after leaving the Shakarpur area, the procession reached a short distance away when some rioters suddenly started pelting stones at the procession. After this the people who participated in the procession came in panic.
Both started pelting stones at each other. On one side some riotous mob came to the city's Chagdol Maidan and Sardar Tower and started vandalizing and arson. Two sandal lorries and two shops were set ablaze in the area. Rajputs also set fire to a house near Wada. Three clerics, Mustakim Moulvi and Mateen-Mohsin, were arrested after the violence in Khambhat. These are three brothers.
A complaint was also lodged against a mob of more than 100 people, after which these people were questioned. According to the information received, on Saturday, a day before Ram Navami, these people had hatched a complete conspiracy. Men were called from outside Khambhat for this conspiracy. Because, if there are people from Khambhat, then they can be recognized. For this people were called from outside Khambhat.
However, one by one these people are being identified. These people have been charged with incitement to enmity, murder and attempt to murder. Police investigation has revealed who was involved in the conspiracy and what tasks were assigned to him.
In this case, the stones were already collected to execute the conspiracy. First a stone was thrown in the pillar and then a fire was set. The clerics are also being questioned as to who was helping these people with money in this case. It is also necessary to know where, how and from whose side the money was given to carry out such a conspiracy.
read this also
Russia Ukraine War: Russian brutality again in Bucha, claims Mayor, Moscow army killed more than 720 people, more than 200 missing
JNU Ram Navami Clash: 'ABVP's claim is completely false, JNU administration withdraw statement', know what the mess-hostel committee said
,