India News
Viral Letter: 'When Babuji goes to see Laika, everyone asks for dowry!' Read Viral Pinky's last letter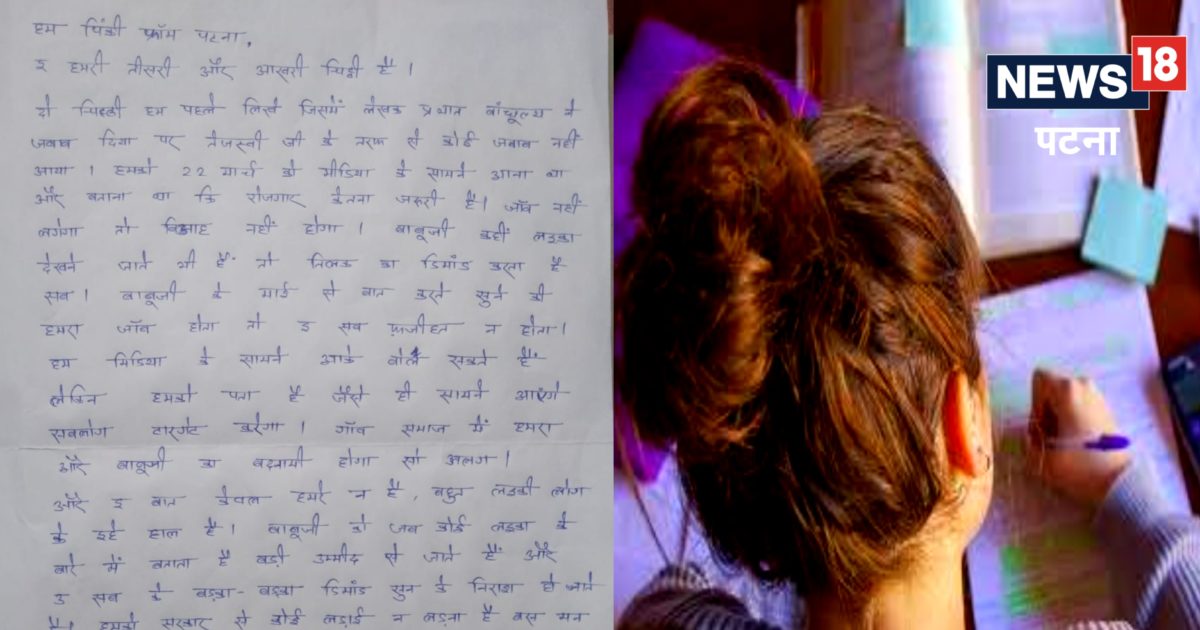 Report: Satchidananda
Patna, Patna's alleged Pinky, who came into limelight with her letter, has once again raised the issue of dowry along with the job by writing a letter. Pinky has described this as her third and last letter. News18 had earlier also told about Pinky's letters that last month, Pinky had written a letter to Bihar Deputy Chief Minister Tejashwi Yadav requesting for a job and how noted writer Prabhat Bandhulya had written to Pinky. Reply was given to the letter. Now Pinky has written another letter saying, 'When father goes somewhere for my marriage, the boys demand dowry. If I had a job, probably no one would have asked for dowry. This is Pinky's third letter.
We are Pinky from Patna, this is our last letter
We wrote two letters earlier, in which writer Prabhat Bandhulya replied, but no reply came from Tejashwi ji. We had to come in front of the media on March 22 and tell how important employment is. If there is no job, there will be no marriage. Even when Babuji goes somewhere to see Laika, everyone demands Tilak. While talking to Babuji's mother, I heard that if I had a job, all this would not have been a problem. We can speak in front of the media, but we know that as soon as we come in front, everyone will target us. We and Babuji will be defamed in the village society, so different.



Bihar: Threatened to kill CM Nitish Kumar through WhatsApp, accused arrested from Surat




Bihar Divas 2023: 111 years of Bihar, PM Modi congratulated, many live performances between 22 and 24




Bihar Board 12th Result 2023: Vegetable seller's daughter became topper, said- I will earn myself and study further




Ramadan 2023 Date: The first fast of Ramadan is tomorrow or the day after tomorrow? Find out like this sitting at home




Career Tips: What to do after 12th? Apart from BTech, MBBS, there are many options, look at the list




Minor returning home from Patna AIIMS gangraped in hotel room, whole incident unfolded, 4 arrested




Bihar Board 12th Result 2023: Leader's son became Bihar Board topper, wants to become an IAS officer




Bihar Board 12th Result 2023: Excellent performance of Siwan students, know who was the district topper




Herbal Juice: Drink this herbal juice with 12 herbs on an empty stomach in the morning, get rid of all stomach diseases




Fake Video Case: YouTuber Manish Kashyap sent on police remand, SIT looking for answers to many questions




Siwan News: CRPF Inspector given last farewell with state honors, died in Kashmir
Viral Love Letter: Writer Prabhat's answer to Pinky – 'We earn so much that we can say yes to you without a job, but..'
And this thing is not only with us, many other people are in this condition. When someone tells Babuji about Leica, he leaves with great hope and comes back disappointed after hearing the huge demand from all of them. We do not have to fight any battle with the government. Just had a matter of mind, so wrote the letter. This is the last letter, the rest are reading further, the sooner you get a job, the sooner you will get married and the burden of Babuji will be less. Greetings to all Thank you.
After all, who is this viral Pinky?
According to writer Prabhat Bandhulya, Pinky is a girl from a middle-class family. On whom is the responsibility of the family. Rebelled against a conservative family and pursued higher education. Told the family members that life would become easier if you get a job after studying, but it did not happen. Now unemployed, upset. According to the author, Pinky's neighbors or relatives taunt her father that they will keep Pinky a virgin! Pinky's father has faith in his daughter, but is struggling with the situation.
First read breaking news in Hindi News18 Hindi| Read today's latest news, live news updates, most reliable Hindi news website News18 Hindi.
Tags: Patna News, Tejashwi Yadav
FIRST PUBLISHED : March 22, 2023