India News
Weather becomes pleasant due to heavy rains in Delhi, no possibility of 'loo' till June 4, IMD issues yellow alert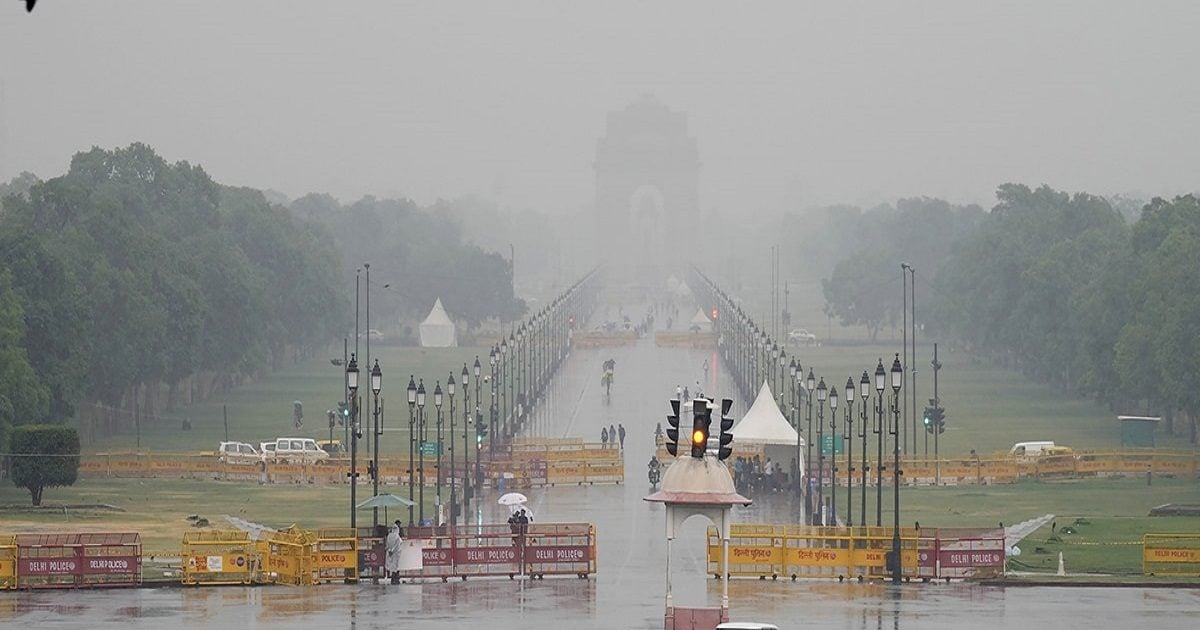 New Delhi. In the national capital on Monday, the weather became pleasant again due to rain with strong winds and cloudy sky. The Regional Forecast Center of the India Meteorological Department (IMD) has said that till June 4 in the capital 'loo' The situation is unlikely to return. An IMD official said that winds with a speed of 50 kilometers per hour gusted in the capital on Monday afternoon and there was light rain in many areas. meteorological department 'Yellow' An alert has been issued, in which people have been warned about traffic disruption and water-logging in low-lying areas. IMD uses four color codes for weather warnings: Green (no action needed), Yellow (watch and stay updated), orange (be prepared) and Red (Take action).
According to Safdarjung Observatory, Delhi's main meteorological center, the minimum temperature on Monday was recorded five degrees below normal at 21.8 degrees Celsius. While the maximum temperature is likely to be around 35 degree Celsius. The month of May is generally the hottest month in Delhi with an average maximum temperature of 39.5°C. But, this time in May, below normal temperature and excessive rainfall have been recorded. Meteorologists attributed the phenomenon to a higher-than-usual Western Disturbance – a weather system that originates in the Mediterranean region and brings unseasonal rains to northwest India this season.
According to IMD data, the Safdarjung observatory has recorded 86.7 mm of rain so far in May. Normally, the national capital receives an average of 19.7 mm of rainfall throughout the month. Delhi also witnessed an unusual phenomenon of dense fog earlier this month. The minimum temperature on May 4 had dropped to 15.8 degrees Celsius, the third coldest morning for the month of May since the IMD began keeping records in 1901. The city recorded over 20 mm of rainfall in April, the highest for the month since 2017. Delhi recorded a maximum temperature of more than 40 degrees Celsius only for nine days in May.
from your city (Delhi-NCR)




Gang war again between prisoners in Delhi's Tihar Jail, 2 seriously injured prisoners admitted to hospital




Teenager brutally murdered in Delhi, stabbed more than 40 times, accused Sahil arrested from Bulandshahr




Delhi Murder: Stabbed with knife 20 times, crushed with stone 6 times, shocking case in Delhi. News18




Now the facility of premium buses will start in Delhi, this is how you can book tickets online




Delhi Girl Murder: Seeing the devil Sahil, even fear trembles, Delhi kept watching 16-year-old Sakshi die




Success Story: Zuckerberg is a college dropout, left studies for FB, made this messaging program at the age of 12




American citizen arrested from Delhi airport, 6 cartridges recovered from bag, accused was trying to go to Finland




Delhi Murder Case: 'The murderer Sahil should be hanged', the mother told what happened to the daughter a few hours before the murder




Delhi Girl Muder News: A young man stabbed a minor girl 30 times with a knife, then crushed her with a stone. News18




2 Bangladeshi entered IGI airport, arrested before completion of plan, interrogation of central agencies continues




Delhi Murder Case: Sakshi's friend Aarti made a big disclosure about Sahil, know on which angle Delhi Police will investigate
read this also- Tamil Nadu: Ambulance ran away leaving it in the middle of the way, mother kept walking 6 KM with daughter's dead body
According to IMD, due to the effect of fresh Western Disturbance, there is a possibility of rain and hailstorm with strong winds at some places on Monday and Tuesday. The maximum temperature is expected to remain below 40 degree Celsius till June 4. Earlier this month, the weather office predicted below-normal maximum temperatures and fewer days with 'heatwave' conditions in northwest India in May.
,
Tags: Delhi Weather Update, Delhi-NCR News, Rain in Delhi NCR
FIRST PUBLISHED : May 29, 2023, 20:25 IST