India News
What to do if you feel strong tremors of earthquake, these measures can protect life and property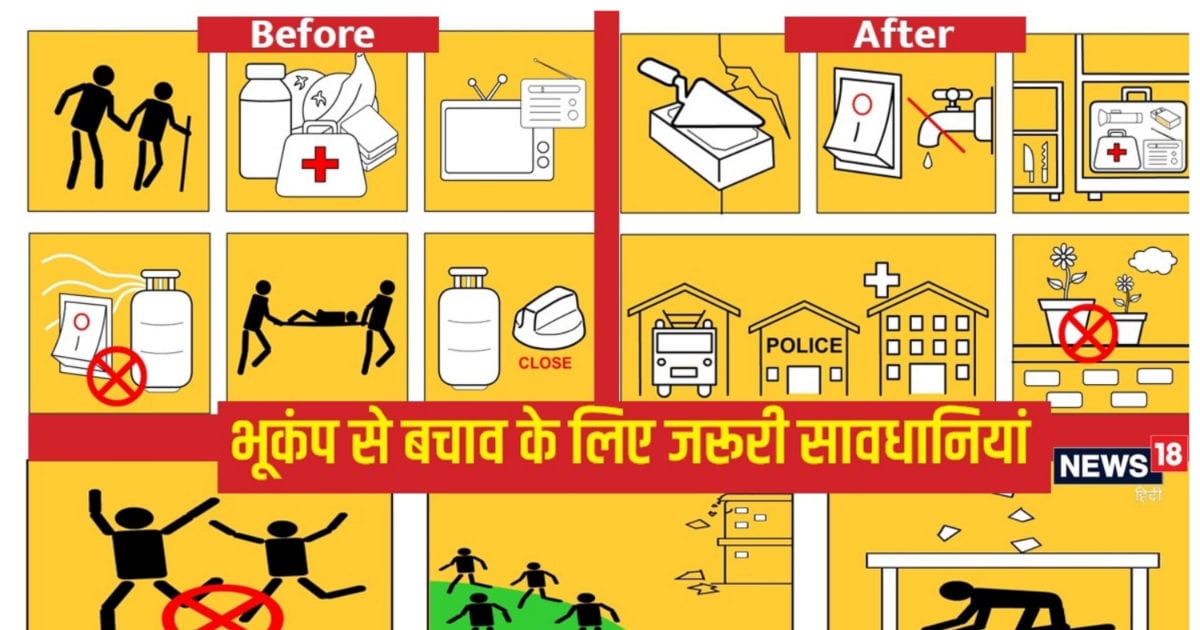 Earthquake in Delhi NCR: Earthquake tremors measuring 6.6 on the Richter scale were felt in Afghanistan on Tuesday night at 10.20 pm, including Delhi-NCR. The tremors were felt so strong that people in Delhi-NCR came out of their houses in fear and gathered on the roads and open fields. Often people take this step during an earthquake. Apart from this, there are many such measures, with the help of which you can protect yourself and your loved ones' property during an earthquake. The National Center for Seismology, under the Ministry of Earth Sciences, Government of India, has issued some measures to protect people from earthquakes.
According to NCS, if people follow these necessary precautions before, during and after an earthquake, the loss of life and property can be reduced to a great extent. If you live in an area where earthquake tremors are felt frequently, try to stay in an earthquake resistant building. For this, builders and buyers should follow the safe building code. Also it should be promoted. Keep repairing bad and weak houses from time to time. Make a plan to deal with earthquakes in advance. Always keep some things ready in the house for emergencies.
read this also – Are repeated tremors in North India a sign of a major earthquake?
from your city (Delhi-NCR)

Give this special information to every member of the household
According to the measures issued by the National Center for Seismology, people coming to the earthquake area should keep complete information about the hospitals and fire stations around them. People living in high rise buildings should organize rescue mock drill in their locality society. Not only this, complete information about the main place of shutting off the electricity and water of your entire house should be kept. Heavy items, glasses, cutlery should be kept in the lower shelves in the kitchen. Nowadays it is a trend to keep flower pots on the railing. Do not do this if you live in an earthquake zone. Keep the pots at such a place that they do not fall on the heads of the people going down in case of an earthquake. Keep in mind that every member of the household should know about them.
If you live in a tall building, do not use the lift during an earthquake.
stay calm instead of panic during earthquake
Stay calm instead of panicking when earthquake tremors occur. Along with the members of the house, assure the safety of the people around so that they do not start having health problems. If you live in a tall building, do not use the lift during an earthquake. Use the staircase and move away from the buildings into an open field. If it is not possible to leave the house during an earthquake, then sit under the table. Keep both the hands above the head. Use a thick bed as a shield over the head in case of severe tremors. During an earthquake, the safest place in tall buildings is under the stairs.
Read this also – If the winds blow at a speed of 40 km, then how much damage does it cause, when does it cause destruction?
stay away from glass doors and windows
If there are glass doors and windows in the house, then stay away from them. When coming out of the building, stand in such a place where the electric wires are not above or around you. If you are on a bike at the time of an earthquake, then immediately stop on the side and stand. This remedy will be effective during car driving also. If you are in a car, do not get out of it. If you have pet dogs or cats in your house, then open them so that they themselves can reach a safe place. Close the gas stove from the main valve. If a lamp or candle is burning in the house, then extinguish it. This may cause a fire incident.
Read this also – Earth's sky is blue then why are the skies of other planets red, orange and black?
Take precautions even after earthquake
When returning home after an earthquake, open doors carefully. If any item inside has fallen due to earthquake, then you can get hurt if you open the door with a jerk. After reaching home, keep food items and first aid box close to you. Do not spread any kind of rumor through telecommunication mediums or social media. If someone is hurt, someone is injured, then help him. After an earthquake, light tremors are often felt, so prepare for them.
After an earthquake, light tremors are often felt, so prepare for them.
Light tremors can be signs of a major earthquake
Experts say that the way earthquake tremors are being felt again and again in Delhi-NCR and North India, it can also be a possibility of a major earthquake. They say that mild earthquakes are signs of strong tremors in the future. Experts say that no prediction can be made in advance regarding the area of ​​earthquake. Therefore, in areas where the number of mild earthquakes is more in the past, they should be kept prepared for major earthquakes.
read this also – Happiness Index: The world's happiest countries, where very few people follow religion
Drop, cover and hold formula is effective
The National Disaster Management Department of the Union Home Ministry states that drop, cover and hold can be effective in saving lives during an earthquake. Drop in this means hiding under a table or other thing to save oneself. Put your hands on your head and neck to protect yourself from debris in the cover. Stay under a table or something similar until the shaking stops. Hold means stay under cover until the shaking stops.
First read breaking news in Hindi News18 Hindi| Read today's latest news, live news updates, most reliable Hindi news website News18 Hindi.
Tags: Earthquake in Afghanistan, earthquake news, Earthquakes, natural disaster, Rain in Delhi NCR, Tremors
FIRST PUBLISHED : March 22, 2023, 00:14 IST