India News
When Brijbhushan's son shot himself, the father was held responsible for it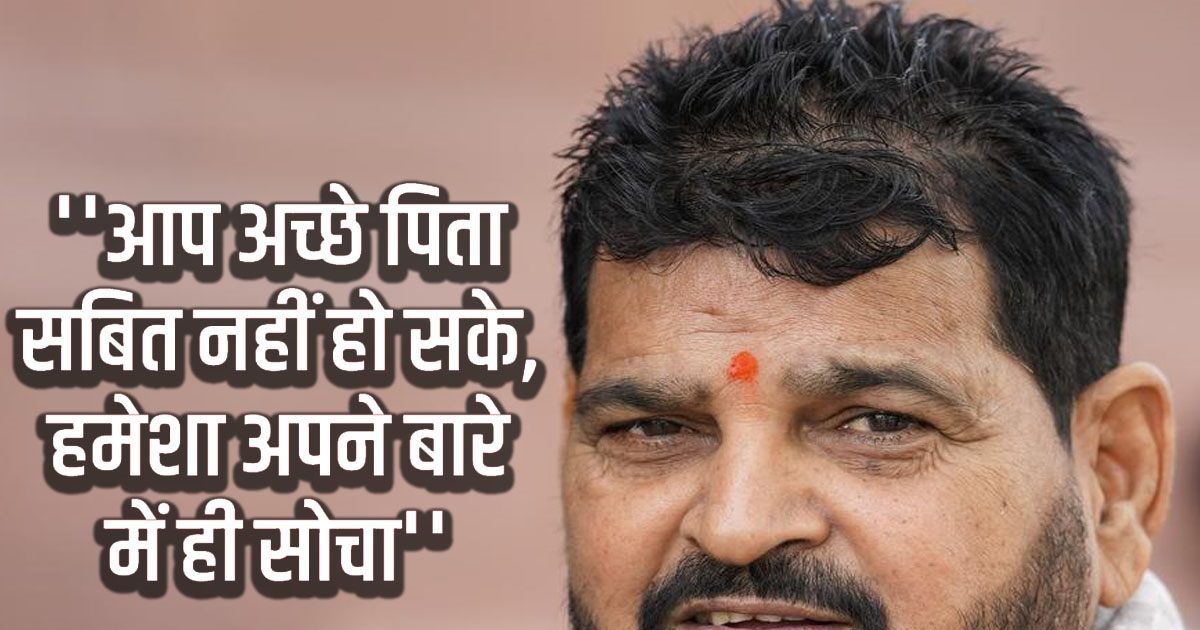 New Delhi: Bharatiya Janata Party (BJP) MP from Kaiserganj Brij Bhushan Sharan Singh is in headlines these days for the allegations of sexual exploitation leveled by 7 women wrestlers. He has always been associated with controversies. According to the report of The Times of India, Shakti Singh, son of Brij Bhushan Sharan Singh, committed suicide 19 years ago. He shot himself on the morning of June 17, 2004 at his father's ancestral house in Nawabganj area of ​​Gonda district. He was a student of Babu Banarasi Das Engineering College, Lucknow. He had blamed his father for this act in a suicide note.
Brij Bhushan heard the sound of gunshots from the room of his 22-year-old son Shakti Singh and reached the room to find Shakti dead. He used his father's licensed pistol to end his life. Then Shakti Singh's suicide note was published in The Times of India report, in which it was written, 'You could not prove to be a good father. You didn't care about the comfort and convenience of our brothers and sisters, you always thought about yourself and didn't worry about us. Now sister is also growing up, but we are seeing our future in darkness. That's why there is no justification to live now.
At that time Brij Bhushan was the BJP MP from Balrampur. He entered active politics in 1988 and since then has been a Member of Parliament for 6 times. Brij Bhushan's name was also among the 40 accused in the Babri demolition case. Leaders like LK Advani, Murli Manohar Joshi, Ram Vilas Vedanti, Vinay Katiyar, Uma Bharti were accused in this case. In this case, on September 30, 2020, the Special CBI Court had given its verdict and had acquitted all the accused. His other two sons are Prateik Bhushan Singh and Karan Bhushan Singh. Pratik Gonda is a two time MLA from Sadar seat. In 2018, Karan was elected the senior vice-president of the Uttar Pradesh Wrestling Association.
When Brijbhushan Sharan Singh was lodged in Tihar Jail under TADA in 1996, his wife Ketki Singh contested from Gonda Lok Sabha seat and defeated Congress candidate Anand Singh by 80000 votes. Presently he is also the President of Wrestling Federation of India. Top wrestlers of the country, including Bajrang Punia, Vinesh Phogat and Sakshi Malik, have opened a front against the WFI Chief and have made serious allegations of sexual harassment against him. In this connection, Delhi Police has also registered 2 FIRs against Brij Bhushan Sharan Singh on the basis of complaint of 7 women wrestlers including 1 minor, in which one FIR is under POCSO Act. The investigation of the matter is going on and the wrestler is adamant on demanding the arrest of Brij Bhushan.
,
Tags: BJP MP Brijbhushan Sharan Singh, Brij Bhushan Sharan Singh, Brij Bhushan Singh
FIRST PUBLISHED : June 03, 2023