India News
Where was the love when Varun invited him to the wedding..3 BJP MP's letter to Rahul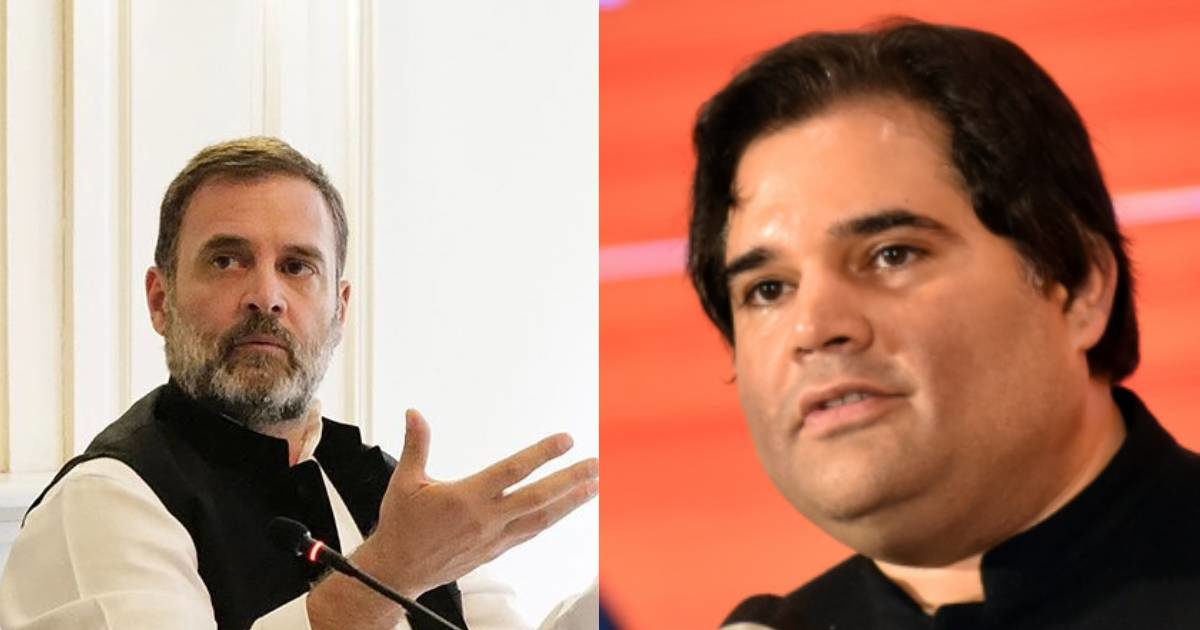 New Delhi. Rahul Gandhi fiercely attacked Prime Minister Narendra Modi during his US tour. Accusing the Prime Minister of spreading hatred in the country, he reiterated his point of opening a love shop by the Congress party. Now in this matter, three BJP MPs have given a befitting reply to Rahul Gandhi. MPs Rajyavardhan Singh Rathore, Poonam Mahajan and Pravesh Sahib Singh Verma have done the work of showing a mirror to Rahul Gandhi by writing a nine-page letter. Referring to the behavior of Gandhi family's daughter-in-law and their cousin Varun Gandhi, BJP MPs slammed Rahul.
BJP MPs wrote in their letter, "Rahul Gandhi ji, you may also remember the date of March 28, 1982. This is the date when your grandmother Indira Gandhi treated her younger daughter-in-law Maneka Gandhi with so much love that she was thrown out of the house. Maneka Gandhi was taken out of the house at midnight. Then the picture was on the front page of all the newspapers across the country. In it, Maneka was shown with tears and despair in her eyes from the PM's residence. Maneka Gandhi had a small child Varun in her lap who was suffering from high fever that day.
Read this also:- 'Insha'Allah India will soon become an Islamic country..' Pakistani actress spewed venom, Indians gave class like this
Why did Rahul-Sonia distance themselves from Varun Gandhi's marriage?
BJP MPs said that senior journalist Khushwant Singh had mentioned this entire episode in his book 'Truth, Love & a Little Malice'. The Prime Minister had ordered the driver of his vehicle to drop Maneka Gandhi wherever she wanted to go. Not only this, BJP MPs reminded Rahul Gandhi that none of his family members went to the wedding of brother Varun Gandhi. It was said, "You talk about running a love shop, but what love means to you, it is also well exposed in your personal relationships. Your brother Varun Gandhi had gone to Tai Sonia's house at 10 Janpath with an invitation for his wedding."
" isDesktop="true" id="6468563″ >
Many riots took place during the Congress rule.
The BJP MPs further wrote in their letter, 'Remember, neither you nor your mother and sister attended Varun Gandhi's wedding to maintain the relationship of love, while Priyanka Gandhi attended Priyanka Gandhi's wedding despite the unbearable humiliation meted out to Indira Gandhi. Varun Gandhi had attended. After this, the BJP MPs reminded Rahul Gandhi how there were fierce riots in India during the Congress rule. The behavior of the Congress leaders with the senior leaders of their own party was also mentioned in this letter.
,
Tags: Maneka Gandhi, Narendra modi, rahul gandhi, Rajyavardhan Singh Rathore, Varun Gandhi
FIRST PUBLISHED : June 09, 2023, 17:55 IST