Lifestyle
Aaj Ka Panchang 10 September 2022: Pitru Paksha starts from 10 September, know the date, constellation of this day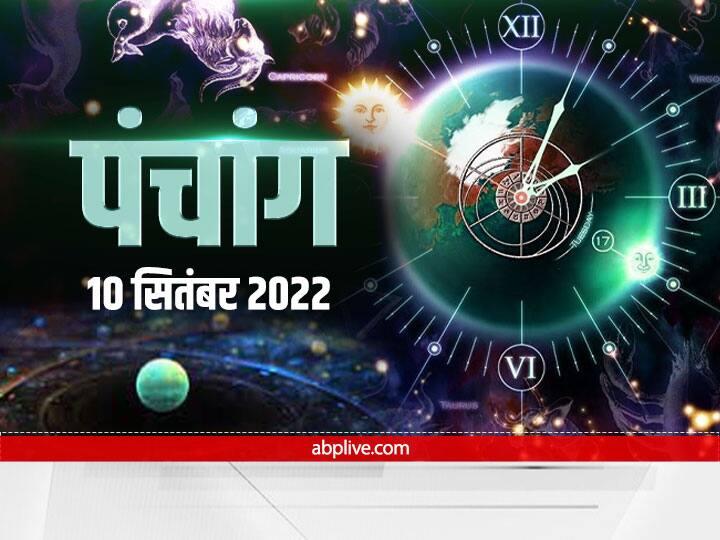 Today Panchang, Aaj Ka Panchang 10 September 2022: According to the Panchang, on 10 September 2022, Saturday is very important from a religious point of view. Pitru Paksha is starting on this day. Due to this day being a Saturday, it is also a good coincidence for the worship of Shani Dev. According to the Panchang, what is special on this day, let us know (Today Panchang)-
Today's date (Aaj Ki Tithi)
According to today's Panchang, September 10, 2022 is the full moon day of Shukla Paksha of Bhadrapada month. Which will last till 3.30 pm. After this, the date of Pratipada of Krishna Paksha of Ashwin month will start. This day is also the first Shradh of Pitru Paksha.
Today's Nakshatra
According to the Panchang on 10th September 2022, Shatabhisha Nakshatra will remain. Shatabhisha Nakshatra is the 24th constellation of the sky circle. The lord of this constellation is Rahu. Rahu is considered an important planet in astrology. Rahu is the cause of sudden events in life. Rahu is considered as a malefic planet. Along with bad fruits, it also gives very inauspicious results in special circumstances. From this day, Pitru Paksha is taking place. Pitru Paksha is also related to Rahu. On the first day of Pitru Paksha, there is a yoga of worship of Rahu in this constellation.
Today's Rahu Kaal (Aaj Ka Rahu Kaal)
According to the Panchang, on September 10, 2022, Rahukal will remain from 9.10 am to 10.44 am on Saturday. Doing auspicious work in Rahukaal is considered taboo.
Pitru Paksha 2022: Shradh will not happen on this day in Pitru Paksha, this special coincidence made after 12 years, know the dates of Tarpan
10 September 2022 Panchang (Aaj Ka Panchang 10 September 2022)
Vikrami Samvat: 2079
Month Purnimant: Bhadrapada (Bhado)
Side: Shukla
Day: Saturday
Season: Autumn
Date: Full Moon – till 15:30:28
Nakshatra: Shatabhisha – till 09:37:36
Karan:bav – till 15:30:28, balav – till 26:19:54
Yoga: Dhriti – up to 14:54:41
Sunrise: 06:03:15 AM
Sunset: 18:32:46 PM
Moon: Aquarius – till 26:23:45
Rahu Kaal: 09:10:38 to 10:44:19 (no auspicious work is done during this period)
Shubh Muhurta Timings, Abhijeet Muhurta: 11:53:01 to 12:43:00
Direction: East
inauspicious timing
Wicked Muhurta: From 06:03:15 to 06:53:13, from 06:53:13 to 07:43:11
Kulik: from 06:53:13 to 07:43:11
Kantak: From 11:53:01 to 12:43:00
Kalvela / Ardhyam: from 13:32:58 to 14:22:56
hours: from 15:12:54 to 16:02:52
Yamgand: From 13:51:42 to 15:25:24
Gulick time: 06:03:15 to 07:36:56
Shani Dev: Shani worship is a coincidence on the first day of Pitru Paksha, half-and-half is going on these zodiac signs
Pitru Paksha 2022: Pitru is angry? How to find out, know the symptoms
Disclaimer: The information provided here is based on assumptions and information only. It is important to mention here that ABPLive.com does not endorse any kind of belief, information. Before applying any information or assumption, consult the concerned expert.

,