Lifestyle
Aaj Ka Panchang 12 November 2022: Shani Dev is worshipped, know the date, Nakshatra and Rahukaal of Shani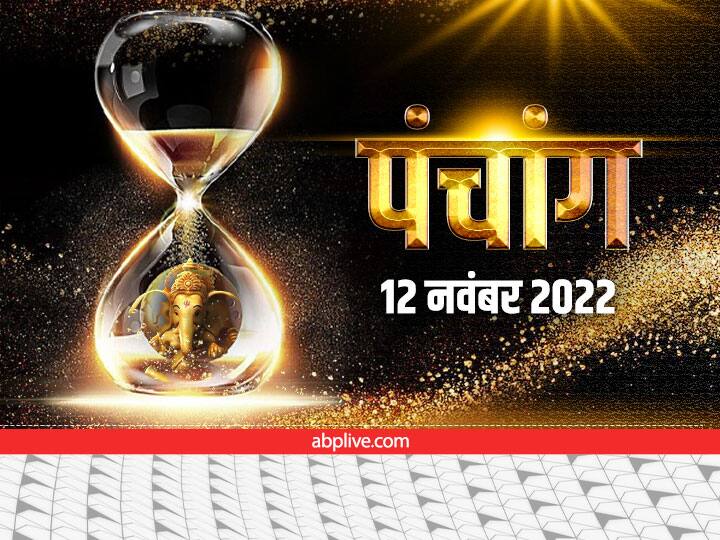 Today Panchang, Aaj Ka Panchang 12 November 2022: According to the Panchang, on 12 November 2022, Saturday is a special day for worship and religious works. On this day the situation created by planets and constellations remains beneficial. Moon is transiting in Gemini today. Where Mars is also seated. Along with this, Siddha Yoga is made. Today is auspicious from religious point of view. There is also a chance to get the blessings of Shani Dev on this day. What is special about this day? Let's know today's Panchang (Panchang in Hindi)-
Today's date (Aaj Ki Tithi)
According to today's Panchang, 12 November 2022, Saturday is the date of Chaturthi of Krishna Paksha of Marshish month. Which will remain till 10:28 in the night. After this the date of Panchami will start. The date of Chaturthi is dedicated to Lord Ganesha. Worshiping Vighnaharta on this day brings prosperity in life.
Today's Nakshatra
News Reels
According to the Panchang, on Saturday, November 12, 2022, Mrigashira Nakshatra will remain till 7:32 in the morning. After this Adra Nakshata will start. Mrigashira Nakshatra is the fifth constellation of the sky circle. The lord of this constellation is Mars. In astrology, Mars is considered the commander of the planets.
Today's Rahu Kaal (Aaj Ka Rahu Kaal)
According to Panchang, on November 12, 2022, Rahukaal will be from 9.23 am to 10.44 am on Saturday. Doing auspicious work in Rahukaal is considered taboo.
12 November 2022 Panchang (Aaj Ka Panchang 12 November 2022)
Vikrami Samvat: 2079

Month Purnimant: Margashirsha

Party: Krishna

Day: Friday

Season: Hemant

Date: Chaturthi – till 22:28:17

Nakshatra: Mrigashira – till 07:32:59

Karan: Bav – up to 09:21:13, Balav – up to 22:28:17

Yoga: Siddha – up to 22:01:35

Sunrise: 06:40:57 AM

Sunset: 17:29:11 PM

Moon: Gemini

Rahukaal: 09:23:00 to 10:44:02 (No auspicious work is done during this period)

Auspicious time, Abhijeet Muhurta: 11:43:27 to 12:26:40

Direction Prong: East
inauspicious timing
Evil Muhurta: 06:40:57 to 07:24:09, 07:24:09 to 08:07:22

Kulik: from 07:24:09 to 08:07:22

Kantak: 11:43:27 to 12:26:40

Kalvela / Ardhyam: from 13:09:53 to 13:53:06

hours: from 14:36:19 to 15:19:32

Yamgand: From 13:26:05 to 14:47:07

Gulik Kaal: 06:40:57 to 08:01:58
Shani Dev: If Shani is angry, find out in this way, do this remedy, the blessings of the bestower of karma will start showering.
Disclaimer: The information provided here is based on assumptions and information only. It is important to mention here that ABPLive.com does not endorse any kind of validation, information. Before applying any information or assumption, consult the concerned expert.