Lifestyle
Cardiac Arrest: Sudden death does not happen while roaming around due to heart attack! Cardiologist said – this sudden cardiac arrest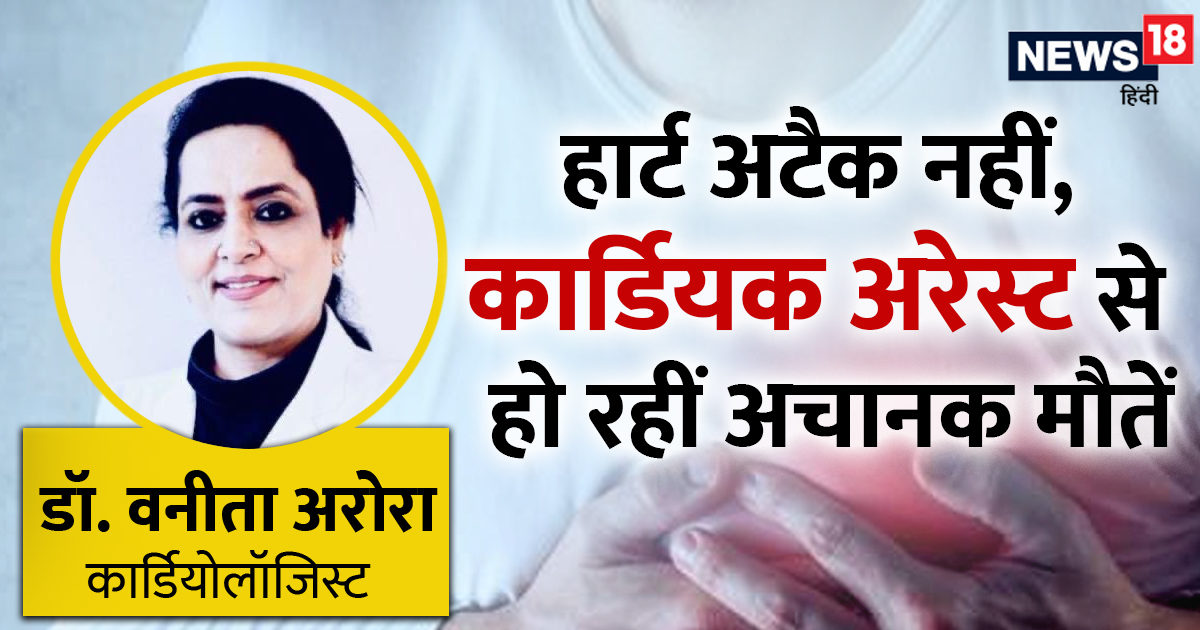 highlights
According to the doctor, there is chest pain before the heart attack.
In cardiac arrest, the heart goes to the stand still position.
Heart Attack & Cardiac Arrest: The cases of heart attack are continuously increasing in the country. In the last few months, many such videos have gone viral, in which people got heart attack while roaming around, dancing and singing and died suddenly. On December 4, three friends were roaming in Meerut, UP, when a young man had a heart attack. He suddenly collapsed and died. Earlier on December 3, while garlanding the groom in Lucknow, the bride fell down and died of a heart attack. A few months ago, a person died suddenly while dancing in Bareilly and while sitting in the hair salon of a gym trainer in Ghaziabad.
celebrities are also losing their lives
You will remember that this year many celebrities also died due to heart attack. Famous comedian Raju Srivastava had an attack while doing gym, while singer KK was singing during a music concert, then cardiac arrest took his life. Apart from these, many celebrities have lost their lives in the last few months. All these incidents have put people in worry. Now the question arises that how are people dying at such a young age in a matter of minutes? The answers to all these questions are known from the cardiologist.
Why are people dying suddenly?
According to Dr. Vanita Arora, Senior Cardiologist, Indraprastha Apollo Hospital, New Delhi, first of all it is necessary to know that sudden death does not happen due to heart attack. If treatment is done soon after a heart attack, then in most cases people's lives are saved. Nowadays cases of sudden death while dancing, singing and exercising are coming to the fore, their reason could be Sudden Cardiac Arrest (SCA). Cardiac arrest happens suddenly and a person loses his life within a few minutes. There are no visible symptoms in this. Before a heart attack, a person starts having severe chest pain. Apart from this, some symptoms are seen when heart attack comes, whereas in cardiac arrest everything happens suddenly.



Bharat Mahotsav: Rajasthan's Jalebi won the hearts of the people of Lucknow, Delhi-Almora's sweets too




Sarkari Naukri 2022: Jobs for these posts including teacher from 10th pass to MBBS, Cantonment Board has taken out recruitment




Analysis: Mainpuri and Rampur by-elections became a battle of prestige, know what is the history of these seats?




Devotees take boat support to see Mahadev, know the history of 90 year old temple




Khan Sir Controversy: Political conflict on 'Dwandva Samas', who is 'Khan Sir', Congress is also demanding his arrest




Announcement of reservation for municipal body, city council and city panchayat in UP, notification issued




Amazing work of Lucknow school students, inspired by Musk, made air-cleaning electric cars




Govt Jobs 2022: UPPCL recruits Accounts Officer, pay scale will be Rs 56100-177500




Kanpur: Doctor father got airlifted from Thailand to save his son, made 75 KM green corridor…




UP: You will be surprised to see the beauty of Saharanpur's furniture in Lucknow's Festival of India




Lakhimpur Kheri Case: Case against Union Minister's son Ashish Mishra will go on, appeal for removal of name rejected
What is sudden cardiac arrest?
Dr. Vanita Arora says that during Sudden Cardiac Arrest the person's heart stops pumping blood and the heart goes into Stand Still position. Due to this, the supply of blood to the brain and other parts of the body stops and the person suddenly falls unconscious. During this the heartbeat becomes abnormal. Normal heart beat is 60-90 bpm, which goes up to 250-350 bpm in cardiac arrest. If treatment is not received within a few minutes after cardiac arrest, the person dies. In such cases, most people lose their lives even before reaching the hospital.
Also read- Learn from the doctor the easiest ways to keep the kidney healthy

Why are cases of sudden cardiac arrest increasing?
According to cardiologist Dr. Vanita Arora, in today's era, youth are more at risk of sudden cardiac arrest and heart attack. The biggest reason for this is spoiled lifestyle, wrong eating habits, excessive stress and smoking. After Kovid-19, cases of clot formation in the coronary arteries of people have increased, due to which the risk of sudden cardiac arrest and other heart diseases has increased significantly. In today's era, people do not even know and their heart health gets very bad.
Also read- Panacea treatment for dandruff and hairfall has been found, prepare the medicine like this!

bad effect of stress on heart
According to cardiologists, in today's era, stress is becoming the biggest risk factor for heart health. If your mental health is good, then the risk of heart disease will be reduced to a great extent. Due to excessive stress, some hormones are released in the body which harm our heart. Due to stress, the arteries that supply blood are damaged and the electrical network of the heart becomes short circuited. In such a situation, along with physical health, everyone should also take care of mental health so that the heart can be kept healthy.
Keep heart healthy like this
Adopt healthy lifestyle
– Exercise every day
Healthy diet should be taken
– Abstain from smoking immediately
Keep yourself physically active
Get health checkup done from time to time
– Control your weight
Control diabetes, BP, cholesterol
In case of any problem, consult a cardiologist immediately.
First read breaking news in Hindi News18 Hindi| Read today's latest news, live news updates, most reliable Hindi news website News18 Hindi.
Tags: cardiac arrest, health, heart attack, Lifestyle
FIRST PUBLISHED : December 06, 2022, 12:19 IST