Lifestyle
Chhath Puja 2022 Samagri: If you are doing Chhath Puja alone, then collect this material in advance, no goods will be left in a hurry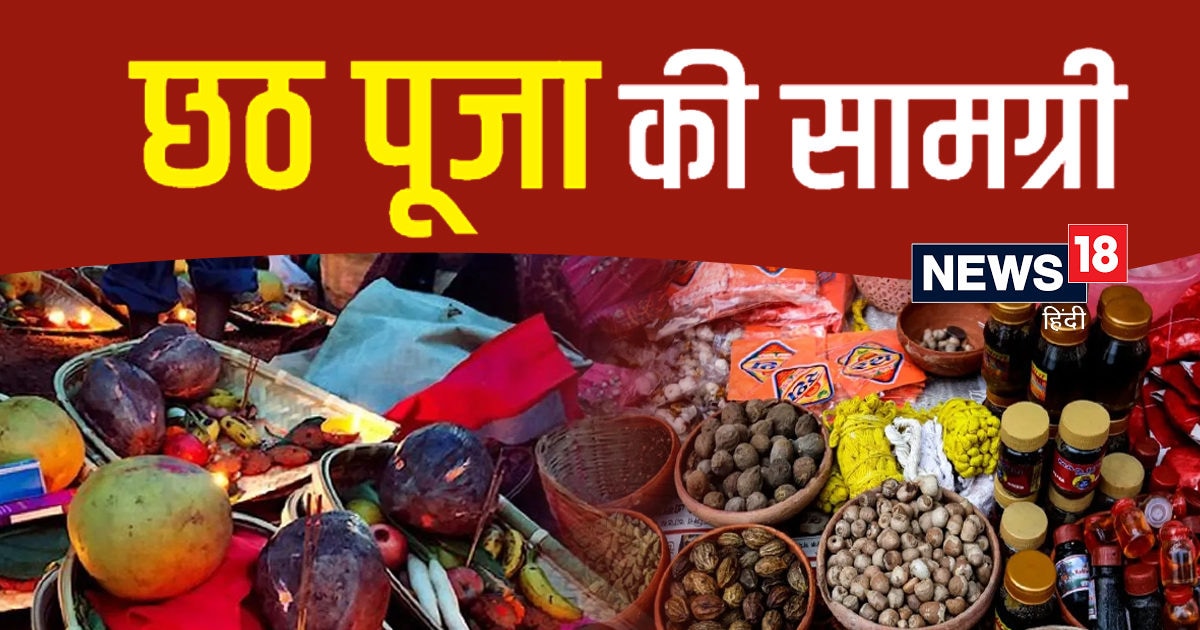 Highlights
Missing even a single item in Chhath Puja is considered inauspicious.
You collect these materials in a clean place.
Chhath Puja 2022 Samagri: Mahaparv Chhath starts from 6 days after Diwali. This festival of worship of Sun and Chhathi Maiya is kept for the good wishes of family and children. Its preparations start loudly in homes only after Diwali and people start shopping for Chhath items in the market. Actually, it is considered very important to collect the materials in this festival in advance, because if even a single material is missed, then the result of the fast is considered incomplete.
Pandit Shakti Joshi According to this, if the material is not complete, there may be problems during worship and strict fasting may be disturbed. In such a situation, if you are doing Chhath Puja for the first time or alone, then it would be better to collect all the materials related to Chhath Puja in advance. Let us know the list of complete contents of Chhath.
list of chhath festival ingredients
Soup is needed to keep the prasad on the ghat. Apart from this, it is also used to keep the grain clean.
For the sixth Maya, take a branch of bamboo. In this cast itself, the material of worship is tied and taken to the ghat.
-Buy basket with dala also. In this, you keep offerings for the sixth month and take it to the ghat.
Read also: Chhath Puja 2022: Do you know the importance of Mahaparv Chhath? Know here every information related to worship including the time of Arghya
New wheat and rice are needed, from whose flour thekua and prasad are made for the sixth maiya.
To keep milk and water etc., a glass, lota and plate will be needed.
Black small desi gram will also be used in prasad.
You should also write clean jaggery in your list. Jaggery is used instead of sugar to make the offerings of Chhathi Maiya.
In sweets, you can take laddus, khaja, sweets, honey.
You will also need semolina and maida to make the prasad. Gujiyas and other prasad will be prepared from this.
Also read – The people of these zodiac signs never get along with each other, there is a difference of opinion
For worship, sandalwood, rice, vermilion, incense sticks, kumkum and camphor will also be needed.
In fruits, you buy custard apple, banana, pear and big dabha or lemon, succulent, sweet potato, radish, brinjal etc.
Apart from this, for worship, four-faced lamps, some small lamps, many wicks, oil will be needed which will be lit at the ghat.
In addition, turmeric, radish, ginger green plant, 7 leafy sugarcane (5 sugarcane for Chhath Ghat and 2 for prasad)
Banana Gourd, Artha leaf and webbing garland.
-Kerao, after listening to the story, is offered to Chhath Maiya in the form of prasad. By eating it, fasting is also done. (Disclaimer: The information and information given in this article is based on general assumptions. Hindi news18 does not confirm the same. Please contact the relevant expert before implementing them.)
Be the first to read breaking news in Hindi News18 Hindi| Today's latest news, live news updates, read the most reliable Hindi news website News18 Hindi|
Tags: Chhath Mahaparv, Chhath Puja, Lifestyle
FIRST PUBLISHED : October 27, 2022, 10:03 IST