Lifestyle
Coriander seeds improve digestion along with controlling diabetes. 5 big benefits will surprise you, start eating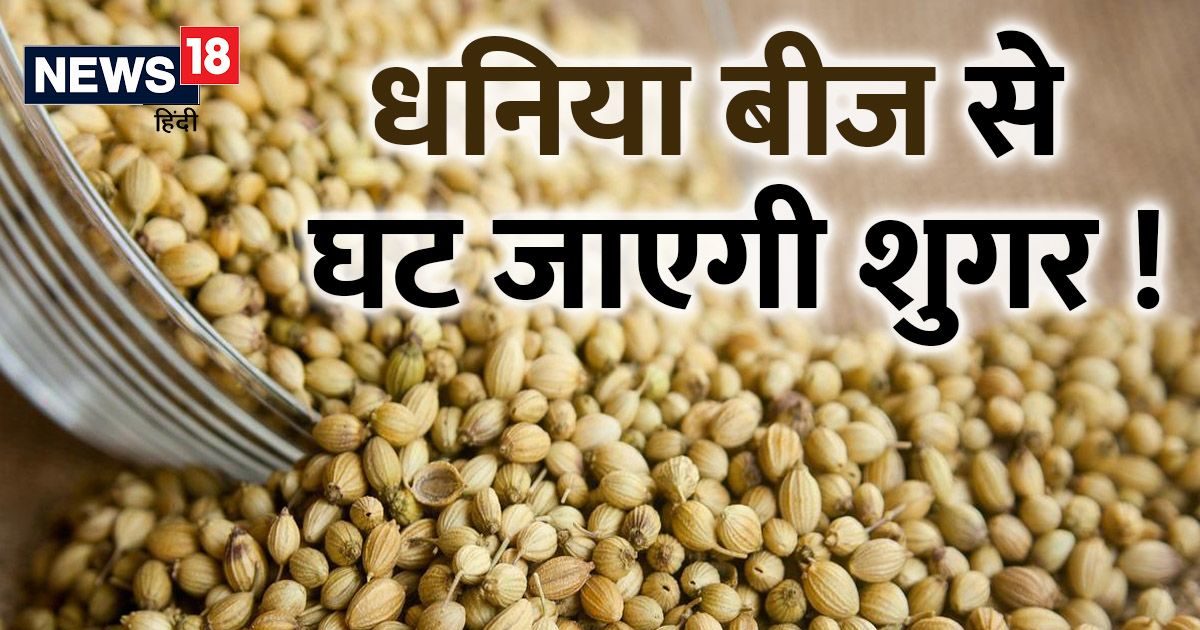 highlights
Coriander seed, which is used as a spice in food, is full of properties.
Coriander seeds are also beneficial for brain health along with sugar, BP.
Coriander Seed Health Benefits: Coriander seeds are used in almost all households. Coriander seeds are an important spice in the kitchen and almost all the vegetables remain incomplete without coriander seeds or coriander powder. Coriander seeds not only enhance the taste of food but it is also very beneficial for our overall health. Coriander seeds are full of many properties, from reducing blood sugar to improving digestion. Coriander seeds are also considered beneficial for brain health. If you want to keep yourself fit, then you can include coriander seeds in your diet.
Many people consume coriander seeds but are unaware of its benefits. According to Healthline, coriander seeds can play an important role in keeping the body fit. Let us know the 5 great benefits of coriander seeds.
5 benefits of coriander seeds



UP TET 2023: You can become a teacher by answering 150 questions, waiting for notification




IRCTC has brought an economical tour package from the city of Nawabs to Thailand, Bangkok and Pattaya will be able to roam in just this much rupees




Archana Devi: I have a mother… World Cup winner Archana told the story of uncle's TV and policeman brother




Education News: Most universities in Rajasthan, most colleges in UP, see full report




UP Board Exam 2023: Roll number will have to be written on every page of the copy, know the important instructions before the exam




Weather Update: Pleasant morning in Lucknow and severe cold in Ayodhya, know how the weather will be for the next two days




Video games played in father's childhood are still craze, seeing your childhood memories will be fresh




Lucknow Train: Passengers please note, time and place of these trains is going to change




Swami Prasad Maurya, who commented on Tulsidas, is a veteran of politics




Lucknow News: No cash-no loan, this 'mall' of Lucknow is decorated with free clothes market
blood sugar In today's lifestyle, people have started falling prey to incurable diseases like diabetes at an early age. High blood sugar in type 2 diabetes is a serious problem. Coriander seeds have the properties of reducing blood sugar. In such a situation, if you have a complaint of high sugar, then you can eat coriander seeds. If you are taking treatment for diabetes, then it will be right to eat coriander seeds only on medical advice.
Read this also: If you want to control diabetes, then eat brown rice, it also helps in weight loss, you will get 4 amazing benefits
Immunity Coriander seeds, which enhance the taste of food, are also rich in immunity boosting antioxidants. There are many types of antioxidants present in it which help in strengthening the immunity of the body. Coriander has immune boosting, anticancer, anti-inflammatory and neuroprotective effects.
Heart health Heart is the most important part of our body. Consumption of coriander seeds can reduce the risk of heart disease. Regular consumption of coriander seeds can help in reducing bad cholesterol along with controlling blood pressure.
Digestion Use coriander seeds, coriander leaves or coriander oil, all these things are full of qualities. Consumption of coriander improves digestion as well as improves gut health. By taking it regularly, the problem of constipation can be removed and digestion can be improved. Coriander can be beneficial in problems like upset stomach, feeling like vomiting, IBS.
Read this also: The reason for tingling in hands and feet is not just vitamin deficiency, 5 big reasons are also responsible for this, be alert
brain health Coriander seeds can be beneficial for other parts of the body as well as for the brain. Coriander has anti-inflammatory properties which can play an important role in preventing diseases like Parkinson's, Alzheimer's and multiple sclerosis. Its use can also improve memory.
First read breaking news in Hindi News18 Hindi| Read today's latest news, live news updates, most reliable Hindi news website News18 Hindi.
Tags: health, healthy food, Lifestyle
FIRST PUBLISHED : January 31, 2023, 17:39 IST