Lifestyle
Country's second longest train, runs on tracks day and night for 72 hours, stopping at 70 stations in 12 states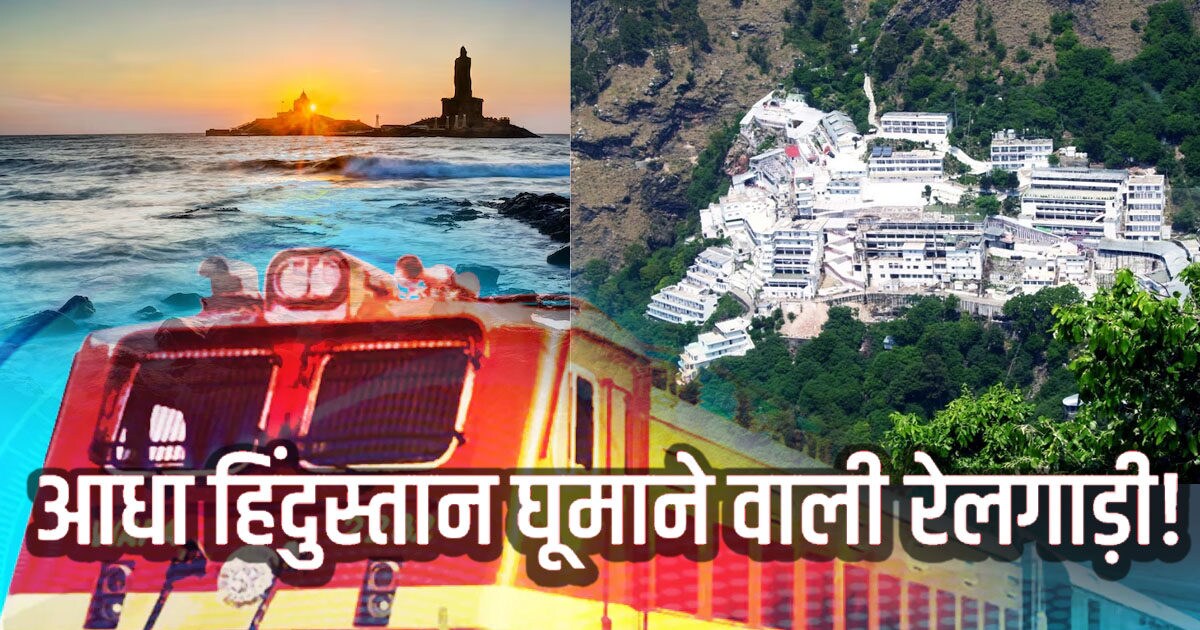 highlights
Himsagar Express is the second longest running train in India.
This train runs between Maa Vaishno Devi Katra to Kanyakumari.
The Himsagar Express train travels an average distance of 1000 kilometers every day.
Railway Knowledge: If you are asked whether half of India can be traveled through a single train, then you will think that is it possible? Yes, it is absolutely possible that there are some trains in the country which cover a distance of more than 3000 kilometers and their journey is completed in 70-80 hours. India's longest distance train is Vivek Express but after this number comes another train which runs between Kashmir to Kanyakumari.
There is a huge network of railways in India and there are many interesting information related to it. If you travel regularly by trains or want to experience a long and memorable journey through it, then you should know about long distance trains in the country. Let us tell you that which is the second number train to travel long distance in India.
read this also- What is the meaning of going up and down of the train? Believe me, the truth is opposite to what you think
Kashmir to Kanyakumari trains
Himsagar Express runs from Shri Mata Vaishno Devi Katra to Kanyakumari in Jammu and Kashmir. It is a weekly express train and is currently the second longest running train in terms of distance and time, second only to Vivek Express. This is the only train which passes through 12 states of the country. It was started in 1984. At that time it was the longest train in the country.
Halts at 70 stations in 12 states
Himsagar Express passing through 12 states covers its journey in 71 hours and 50 minutes. During this, it stops here at a total of 70 stations. These include major railway junctions of many states including Delhi, Punjab, MP, Maharashtra, Tamil Nadu. That's why by traveling in this train you can see most part of India. Himsagar Express has to travel a long distance of 4 days to reach from Kashmir to Kanyakumari.
Here's the full route
Himsagar Express is a Weekly Mail Express train, which leaves Shri Mata Vaishno Devi every Monday at 10:30 PM. After leaving Katra, this train reaches Kanyakumari on the fourth day covering a distance of 70 stations and 3787 kms. During this, it stops at 70 stations. The special thing is that Himsagar hardly stops for 2-5 minutes at every station. Its stoppage is only for 25 minutes in New Delhi and 20 minutes in Himmatana. Train number 16318 of HIMSAGAR EXP runs from Katra to Kanyakumari. The facility of second and third AC coach and sleeper class is available in this mail express train.
read this also- Confirmed ticket is available in the train from the quota! How to take advantage of this, know what is reservation in railway
1000 kilometer journey daily
Whereas, the train number of Himsagar Express between Kanyakumari to Katra is 16317 and this train runs every week on Friday. The special thing is that on the return journey from Kanyakumari to Kashmir, the stoppage and travel time of this train is reduced. This train reaches Katra in 68 hours 20 minutes, covering a distance of 3789 kilometers stopping at 65 stations.
This train travels an average distance of 1000 kilometers everyday during this journey. During this, travelers get to experience many languages, cultures and food in different states.
,
Tags: Indian railway, Irctc, railway knowledge, Vande Bharat Trains
FIRST PUBLISHED : May 20, 2023, 12:02 PM