Lifestyle
Do not travel in this direction even by mistake, 7 things related to Tuesday, which are very important to know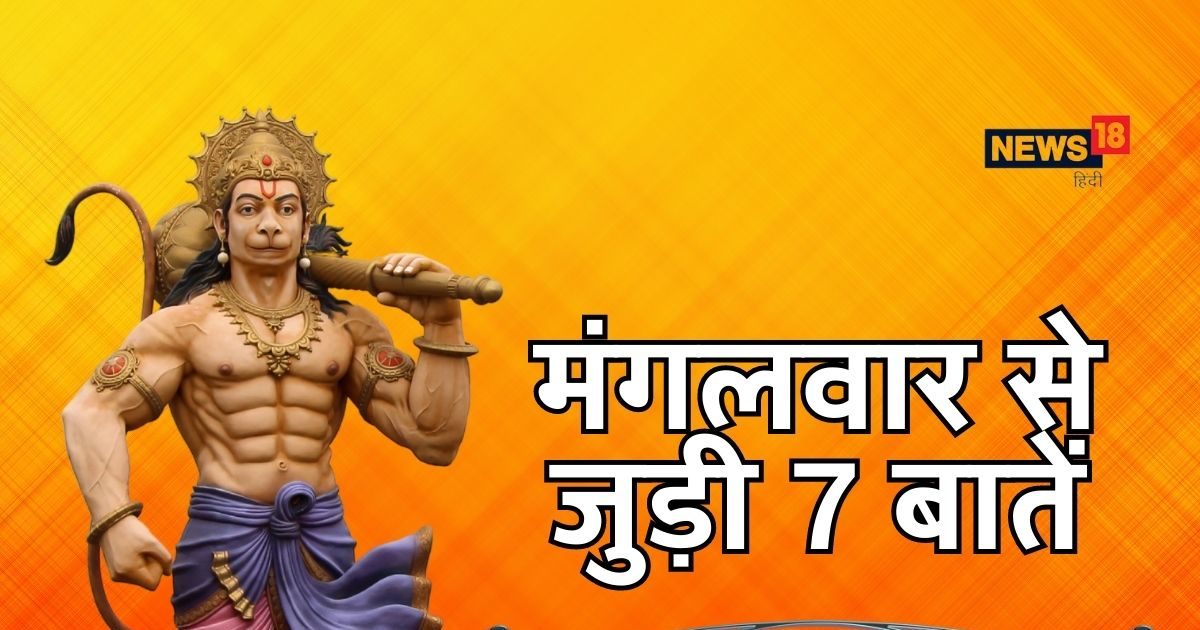 highlights
Hanuman ji and Mangal Dev are worshiped on Tuesday.
On this day Hanuman ji should be offered chola by mixing vermilion in jasmine oil.
Interesting Facts About Tuesday: Special importance of every 1 day has been told in Sanatan Dharma. All the seven days of the week have been dedicated to one or the other deity. In this sequence, Tuesday is dedicated to Hanuman ji and Mangal Dev. There is a ritual to worship Bajrangbali and Mangal Dev on this day. In order to get the blessings of Bajrangbali, devotees offer clothes to him on this day and recite Hanuman Chalisa, by which the Sankatmochan takes away every calamity that comes upon man. There are many interesting facts related to Tuesday in astrology and religious texts, about which Bhopal residents are telling us. Astrologer and Vastu consultant Pandit Hitendra Kumar Sharma.
1. Who is worshiped
According to Hindu religious texts, Tuesday is dedicated to Hanuman, the son of wind and Mangal Dev. This day is considered to be the worship of Bajrangbali and Mangal Dev.
Read this also – How should the idol of Bholenath be in the house, keep in mind 4 special things, do not install this idol of Mahadev even by mistake
2. How Mangal Dev originated
According to the Hindu religious text Skanda Purana, a drop of sweat of Lord Sri Hari Vishnu fell on the earth and Mangal Dev is believed to have originated through the earth. At the same time, in the Mahabharata, the description of the birth of Mangal Dev is believed to have taken place from the body of Lord Kartikeya.
3. When is Rahukaal
According to astrology, there is a time of 1 hour 30 minutes every day, during which no auspicious or auspicious work should be done. Such time is called Rahu Kaal. On Tuesday, the time of Rahukal lasts from 3:00 pm to 4:30 pm. According to astrology, any work done during Rahu period is not successful.
4. Offer to Hanuman ji
According to religious beliefs, it is very auspicious to offer vermilion mixed with jasmine oil to Hanuman ji on Tuesday. Hanuman, a devotee of Ram, is pleased with this and takes away all your troubles.
5. Debt Repayment Day
According to astrology, if you have taken a loan for a long time and are unable to repay it, then Tuesday is considered the best day for it.
Also read – You also wear turtle ring, be careful, know who should wear it and who should not
6. Auspicious direction for traveling
According to astrology, if you want to travel on Tuesday, then east and south directions are considered very auspicious for this. Traveling in this direction can make your every work successful.
7. Do not travel in this direction
It has been told in astrology that one should not travel north on Tuesdays even by mistake. Its results are not favorable. If there is any urgent work, take out the right leg first while leaving the house.
,
Tags: astrology, Dharma Aastha, Lord Hanuman, religion
FIRST PUBLISHED : June 05, 2023, 09:57 IST