Lifestyle
Do you know the benefits of this sweet? Doctors also give advice to eat in obesity etc., 5 other benefits will surprise you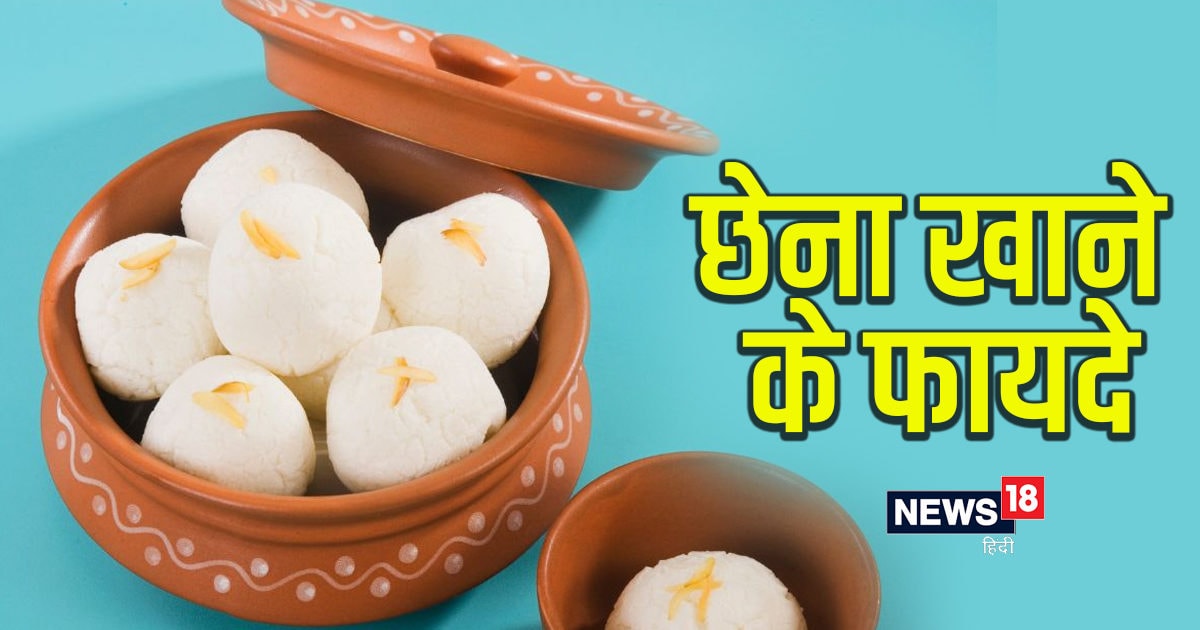 highlights
Chhena sweet made of milk is beneficial for health, it is also known as White Rasgulla and Bengali Rasgulla.
Beneficial ingredients like protein, carbohydrate, fat, calcium, vitamin C, iron, phosphorus, and fiber are found in chhena sweets.
Chena sweets beneficial for health: Milk is considered very beneficial for health. Its regular intake is enough to supply many nutrients. Although children start making faces while drinking milk. In such a situation, it is necessary that such a milk product should be made and prepared, which children can eat easily. Chhena is one of the delicious products made from this milk. Yes, it may sound a bit strange, but it is considered very beneficial for health. This sweet is also known as white rasgulla and Bengali rasgulla. Ingredients like protein, carbohydrate, fat, calcium, vitamin C, iron, phosphorus, and fiber are found in Chhena made on the lines of paneer, which are very beneficial for health. Let me tell you, in many diseases, doctors also advise to eat it. However, in what quantity Chhena should be eaten, a doctor's advice is necessary. Come to Government Medical College Kannauj Dietician and Diabetes Educator Rohit Yadav Let us know the benefits of eating chhena.
According to experts, childhood obesity can be reduced by consuming milk and dairy products. Along with this, Chhena also helps in reducing cholesterol absorption, promoting weight loss and lower blood pressure. Apart from this, it can also reduce the risk of some types of cancer. Along with this, it can also be beneficial in heart related problems.
benefits of eating chhena sweets
Beneficial in weight loss: Problems like obesity can also be reduced by products made from milk. Tell that, high quality protein is found in dairy product Chhena. This protein takes care of the maintenance of health. Childhood obesity can be reduced by consuming it regularly.
Bones get stronger: Chhena can be a better option for making bones strong. According to experts, elements like calcium, magnesium, and phosphorus are found in Chhena, which take better care of bones. Consuming chhena made from milk can reduce the risk associated with bones.
Good for Heart: Consumption of Chhena made from milk is also considered effective in reducing the problems related to the heart. Tell me, due to the preparation of chhena milk, it is rich in calcium and potassium. The nutrients of both of these are considered effective in controlling the health of the heart. Along with this, it is effective in reducing cholesterol.
Read this also: Mixing this spice in milk and drinking it will have 5 great benefits, immunity will be boosted, bones will also become strong
Boost Immunity: Dairy products are very effective in strengthening the body. Chhena sweets made from milk is a good source of Vitamin C. If someone feels weak, then with the advice of an expert, you can consume Chhena. Immunity is strengthened by eating this sweet, so that you can stay away from virus and bacteria.
read this also: These 3 natural herbs are the period of arthritis pain, band of uric acid rings, full of anti-inflammatory properties
Good for pregnant women: Pregnant women have to pay maximum attention to food and drink. This is the time when everything is taken with the advice of experts. But, if pregnant women consume Chhena then it can prove to be beneficial. By consuming this sweet, both mother and child remain healthy.
,
Tags: health benefits, health news, Lifestyle
FIRST PUBLISHED : May 28, 2023, 10:08 AM