Lifestyle
Eyesight is getting weak due to phone addiction for hours, include 5 homemade juices in the diet, you will get relief from blurriness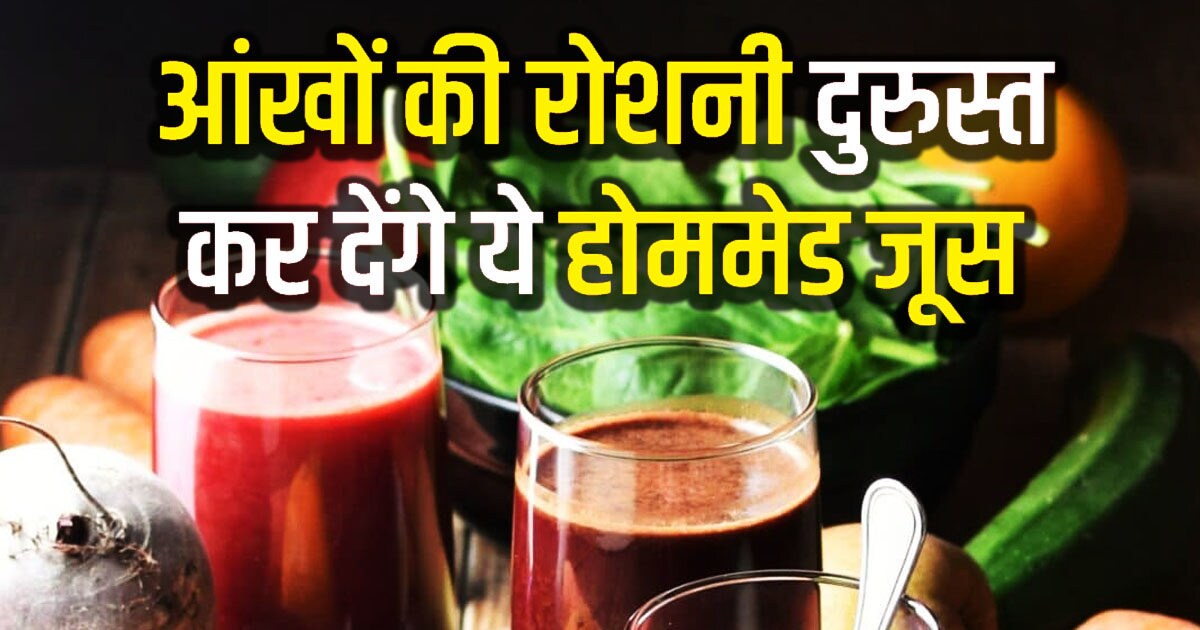 highlights
Poor lifestyle and addiction to looking at the phone for hours have a bad effect on the eyes.
Continuous exposure to the bright rays emanating from laptops and phones can weaken the eyes.
Juice for Good Eye sight: Bad lifestyle, untimely eating and drinking and addiction to watching phone for hours have done the work of inviting many diseases. It has had a very bad effect on many organs. One of these is the eye. Eyes are getting weak due to constant exposure to the bright rays emanating from laptops and phones. A major reason for this is also the lack of vitamins. Nowadays this problem is being seen a lot in children. People are forced to take high power glasses and expensive medicines to overcome this problem. But do you know that some homemade juices can also prove beneficial in removing this problem to some extent. Come to King George's Medical College Lucknow Dietician Kajal Tiwari Let's know about these juices.
This juice will improve eyesight
Orange juice: Orange juice plays an important role in increasing eyesight. Vitamin C and Vitamin B present in orange juice helps in repairing the nerves of the eyes as well as eliminating problems like cataract. Apart from this, the folate present in it works to give strength to the eyes of children.
carrot juice: Vitamin A found in carrot juice helps in increasing eyesight. Due to the high amount of Vitamin A in this juice, it helps in improving the retinal health of the eyes. If you drink this carrot juice mixed with tomato juice, it will be more beneficial. Taking this juice in the morning during breakfast will be more effective. By doing this the problem of blurriness etc ends.
Spinach Juice: As much as green leafy vegetables are beneficial for health, its juice is more effective than that. This juice is considered very miraculous for the eyes. If your eyesight is decreasing then you can drink spinach juice. Spinach juice is considered a good source of vitamins A, C, K and magnesium, manganese, iron. It is possible to increase the light of the eyes by drinking this.
read this also: 6 exercises will give great relief to the eyes, will also be helpful in increasing the light, know how to do them
Beetroot and Sev: Beetroot and apple are also rich in Vitamin A. Due to this, the juices of these two help in improving the eyesight. Lutein and zeaxanthin found in beetroot are effective in improving the macular retina. At the same time, the biflavonoids found in sev are also helpful in better eye care.
read this also: Arm Fat: Embarrassed by hanging arm fat? 4 big reasons are responsible for this, know the right way to maintain
Amla juice: Amla is also considered a good source of Vitamin C. Including its juice in the diet gives relief from eye problems. Drinking amla juice removes the blurriness of the eyes. If you want, it can also be eaten as raw fruit.
,
Tags: Eyes, health, health benefits, Lifestyle
FIRST PUBLISHED : May 18, 2023, 09:14 IST