Lifestyle
Hanuman Jayanti 2023: When is Hanuman Jayanti being celebrated? Chant this mantra 108 times, you will get the blessings of Bajrangbali.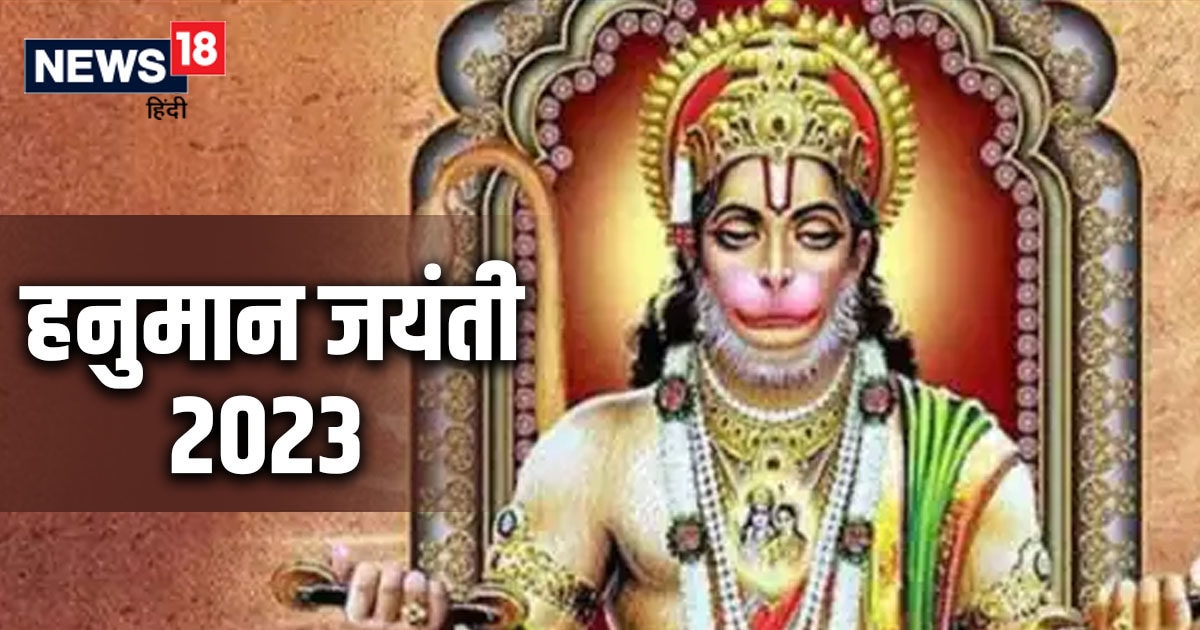 highlights
One gets happiness and peace by reciting Hanuman Chalisa.
The student class should recite Hanuman Chalisa regularly.
Hanuman Jayanti 2023: Hanuman Jayanti is celebrated on the full moon day of Shukla Paksha of Chaitra month. According to the Hindu calendar, this year on 6th April 2023, Thursday, the festival of Hanuman Jayanti will be celebrated with pomp. There are religious beliefs that by worshiping Lord Hanuman and reciting Hanuman Chalisa on the day of Hanuman Jayanti, one gets the blessings of Bajrangbali, and all the wishes of the person are also fulfilled. By reciting some special couplets of Hanuman Chalisa, a person can get freedom from all his sorrows and pains. Resident of Bhopal Astrologer and Vastu Consultant Pandit Hitendra Kumar Sharma Telling about 4 such verses of Hanuman Chalisa, by reciting which a person gets the blessings of wealth, strength and intelligence.
hanuman mantra chanting and couplets
1. Nasi Rog Hari Sab Pira.
Chant continuously Hanumat Bira.
According to beliefs, people who are constantly ill. Those who are surrounded by diseases must recite this chaupai of Hanuman Chalisa. Diseases can be cured by reciting this chapai. There are beliefs that the person who recites it regularly gets strength.
Also read – Name your son after Lord Shiva, the child will be intelligent, will be praised everywhere
2. Om Mahabalaya Veerai Chiranjivin Uddate.
Harine Vajra Dehay Cholanghit Mahavyaye.
If you have a desire for something special, then on the day of Hanuman Jayanti, do chant this mantra of Hanuman ji at least 108 times.
3.. Om Namo Hanumate Rudravataraya, the destroyer of all enemies, the destroyer of all diseases, the subjugator of Ram.
According to belief, one can win over enemies and diseases by chanting this mantra. Chanting this mantra must be done 108 times.
4. 'Vidyawan Guni very clever.
Eager to do Ram's work.
The student class should recite Hanuman Chalisa regularly. It is believed that by reciting these lines of Hanuman Chalisa, the memory power increases, and the student class gets success in the field of education.
Also read – Keep 4 things in mind while chanting garland, auspicious for chanting such garland, learn the right way from astrologer
Benefits of Hanuman Chalisa
According to beliefs, reciting Hanuman Chalisa on Hanuman Jayanti brings happiness and peace.
By reciting Hanuman Chalisa, a person's financial worries go away and morale increases.
Along with this, the blessings of Hanuman ji are also received.
First read breaking news in Hindi News18 Hindi| Read today's latest news, live news updates, most reliable Hindi news website News18 Hindi.
Tags: astrology, Hanuman Chalisa, Hanuman Jayanti, Lord Hanuman, religion
FIRST PUBLISHED : April 02, 2023, 12:48 PM