Lifestyle
If you don't have time to make lunch, then make these 5 types of recipes in 15 minutes, you will get different taste, your stomach will also be full.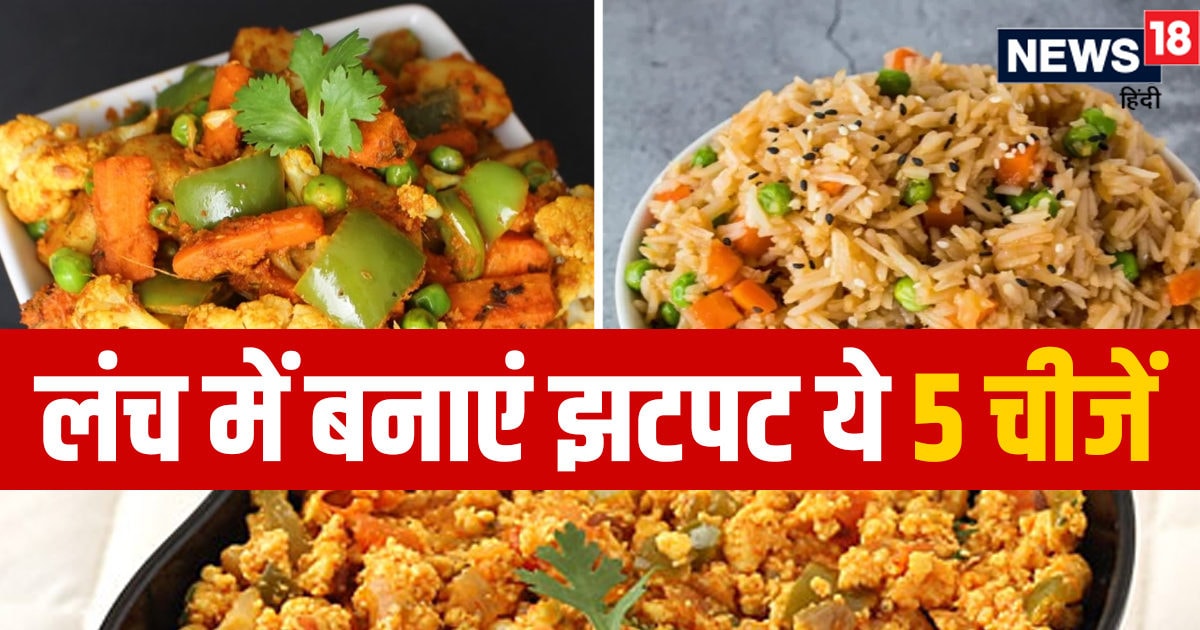 highlights
If there is little green vegetables left in the house, then by mixing all of them, you can make dry mix vegetables.
Making paneer bhurji, fried rice is also the best and easy option.
Easy Recipes for Lunch: After having breakfast, people start thinking about what to make, what to eat during the day. Many times women get so engrossed in household chores that they do not get time to cook. If you look at the clock, then it is already 2 o'clock in the day. In such a situation, even the brain does not work when hungry. No need to worry. We are telling you how to make some simple things. These are foods that can be prepared in 15 to 20 minutes. Just made two or three chapatis and ate them. They are awesome in taste too. Sometimes there is little left of raw vegetables in the house, you can mix them together to make vegetable mix. If cooked rice is left, then you can make fried rice from it and eat it. Come let's know which recipes you can cook immediately and eat during the day.
Make paneer bhurji for lunch
Sometimes when there is a strong hunger, then I do not even feel like cooking vegetables. In such a situation, paneer is lying in the fridge, then you can make paneer bhurji from it and you can also eat it by putting it in the middle of roti or bread slices. Make it by adding favorite spices, tomatoes, coriander leaves. Add oil or butter to the pan, add onion and fry till it turns brown. Add spices and after a minute or two add tomatoes. Then grate the cheese and put it in it. Healthy, Tasty Paneer Bhurji is ready.
Read this also: Singhara Kadhi Recipe: Eat Tasty Singhara Kadhi in Falahar, you will not be able to forget the taste, learn the simple recipe
Corn curry is also an easy option
Corn is also liked by children. Making corn curry is also easy. Boil it for two to three minutes so that it can be prepared quickly. Sauté the corn in oil. Add some spices to it, you can also add chopped tomato or curd after mixing it. Corn made in curd will taste delicious.
Make instant mixed vegetables for lunch
Do not worry if you do not have any raw vegetables left in excess. You can make mixed vegetables by chopping all the vegetables. With this, nutritious elements of many vegetables will also be available and you will be saved from eating only one vegetable daily. Cut the vegetables quickly and fry them in butter and onions. Add favorite spices and salt to it and fry. Add tomatoes, garnish with coriander leaves and serve with roti.
Make fried rice with leftover rice
Sometimes the rice becomes too much, which you keep in the fridge. If you are not able to cook, then you can make fried rice by frying this rice with lots of vegetables. Cut all the vegetables. Add ghee or oil to the pan and fry the vegetables. Add spices to it and then add rice and stir. You can also add vinegar, soy sauce, red and green chili sauce to bring taste to it. Lastly add chopped coriander leaves.
eat papad vegetable
You might eat papad by frying it in oil or roasting it on fire, but if you don't have green vegetables, you can also make papad curry. Papad curry tastes even better when cooked in curd. This dish is made a lot in Rajasthan. You will find its recipe available on the net as well, so what are you waiting for, watch and make it in 15 minutes.
First read breaking news in Hindi News18 Hindi| Read today's latest news, live news updates, most reliable Hindi news website News18 Hindi.
Tags: food, Food Recipe, Lifestyle
FIRST PUBLISHED : March 27, 2023, 13:45 IST