Lifestyle
Invest in Recurring Deposit or Invest in MF SIP? Where will be the big profit, you also know today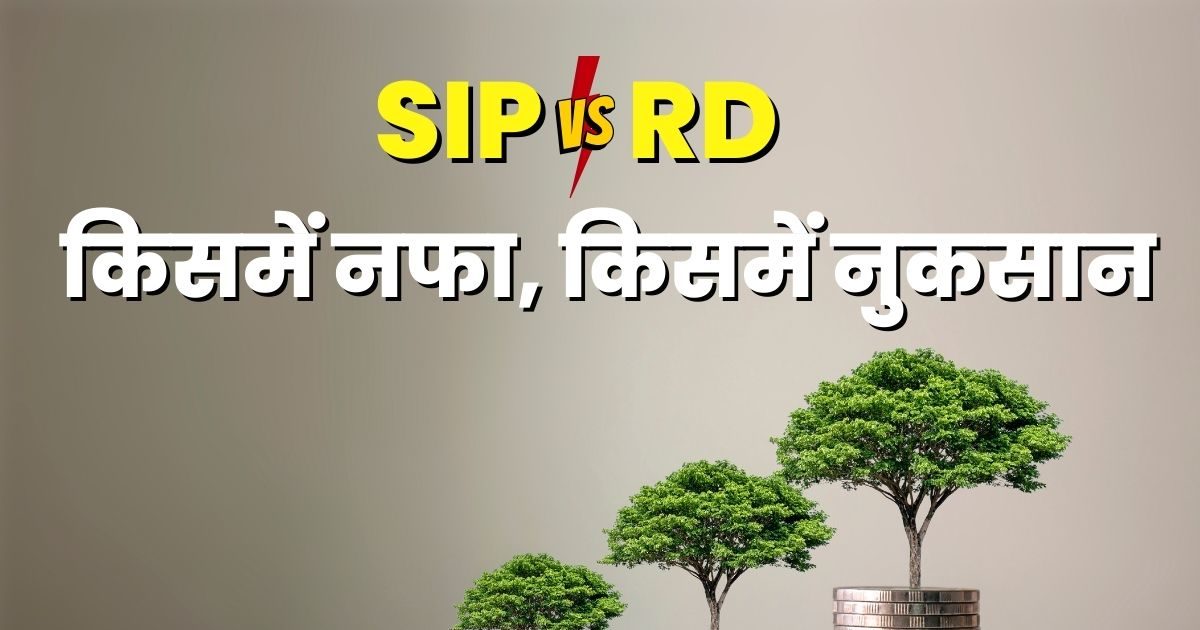 highlights
The money invested in RD is completely safe.
Investing in mutual funds is more risky.
MF gives higher returns than RD.
New Delhi. Capital invested at the right place gives huge profits in future. Today, many types of schemes are available to invest money. But where to invest to get better profits is a big question. If you want to invest on a monthly basis, then you can invest money through Recurring Deposit (RD) and Systematic Investment Plan (Mutual Fund SIP) in Mutual Funds. The number of people investing in mutual funds is increasing continuously. Many investors also invest money in RD. It is also a great investment tool to achieve short term financial goals.
What happens is that when it comes to investing in RD or Mutual Fund through SIP, many investors get confused to choose between the two. SIP can be invested in both Mutual Funds and RDs, but still there is some difference between these two investment plans. The money invested in RD is completely safe. At the same time, investing in mutual funds is more risky. Let us know the advantages and disadvantages of both of them in detail today. And also understand that which of the two investment options is more beneficial for you.
read this also- 1 day's earning in lakhs, the whole world believes in the iron of his talent, even the British are ready to pay the asked salary
RD : Money Safe, Guaranteed Returns
Recurring Deposit is a debt instrument. RD can be done in the bank for a period of one year to 10 years. RD is considered a good way to make big funds in the short term. Small amounts can be deposited every month in RD. It should be known here that neither there is any tax exemption on investment in RD nor the interest received from it is tax free. RD has a lock-in period, so banks charge a fee for withdrawing money before the maturity period.
The return of RD is less than the inflation rate. Up to Rs 5 lakh deposited in RD is guaranteed by the Deposit Insurance and Guarantee Corporation. That is, if the bank sinks due to some reason, then the amount up to Rs. 5 lakh will be returned to the investor under any circumstances.
MF SIP: Higher risk, higher returns
Mutual Fund SIPs are very flexible. You can choose daily, weekly, fortnightly, monthly, quarterly or annual option for investment. SIP is the best way to invest in equity market. You will get the best returns only if you SIP for at least 5 years. Investing in MF SIP is risky and depends on the market. There is no guarantee of return in this. Easy to close SIP and withdraw funds. Yes, the returns are excellent in this. Usually the returns of mutual funds are higher than the inflation rate. Also, RD and FD also do not stand in front of its returns.
Where do you put money?
Investment advisors say that the decision to invest money in any scheme should be taken by the investor keeping in mind his risk appetite and his financial goals. Those who do not have much knowledge about financial market or have to achieve any short term goal, they should invest in RD. Similarly, choose Mutual Fund SIP to invest for the long term. Mutual Fund SIP is also suitable for investors who have good knowledge about the market and can take risk. If you are satisfied with a modest return, but do not want your money to sink under any circumstances, then a recurring deposit is right for you.
First read breaking news in Hindi News18 Hindi| Read today's latest news, live news updates, most reliable Hindi news website News18 Hindi.
Tags: business news in hindi, Investment and return, investment tips, Money Making Tips, Returns of mutual fund SIPs
FIRST PUBLISHED : March 21, 2023, 16:36 IST