Lifestyle
Kartik Month 2022: When will the month of Kartik start? Know this month's big fast including Diwali, Chhath Puja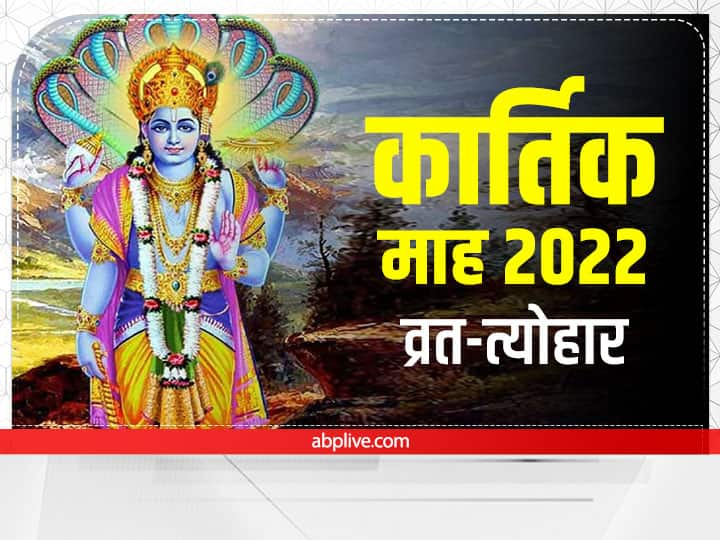 Kartik Month 2022 Vrat-Tyohar October: In Hinduism, the month of Kartik is considered a very holy month for bathing, charity, virtuous deeds, religious rituals. The month of Kartik is very dear to the world's guardian Shri Hari Vishnu. It is called the fourth month of Chaturmas, in which Lord Vishnu wakes up from a deep sleep on Dev Uthani Ekadashi 2022 and then all auspicious works begin.
Kartik month will start from 10 October 2022, it will end on 8 November 2022. According to the scriptures, this month is considered to be a very important month for women to fast. In this, constellation-planet yoga, the order of date festival gives wealth, opulence, good health. Let us know the list of big fasting festivals of Kartik month.
Kartik Month Festival-Fast 2022

13 October 2022 (Thursday)- Karva Chauth, Sankashti Ganesh Chaturthi
Karva Chauth – On Karva Chauth, married women keep a Nirjala fast for the long life of their husbands.
14 October 2022 (Friday)- Rohini Vrat
Rohini Vrat – This fast is especially observed by the followers of Jainism. On this day they worship Lord Vasupujya.
15 October 2022 (Saturday)- Skanda Shashti Vrat
17 October 2022 (Monday)- Ahoi Ashtami, Tula Sankranti
Ahoi Ashtami-Tula Sankranti – The fast of Ahoi Ashtami is done on the Ashtami of Kartik month for the longevity of the child. On this day the Sun God will enter Libra, which is called Tula Sankranti.
21 October 2022 (Friday)- Rama Ekadashi, Govatsa Dwadashi
Rama Ekadashi – Rama is also one of the names of Goddess Lakshmi, hence Goddess Lakshmi is also worshiped along with Lord Vishnu on this Ekadashi of Kartik month. On the other hand, Govtsa Dwadashi fasting is observed by mothers to wish good health of their children.
22 October 2022 (Saturday) Dhanteras, Yama Deepam, Shani Pradosh fast
Dhanteras – The 5-day festival of Diwali begins with Dhanteras. On this day Lord Dhanvantari is worshiped along with Goddess Lakshmi.
23 October 2022 (Sunday) – Kali Chaudas, Monthly Shivratri
Kali Chaudas – Special worship of Mother Kali is done on Kali Chaudas. This puja takes place a day before Diwali.
24 October 2022 (Monday)- Diwali, Narak Chaturdashi
25 October 2022 (Tuesday)- Kartik Amavasya, Bhaumvati Amavasya
Kartik Amavasya – Bathing in the holy river on the new moon day in the month of Kartik has special significance. Being a Tuesday, it will be called Bhaumvati Amavasya.
26 October 2022 (Wednesday)- Bhai Dooj, Annakoot, Govardhan Puja, Yama Dwitiya, Chitragupta Puja
Bhai Dooj – On this day, sister applies tilak to her brother and wishes for his bright future and protection. On the day of Govardhan Puja, there is a law to worship Mount Govardhan, as well as on this day Annakoot (56 Bhog) is offered to Shri Krishna.
28 October 2022 (Friday)- Varad Vinayaka Chaturthi
29 October 2022 (Saturday)- Labh Panchami
Labh Panchami – Panchami Tithi of Shukla Paksha of Kartik month is considered a symbol of profit and good luck. This fast is done for the fulfillment of worldly desires.
30 October 2022 (Sunday)- Chhath Puja
Chhath Puja – For the long life of children, in Chhath Puja, 36 hours of waterless fast is worshiped.
01 November 2022 (Tuesday)- Gopashtami, Durgashtami fasting
02 November 2022 (Wednesday)- Akshaya (Amla) Navami
Akshaya Navami – It is also called Amla Navami. Amla tree is worshiped on this day. It is said that Lord Vishnu and Shiva reside in the Amla tree.
04 November 2022 Friday- Devuthani Ekadashi
Devuthani Ekadashi – It is also known as Prabodhini Ekadashi. On this day Lord Vishnu wakes up from sleep after 4 months.
05 November 2022 (Saturday)- Tulsi Vivah, Shani Pradosh Vrat
Tulsi Vivah- Shaligram ji and Tulsi are married in the form of Lord Vishnu on the Dwadashi of Kartik month.
07 November 2022 (Monday)- Dev Diwali, Manikarnika Snan
Goddess Diwali – Dev Diwali is celebrated in Kashi on the banks of river Ganges. It is believed that on this day the deities come to the land of Kashi and celebrate Diwali.
08 November 2022 (Tuesday)- Kartik Purnima, Kartik Snan ends, Satya Vrat
Karwa Chauth 2022: 5 things that must be in the plate of Sargi on Karwa Chauth, know the Muhurta and rules
Diwali 2022: Remove 5 inauspicious things from the house before Diwali, Mother Lakshmi gets angry
Disclaimer: The information provided here is based on assumptions and information only. It is important to mention here that ABPLive.com does not endorse any kind of belief, information. Before applying any information or assumption, consult the concerned expert.