Lifestyle
Linda is Twitter's boss from today, but will she be able to save the 'sinking' company?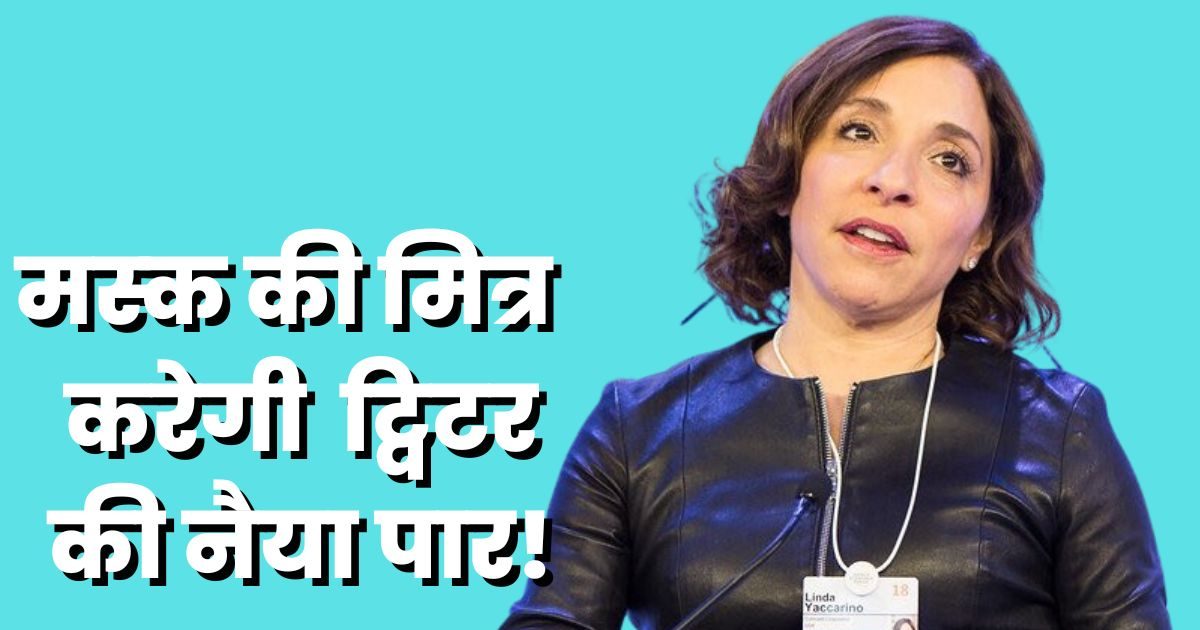 highlights
Linda Yacarino has worked at Turner for 19 years.
He has been with NBC Universal for the past decade.
Yacarino is an American of Italian descent.
New Delhi. Elon Musk bought Twitter about 6 months ago. He paid $44 billion to buy the company. It seemed that Twitter would reach a new height under the leadership of Elon Musk, but it did not happen. The company bought for $44 billion is now worth just $15 billion (Twitter Valuation). According to today's valuation, this is the price of the company. Seeing the sinking ship of the company, Elon Musk, the world's richest man, understood that he should not spend his time here. In such a situation, he chose an old friend of his, Linda Yaccarino and made him sit on the biggest throne of the company. Although this announcement has been made earlier, but from today officially Linda Yacarino has become the CEO of Twitter.
Now it has to be seen whether Linda will be able to save the sinking company or people will see it at a new low. However, if we look at Linda's experience, it is known that she has done wonders in many companies. Twitter's earnings are continuously declining and the revenue from advertising has also decreased. In the last seven months, the company's earnings have fallen by 50 percent. Now it has to be seen whether Linda can repeat the 'amazing' that she did in NBC Universal in Twitter or not. To get Twitter out of the recession, Linda has got NBC Universal's Executive Vice President Joe Benaroche in her court even before taking over as Twitter CEO. Benroch is considered Linda's trusted man.
Read this also- When ChatGPT will eat jobs, we will see the story then, for now take advantage of it and earn
Giving information about the new CEO last month, Twitter owner Elon Musk wrote on Twitter, "I am excited to welcome Linda Yacarino as the new CEO of Twitter! Linda will primarily focus on business operations, while I will focus on product design and new technology."
Linda has had a wonderful career
Linda was the Chairman of Global Advertising and Partnerships at NBC Universal Media LLC. Was associated with the company in 2011. Linda has a big hand in giving new heights to NBC Universal Media. He had created a platform for the company. One platform changed the premium video ecosystem. This platform helps advertisers to reach audiences across screens and formats. Linda has also contributed to the commercial partnership of NBC Universal with brands like Apple, Google. Publications like Fortune and Forbes have chosen her as an influential and powerful woman.
Master in Ad Sales
Linda Yasarino is an alumnus of Penn State University. He has mastered the art of finding the best options for measuring the effects of advertising. He is also considered skilled in ad sales. According to a report in the Wall Street Journal, Yasarino and his team have so far generated more than $ 100 billion in revenue from ad sales. He is also well versed in Global, National and Local Ad Sales, Partnerships, Ad Tech Data Measurement and Strategic Initiatives.
,
Tags: business news in hindi, Dhoni twitter account, Elon Musk
FIRST PUBLISHED : June 05, 2023, 19:51 IST