Lifestyle
Living in these areas of Delhi is fatal, serious lung disease is spreading, ICMR research claims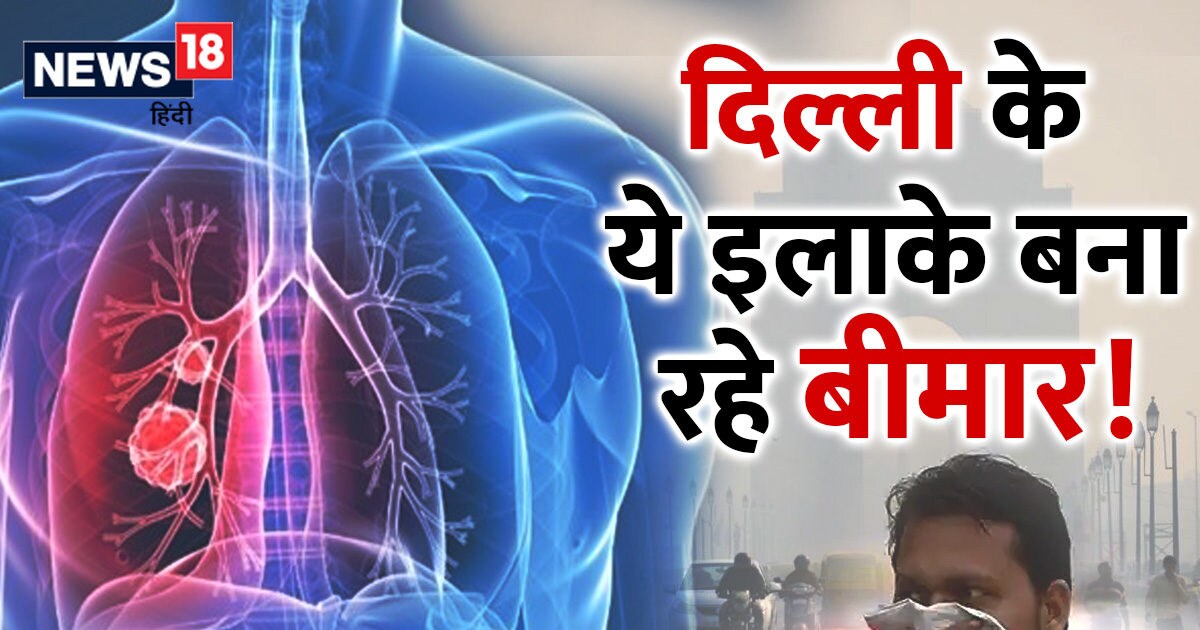 highlights
Pollution in Delhi is having a serious and bad effect on the lungs.
COPD patients are increasing in the industrial areas of the capital.
COPD in Delhi: Who does not want to settle in the capital Delhi, but living here is becoming harmful for health day by day. There are many areas of Delhi where serious lung diseases are spreading rapidly. In such a situation, living here can not only be fatal, but it is also affecting the healthy lifestyle. ICMR's Jodhpur-based National Institute for Implementation Research on Non-Communicable Diseases (NIIRNCD), NEERI Nagpur, IIT Delhi, Delhi University and Health Effect Institute of Boston This thing has come to the fore in the study cum research done by a total of 6 institutes including.
The lead author of this research-study and Director, NIIRNCD and community medicine Specialist Dr. Arun Sharma Talking to News18 Hindi, it is said that there are some areas of Delhi where two major lung diseases, Chronic Obstructive Pulmonary Disease ie COPD and Bronchial Asthma are spreading. In the survey conducted on 40040 thousand people of 8510 houses in Delhi, 443 people were found suspected of COPD. While this disease was confirmed in 394 people. In such a situation, COPD has been found in 9.8 people out of 1000 people in Delhi. At the same time, the special thing is that the presence of COPD is not uniform in the whole of Delhi, rather some areas are hotspots where this crisis is hovering over the lungs.
In chronic obstructive pulmonary disease ie COPD, the airways of the lungs get narrowed. That's why there is a problem in breathing. In this situation, oxygen reaches inside but carbon dioxide cannot come out from inside the body and the person starts suffocating. When this disease progresses, the patient dies.
from your city (Delhi-NCR)




Playing with life in the affair of Reels, students affected by DHOOM movie made a deadly video, police is searching




Efforts of 'Water Hero' to make Bundelkhand watery, PM Modi has mentioned in 'Mann Ki Baat'




Delhi: ASI Shambhu Dayal who was martyred while on duty may get Gallantry Award




Ninth Vande Bharat train will come on track today, preparations to run on this route




Jagannath special travel train will run from Delhi today, know the complete route




Journey of taste: Curry leaves are full of properties that enhance the taste of food, sugar also controls




Dry mouth and sudden increase in thirst, there is no sign of serious illness, be alert




Lest the weather spoil the fun of Republic Day celebrations, know how will be the weather during the parade?




Indian Army will be hi-tech, soldiers will fly in the air, robots will pick up goods, read what is the complete plan of the army




Delhi Riots: Court frames charges against 3 youths for burning school during Delhi riots
Bronchial Asthma is a chronic disease that causes irritation and inflammation in the airways of the lungs. Due to which the patient has difficulty in breathing and has to exert force. When this disease occurs, there is cough, wheezing in breathing, chest discomfort.
Research has found that in Delhi, the area of ​​Dilshad Garden in North East Delhi, some area of ​​Jahangir Puri, all industrial areas of Delhi, MIG Colonies and almost all JJ Colonies i.e. slum areas are especially prone to COPD and Bronchial Asthma. The disease is increasing. There are a total of 27 approved industrial areas in Delhi, where industrial activities are carried out. These include Narela, Bawana, Samaypur Badli, Narayana, Tilak Nagar, Anand Parvat, Najafgarh, Okhla, Mayapuri, Anand Parvat, Mangolpuri etc. in 27 areas. It has been observed in research that people living in industrial areas are more likely to have COPD than other people. While people in the rural areas of South and East Delhi have very less COPD.
During the research, the air quality of Delhi homes was also examined, including cross ventilation in homes, presence and amount of dust, insects, disposal of solid and organic waste produced in homes and fuel used for cooking. was made the basis. On the other hand, in the second question paper, whether any member of the family has COPD or not, for how many years the person has been living in that area of ​​Delhi, information about all these things was taken. Dr. Arun Sharma says that apart from all these things, the big thing for COPD is the pollution of Delhi. Day by day increasing pollution in Delhi, poisonous air, bad environment are possible reasons for these diseases.
First read breaking news in Hindi News18 Hindi| Read today's latest news, live news updates, most reliable Hindi news website News18 Hindi.
Tags: delhi air pollution, delhi news, ICMR, research
FIRST PUBLISHED : January 25, 2023, 14:31 IST