Lifestyle
Mental illness is becoming the reason for suicide, most people died in this state, this thought coming after stress-depression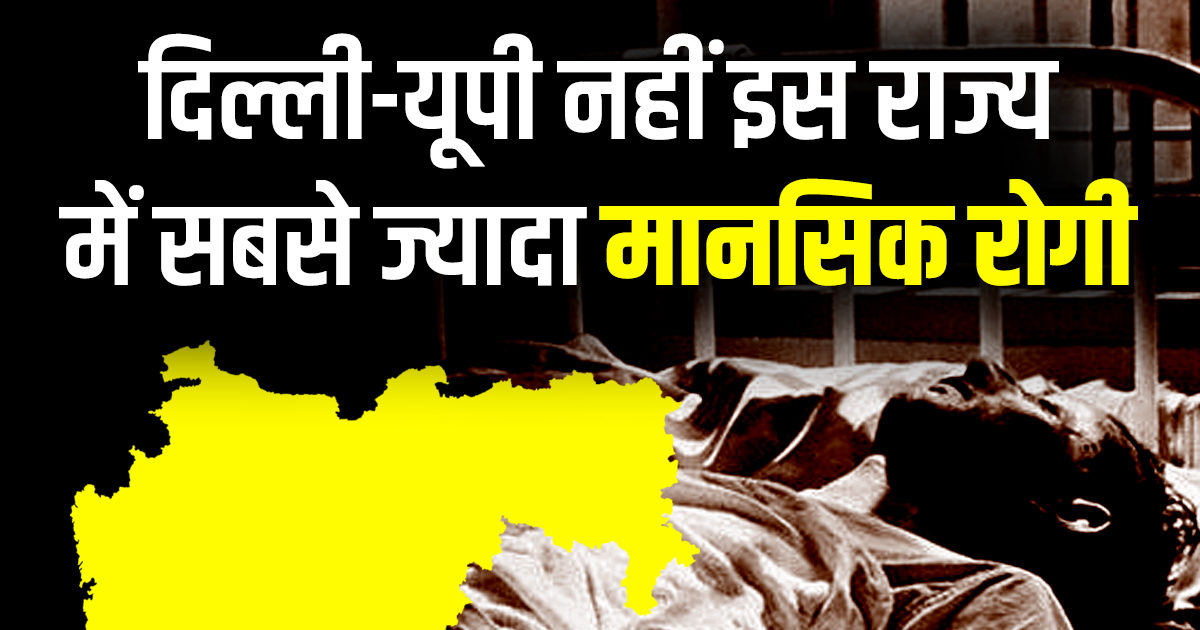 highlights
According to NCRB data, suicides have increased by 7.2 percent in the year 2021 as compared to 2020.
Mental health issues like stress, depression, anxiety etc. are being seen behind the suicides.
Mental Health and Suicides: Mental health is becoming a big problem nowadays. The biggest thing is that the person suffering from mental diseases does not even know that he has come under the grip of stress or depression and gradually this problem forces him to take suicidal steps like suicide. This information has been shared by people suffering from mental illness themselves. A third of the callers to the national helpline being run for people struggling with mental health across the country have told that they are struggling with anxiety, depression and suicidal thoughts. Along with this, NCRB figures also show that the percentage of suicides has increased by 7.2 percent in 2021 as compared to 2020.
Cyrus and Priya Vandrewala Foundation, a nationwide free mental health counseling provider, says that in the last three months (November 2022 to January 2023), such conversations with callers struggling with mental health have reached almost 40 percent. At the same time, in the last 18 months (August 2021 to January 2023), at least a third of the people who approached them and sought advice said that they were struggling with anxiety, depression and thoughts of suicide and to deal with this crisis. Already sought psychological help.
Regarding this, Priya Hiranandani Vandrewala said, 'How strange that in 2022, suicides took more lives in India than murders and corona virus. Even though every medical student in the country has become a psychiatrist today, we do not have enough people to solve the mental health crisis.
from your city (Delhi-NCR)




Fraud in the name of Sachin, Alia, Dhoni and Aishwarya Rai, used to take loan from bank or credit card and then…




RPF jawan teasing foreign woman traveling in Tejas Rajdhani for 200 KM, forcibly took selfie




Long-term use of medicines without doctor's advice is fatal for kidney: Experts




Delhi Liquor Policy Scam: Manish Sisodia will remain in jail or will get bail… decision today, CBI will demand extension of custody!




Mosquito repellent on, yet mosquitoes keep biting throughout the night, you will be surprised to know the reason




KVS School: How many Kendriya Vidyalayas are there in the country, till what age children can be admitted




UP Nagar Nikay Chunav: SP raised questions on OBC reservation survey, party made this new strategy




My knowledge on DNA is better than Mohan Bhagwat, Pravin Togadia targets RSS and Sangh chief




One mistake can lead to piles and fissure, it is difficult to get up and sit, change your lifestyle, otherwise you will regret




Dal-rice or dal-roti? What is the right food to eat daily, what gives more energy-nutrition, learn from dietician
Suicides increased in the year 2021
A NIMHANS study in October 2022 states that 150 million Indians may need mental health care services. The National Crime Records Bureau (NCRB) data for 2022 on suicide deaths in India also says that in 2021, 1,64,033 suicides were registered in the country. This number was 7.2 percent more than in 2020.
Most suicides in this state
In 2021, 12 suicides were recorded per lakh population in India. Maharashtra, followed by Tamil Nadu, Madhya Pradesh, West Bengal and Karnataka, reported the highest number of suicides in India, indicating that the mental health crisis among people in these states is a major cause of concern and that Many things can be responsible for it.
Uttar Pradesh ahead of Delhi in providing mental counseling
Data from the Foundation shows that 81% of the people seeking counseling for mental health problems are from Maharashtra 17.3%, Uttar Pradesh 9.5%, Karnataka 8.3%, Delhi 8%, Tamandu 6.2%, Gujarat 5.8%, West Bengal 5.4%, Kerala 5,3%, Telangana 4%, Madhya Pradesh 3.8%, Rajasthan 3.6% and Haryana 3.6% are included.
Vandrewala Foundation's helpline provides 24-hour emergency mental health support through telephone and WhatsApp in India. The service is available free of charge in English and 11 local languages. Psychological counseling and crisis mediation are offered to anyone experiencing depression, trauma, mood disorders, chronic illness, and many other mental health problems that can be accessed by anyone.
First read breaking news in Hindi News18 Hindi| Read today's latest news, live news updates, most reliable Hindi news website News18 Hindi.
Tags: Depression, Lifestyle, mental health, suicide, trending news
FIRST PUBLISHED : March 04, 2023