Lifestyle
People broke down on RBI's 'discount', there was 'loot' in banks, a customer was getting 2000 notes changed 10-10 times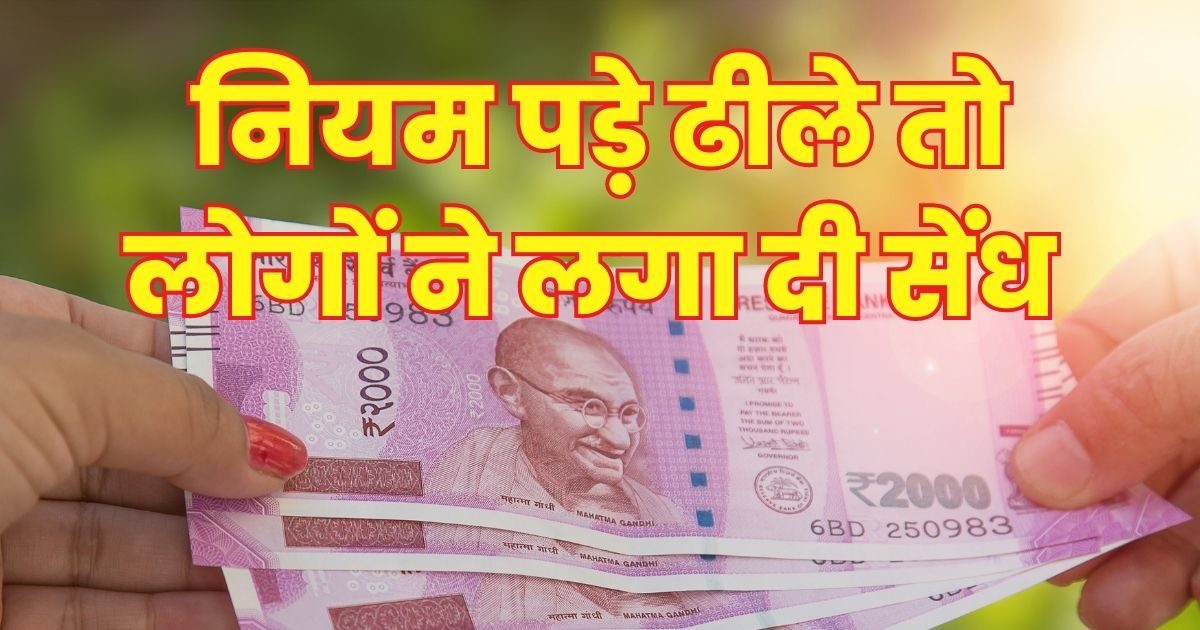 highlights
People are taking advantage of this exemption of RBI.
Neither ID is being asked nor any form is being filled.
Only 10 notes i.e. up to 20 thousand rupees can be deposited or changed at a time.
New Delhi. After the year 2016, once again demonetisation has been announced in the country. Ever since the Reserve Bank has revealed in front of the media that the 2000 note is being taken out of circulation, there has been an atmosphere of panic among the people. However, this time not only the customers have been given ample time to deposit their notes, but also no restrictions or conditions have been imposed. People are taking advantage of this exemption of RBI.
In fact, the Reserve Bank has clearly said in its notification issued regarding the 2000 note that for this, customers will neither have to provide any ID proof, nor will there be any need to fill any form. Yes, just this much condition has been imposed that a person can deposit or exchange only 10 notes i.e. up to 20 thousand rupees at a time. People are also taking advantage of this exemption of RBI in a wrong way. Alam is that a case has also been filed in the court regarding the violation of this rule.
read this also – 2000 is gone, 1000 rupee note is coming back! What is the plan of Reserve Bank of India
PIL has been filed
Virag Gupta, a legal expert on cyber matters in the Supreme Court, says that this time some people are also taking undue advantage of the relaxation of the RBI. Neither any record is being made this time for depositing or exchanging money, nor is any inquiry or investigation being done regarding the amount to be deposited. In such a situation, there is a great possibility that some people are depositing their money wrongly in the bank account or are bringing legal currency instead. Virag Gupta says that this time a public interest litigation has also been filed in the court regarding these decisions of RBI. It has been said that taking advantage of the relaxation of the rules, illegally earned money is also being deposited in the bank account without any scanning.
A man depositing notes 10-10 times
When demonetisation was done in the year 2016, many types of regulations were imposed, in which the depositor or exchange of notes had to tell the source of the amount given along with his ID proof. This time no such provision has been made. It is obvious that people can deposit 2000 notes by going to 10-10 banks in a day. Since, there is no order from RBI regarding keeping records of these customers, banks are also depositing money indiscriminately without any inquiry and investigation.
read this also – Plant paddy by adopting new technology, government will pay all the expenses, apply online, money will come in bank account
opportunity to make illegal money
Ashwini Rana, a banking expert and founder of Voice of Banking, says that this time people are easily legalizing illegally earned money by taking advantage of the laxity of RBI. Now, when no identification or proof is being demanded in the banks, people are making white money through the system by depositing their illegally earned money in their accounts or by converting it to other currency.
Notes can also be changed from others
This time RBI has not made strict rules for changing or depositing notes, so taking advantage of this, people can deposit their money through others as well. Experts say that even if a person gives his 2000 note to another person and sends it to the bank, he will easily get another note and in this way his money will be converted into white money. This gorakhdhandha has started from May 23 itself and other people are either taking the money of such black money holders and depositing it in the bank for the greed of a few rupees or changing it to other currency.
Both Virag Gupta and Ashwini Rana agreed that this time black money in the form of Rs 2000 is also coming into the system due to lack of firm rules and adopting a flexible approach. However, the aim of RBI is currently to get this currency out of the system. Perhaps this is the reason that instead of making more strict rules, it has given people the freedom to deposit money easily.
,
Tags: 2000 notes, Banking services, business news in hindi, RBI, RBI Governor
FIRST PUBLISHED : May 24, 2023, 13:38 IST