Lifestyle
Satyanarayan Puja: Worship Lord Satyanarayan on the day of Marshish Purnima, all troubles will go away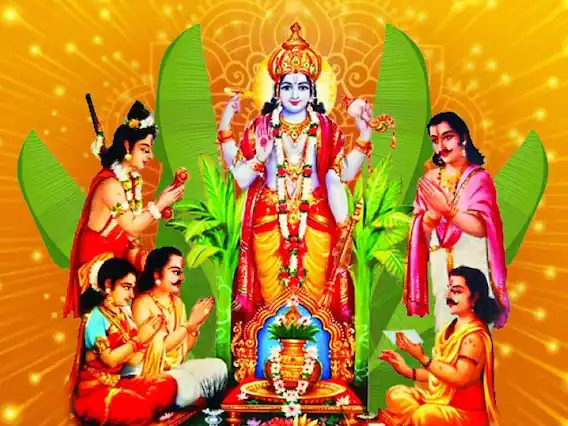 Satyanarayan Puja Vrat Margashirsha Purnima 2022: It is considered auspicious to observe Satyanarayan Vrat or Puja ritual at home. Worship of Satyanarayan brings happiness and prosperity at home. In Hinduism, the story of Satyanarayan is recited at home on special dates and occasions. It is considered auspicious to worship Satyanarayan especially on full moon day.
Fasting and worshiping Lord Satyanarayan on the day of Marshish Purnima in the month of December will be very auspicious. This will bring the blessings of Lord Satyanarayana and blessings of Goddess Lakshmi will shower on the house.
Worship of Lord Satyanarayana in December
Lord Satyanarayan's fast will be observed on the day of Marshish Purnima in the month of December. You can also perform the ritual of Satyanarayan Katha on this day. Purnima Tithi will start on Wednesday 07 December 2022 at 08:11 am and end on Thursday 08 December 2022 at 09:27 am.
News Reels
Satyanarayan Puja Significance
Lord Satyanayan is worshiped only in the form of Lord Vishnu. Satyanarayan means, the only Lord Narayan in the world is truth, rest all is just illusion. In the original text of Satyanarayan Katha, there are about 170 verses which are in Sanskrit and it is divided into 5 chapters. In the legend of Satyanarayan, it is said by Lord Vishnu himself that, the person who observes Satyanarayan Vrat and worships him, all his sorrows go away and he gets virtuous fruits.
Satyanarayan fast worship method
On Margashirsha Purnima or the day on which you perform Satyanarayan Puja, wake up early in the morning and bathe in the river or by adding Ganga water to the bath water. After this prepare for worship. Spread a yellow colored cloth on a post and install the idol of Lord Satyanarayan in it. Tie banana leaves around the post. Then keep an urn filled with water and light a ghee lamp.
Now worship Lord Satyanarayan with Shodshopachara worship method and recite the story. Perform aarti after reciting the story. After this, distribute the prasad. On this day offer flour powder, panchamrit, seasonal fruits and sweets as prasad. Put Tulsi Dal in Prasad. After this, feed the Brahmins and send them off by giving Dakshina.
Read this also: Vastu Tips 2023: According to Vastu, put a new calendar at home in the new year, there will be happiness and prosperity at home throughout the year
Disclaimer: The information provided here is based on assumptions and information only. It is necessary to mention here that ABPLive.com does not confirm any kind of recognition, information. Before implementing any information or belief, consult the relevant expert.