Lifestyle
Special Day: Tomorrow is a special day, complete auspicious work in Siddha Yoga, know the Panchang of December 7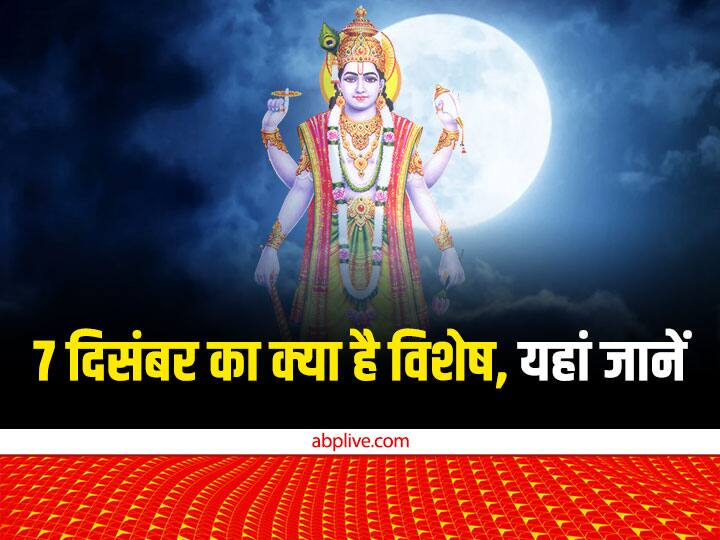 December 2022 calendar: December 7, 2022, Wednesday is a very auspicious day to do auspicious and auspicious works. This day also has special religious significance. Because of this, the fruits of the work done on this day increase manifold. According to the Panchang, let us know what is special on this day-
What's special on 7th December? (What's on 7th December 2022)
On this day, the full moon date will start from 8.30 am. This day has special religious significance. In mythological texts, the full moon of the month of Margashirsha has been described as auspicious, in which the special importance of bathing and donation in the holy river has been told. This is the reason people wait for this day. The work done on this day gives manifold results. That's why auspicious works are done on this day.
Good luck increases by worshiping Lord Vishnu (Satyanarayan Pooja)
Worship of Lord Vishnu has special significance on this day. Satyanarayan's fast is observed on this day. This fast is considered to fulfill all kinds of wishes. It is considered very auspicious to listen to the story of Satyanarayana on this day. On this day, after listening to the story, the special virtue of distribution of prasad and donation etc. is received.
Dattatreya Jayanti 2022 (Dattatreya Jayanti 2022)
Dattatreya Jayanti is also on 7th December. According to Shrimad Bhagwat, Lord Dattatreya was born to Maharishi Atri and mother Anusuya. Dattatreya contains both the form and Guru of all the three gods. That is why he is also called Shri Gurudevdatta and Parabrahmamurti Sadhguru. It is believed that by worshiping Lord Dutt and performing Havan, knowledge increases.
News Reels
When is Marshish Purnima? (Margashirsha Purnima 2022)
According to the Panchang, Margashirsha Purnima Tithi will start at 08.01 am on 7th December 2022, it will end on 8th December 2022 at 9.37 am. According to Udayatithi, full moon fast will be observed on 7th December.
December Horoscope 2022: How is the month of December for Aries, Taurus, Gemini people? Know monthly horoscope of all zodiac signs
7 December 2022 Panchang (Aaj Ka Panchang 7 december 2022)
Vikrami Samvat: 2079

Mass Purnimant: Margashirsha

Side: Shukla

Day: Wednesday

Season: Hemant

Date: Chaturdashi – till 08:03:58, after that full moon date will start

Nakshatra: Krittika – till 10:25:35

Karan: Vanij – till 08:03:58, Vishti – till 20:49:26

Yoga: Siddha – Upto 26:52:52

Sunrise: 07:00:29 AM

Sunset: 17:24:08 PM

Moon: Taurus

Rahukaal: 12:12:19 to 13:30:16 (No auspicious work is done during this period)

Shubh Muhurt Time, Abhijeet Muhurt: None

Direction Prong: North
inauspicious time
Rogue Muhurt: 11:51:31 to 12:33:06

Kulik: from 11:51:31 to 12:33:06

Kantak: 16:00:59 to 16:42:34

Kalvela / Ardhayama: 07:42:03 to 08:23:38

Yama Ghant: 09:05:13 to 09:46:47

Yamagand: 08:18:26 to 09:36:24

Gulik Kaal: 10:54:21 to 12:12:19
quarter of the day
Profit- 6:14 am to 7:47 am

Amrit- 7:47 am to 9:19 am
Disclaimer: The information provided here is based on assumptions and information only. It is necessary to mention here that ABPLive.com does not confirm any kind of recognition, information. Before implementing any information or belief, consult the relevant expert.