Lifestyle
Taste Ka Safarnama: If you want to taste 'Kulhad' along with Tasty Chai, then come to 'Ishq-e-Chai', also see VIDEO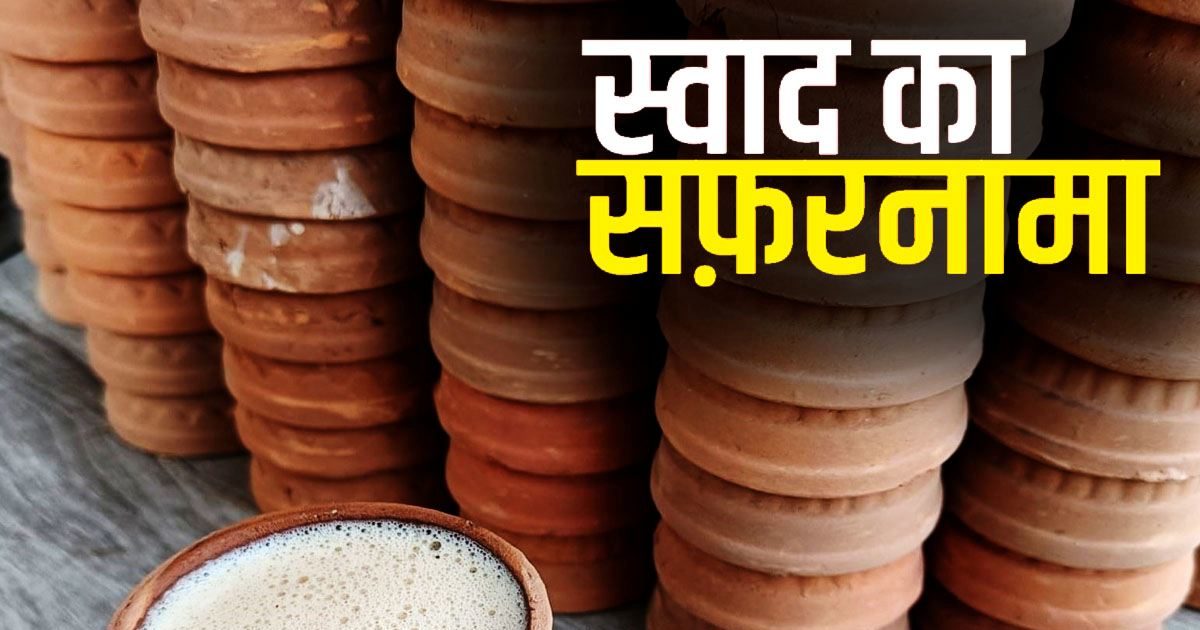 Highlights
You can also eat Kulhad with tea at this tea stall in Delhi.
Apart from Kulhad, tea is also served in disposable glasses.
Swad Ka Safarnama: Drinking tea is a 'habit' of us Indians, which is increasing continuously. It is said that every second person in India is fond of tea. When the issue of tea is so great, then many efforts are going on continuously to fill the taste in it. Somewhere while making tea, special spices are being added to it and its taste is being made differently, while somewhere else, tea is being given a different color by adding tea to the kulhad heated in the kiln. Now such shops have also opened in the capital, where only special tea is being sold. Today we are taking you to such a place. The taste of its tea is good, as well as it is probably such a chai wala of Delhi, whose kulhad can be eaten with tea.
Apart from Kadak tea, there are other flavors present.
Kulhad is such that it can be eaten. This is a new concept. Actually, the tea will be full of delicious, but eating kulhad gives surprise and fun too. With this thought in mind, a youth has chosen this 'eatable' tea as a startup for his living. This Theia has been opened in North Delhi's largest residential colony Rohini. The Shiv Chowk here is very famous, while this 'Ishq-e-Chai' thread has been opened in a canopy. Here you will not only get strong tea with Indian ginger and cardamom, if you want, you can also drink tea with butter scotch, rose, strawberry flavor. The method of making all these is the same, just by adding a different flavor at the end, that tea is given a different color. People come, drink tea and leave in good shape.
Also read: Taste Ka Journama: 232 Year Old Mughal Era's 'Ghantewala Halwai', Will Now Feed Desi Ghee Sweets, Watch VIDEO
Enjoy Kulhad by drinking flavored tea
If you want, tea will also be available in disposable glasses at this place. But people like to drink tea in Kulhad itself. Some people are surprised that tea is also available in the edible kulhad here, so they order to make it too. Actually, these kulhads are made from its cone, in which ice cream is filled and eaten. These kulhads are made of thin and thick cones and they melt after 20 minutes, so that at first they can be eaten munching comfortably with a sip of tea.
You order tea. Milk will be boiled by adding leaves, sugar, ginger, cardamom. After cooking well, it will be offered in kulhad as per your choice. If you wish, throw the kulhad or eat it as per your choice.
Also read: Taste Ka Safarnama: Senior Citizen Family Creates Cloud Kitchen, Enjoy Fast Food Made Here

When the hesitation ended, the work started
They have two types of tea. One kulhad chai and the other masala chai. Their price is 15 and 20 rupees. If you want in a disposable glass, then it is 10 rupees. There are three sizes of kulhads eaten and the price of tea served in them is Rs 20, 25 and Rs 30. If you want, you can also enjoy coffee here. Plain coffee will be available for Rs 20 and Blender coffee for Rs 30. This shop has recently been started by young Ravi Kumar. Earlier, he used to run this thread at another place in Rohini itself. Have come here now. His family is from Delhi and he started selling tea after graduation from Patna.
Plain coffee will be available at the shop for Rs 20 and Blender coffee for Rs 30.
He says that earlier he was a store manager in a mobile company. But wanted to start my own business. He saw that even educated youths are now selling tea and coffee, so they also opened their eyes. There was some hesitation in the beginning, but there was faith, so the work is going on. He was fond of drinking tea from the beginning, so he is enjoying it.
Be the first to read breaking news in Hindi News18 Hindi| Today's latest news, live news updates, read the most reliable Hindi news website News18 Hindi|
Tags: food, Lifestyle
FIRST PUBLISHED : October 29, 2022, 07:01 IST