Lifestyle
The journey started by selling balloons, today it is a company of 38,000 crores, the price of 1 share is around 1 lakh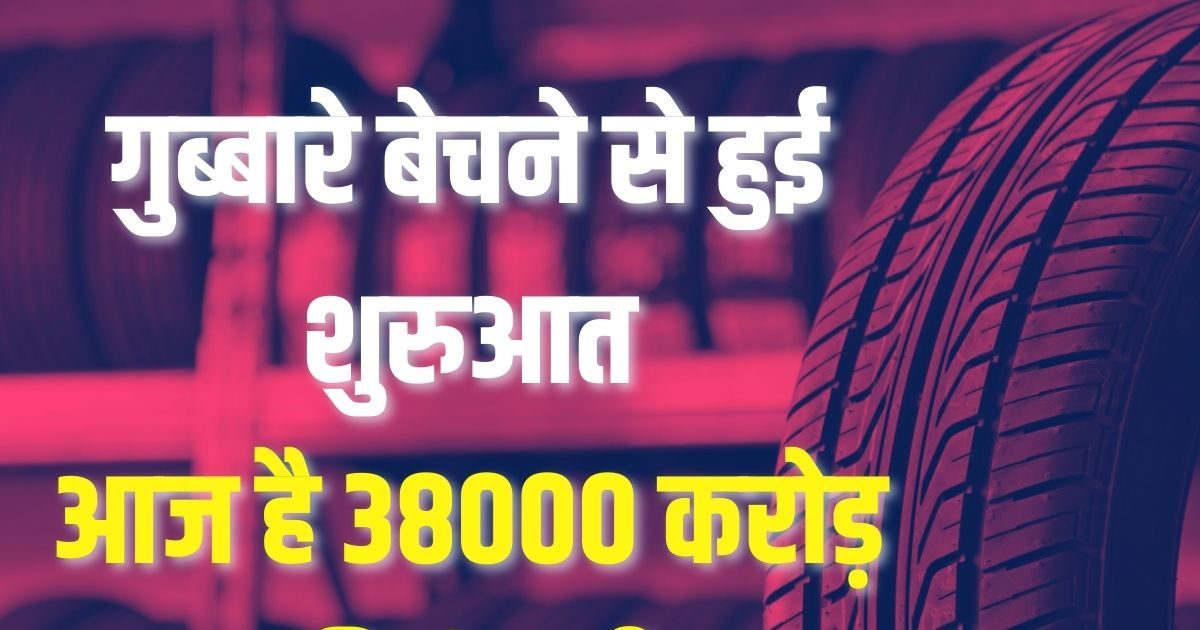 highlights
The market valuation of MRF today is Rs 38,000 crore.
The company started with making trade rubber after balloons.
MRF showed the way out of India for many foreign companies.
MRF Success Story: Of. Probably very few people would have heard the name of M Mammen Mappillai. Yes, but the name of his company would be known to everyone from children to old people. Mammen Mappillai is the founder of MRF or Madras Rubber Factory, one of the largest tire manufacturing companies in India. The story of MRF begins in 1946, when Mappillai used to sell balloons in Madras. He had a small factory where he would produce them and then sell them by going street to street himself. Till then they did not know that one day this rubber will show the way out of the country to big foreign companies too.
In 1952, he came to know that a foreign company supplies trade rubber to a retreading plant in India. Retreading refers to making old tires reusable and the tread is the upper part of the rubber tire that makes contact with the ground. Mappillai thought that he too can do this work.
read this also- Business Idea: This is the business idea of ​​making bricks from ash, once by investing Rs 2 lakh, earn up to one lakh every month
new company
He put all the wealth he had made by selling balloons into this business. It was a big risk but he got tremendous results too. The funny thing was that MRF was the only Indian company that was manufacturing tread rubber. All other companies in this sector were foreign then. Within 4 years, MRF's market share reached 50%. This has led to the departure of many international companies from India. Mammen did not stop here and now he decided to manufacture straight tyres.
start of tire making
In 1961 Mammen set up a factory to manufacture tyres. However, the company was not technically strong enough to manufacture tyres, and hence MRF entered into a partnership with the American company Mansfield Tire & Rubber Company. In the same year, the company also brought its IPO in the Madras Stock Exchange. At that time domestic industries also got strong support from the government. MRF started applying for government tenders. By 1963, MRF had become a well-known name.
MRF Muscle Man. (Quora)
marketing delivered door to door
The company had understood one thing that right now it is not being able to get its tires fitted at the time of manufacturing the vehicles. He is getting strong competition from companies like Dunlop, Goodyear. That's why MRF launched its tires directly in the market and made sure that when replacing a tyre, only MRF comes to mind. For this, marketing veteran and late Alyque Padamsee, who changed the direction of advertisements in India, was hired.
MRF Batt. (MRF)
After a lot of research, the MRF Muscleman was born which has become the epitome of strength and durable tyres. The company targeted cricket bats, among other methods, for advertising. From Sachin Tendulkar and Brian Lara to Virat Kohli became its brand ambassador and became very famous among children. When these children grew up, the picture of MRF was printed in their mind for tyres.
Tuti in the stock market
Today 1 share of MRF is worth Rs 84,046. 332 in 1990 was Rs. Today it is probably the costliest stock in the Indian market. This share reached Rs 96000 on 7 November 2022. If someone had invested Rs 1 lakh in it in 1990, today he would have stocks worth more than Rs 2.52 crore.
First read breaking news in Hindi News18 Hindi| Read today's latest news, live news updates, most reliable Hindi news website News18 Hindi.
Tags: bike, business, business news, cars, Success Story
FIRST PUBLISHED : April 02, 2023, 14:18 IST