Lifestyle
The prices of home appliances will increase again, know how much it will affect your pocket?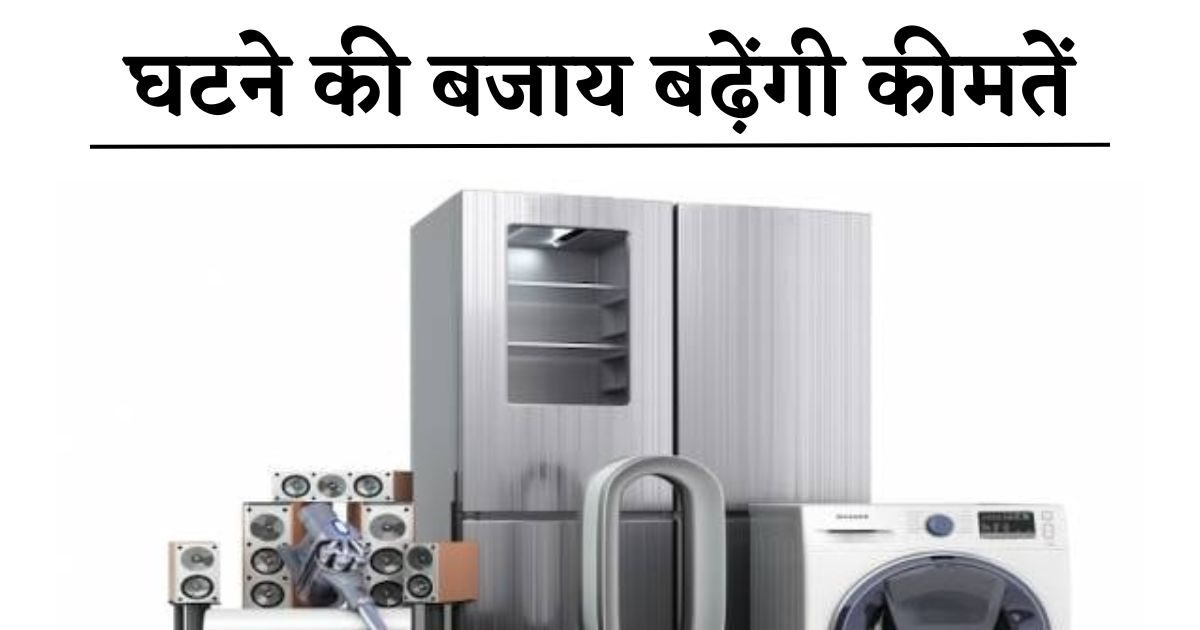 highlights
There is not going to be any reduction in the prices of domestic electronic appliances soon.
The prices of consumer durables like AC, refrigerator, smart TV are likely to increase.
Intermittent rains in April and May have affected AC sales.
New Delhi. The recent fall in inflation has raised people's expectations. But till now there is no hope of getting relief from inflation because there is no reduction in the prices of white goods i.e. home electronic equipment, but on the contrary the prices may increase. Companies making white goods have been increasing their prices continuously for the last 2 years. He is likely to do the same this year as well.
Explain that the prices of consumer durables are likely to increase from AC and refrigerator to smart TV and washing machine. Further growth is expected in the second half of FY2024 as the chances of a normal monsoon are slim.
read this also- A new method of cyber fraud came to the fore, 70 lakhs were looted from a young man of Gurugram on the pretext of getting a part time job
Reduced cost of equipment again
Kamal Nandi, business head and executive vice-president, Godrej Appliances, says, since the inflationary cycle started in late 2020, the prices of consumer durables appliances like ACs have increased by more than 30 per cent. However, the cost of electronic components is set to peak in mid-2022. But after that we have seen some reduction in the prices of its spare parts. Despite this, it is difficult to predict beyond the next three months as the situation still remains uncertain.
TV prices will increase from next month
Avneet Singh Marwah, CEO of Super Plastronics, a company that manufactures and sells smart TVs under the Thomson and Kodak brands, says, "Another wave of price hike is about to come. In the last four months, the prices of (LED) panels have increased by a whopping 30-35 per cent." He told that "we are planning to increase the prices of TVs by 7-10 percent from June."
ac sales decrease due to rain
Significantly, the AC company Blue Star is currently not in the mood to increase the prices. Because home appliance firms including AC manufacturers have suffered huge losses in the last three summers due to Kovid-19. AC sales fell by 10-12 percent in 2021. Intermittent rains in April and May created a new challenge for the industry, which was already facing low demand. AC manufacturers are still grappling with low demand. Due to unseasonal rains, Whirlpool's net profit fell 25 percent year-on-year in the March quarter.
Prices may increase in festive season
Blue Star MD B. Thiagarajan says, "We are hopeful that the situation will gradually improve, so we are not increasing the prices for the time being." Although companies like Havells, Samsung and LG are not ready to reveal their pricing plans for the next 6 months, sources say that before the festive season starts, the prices of home appliances will increase by 6-12 per cent.
,
Tags: business news, business news in hindi, Consumer and retail industry, Food and water prices, Goods and services tax, Marketing
FIRST PUBLISHED : May 26, 2023, 22:13 IST